Opinion
Can one show ever really be held responsible for a culturally pervasive pattern of thinking?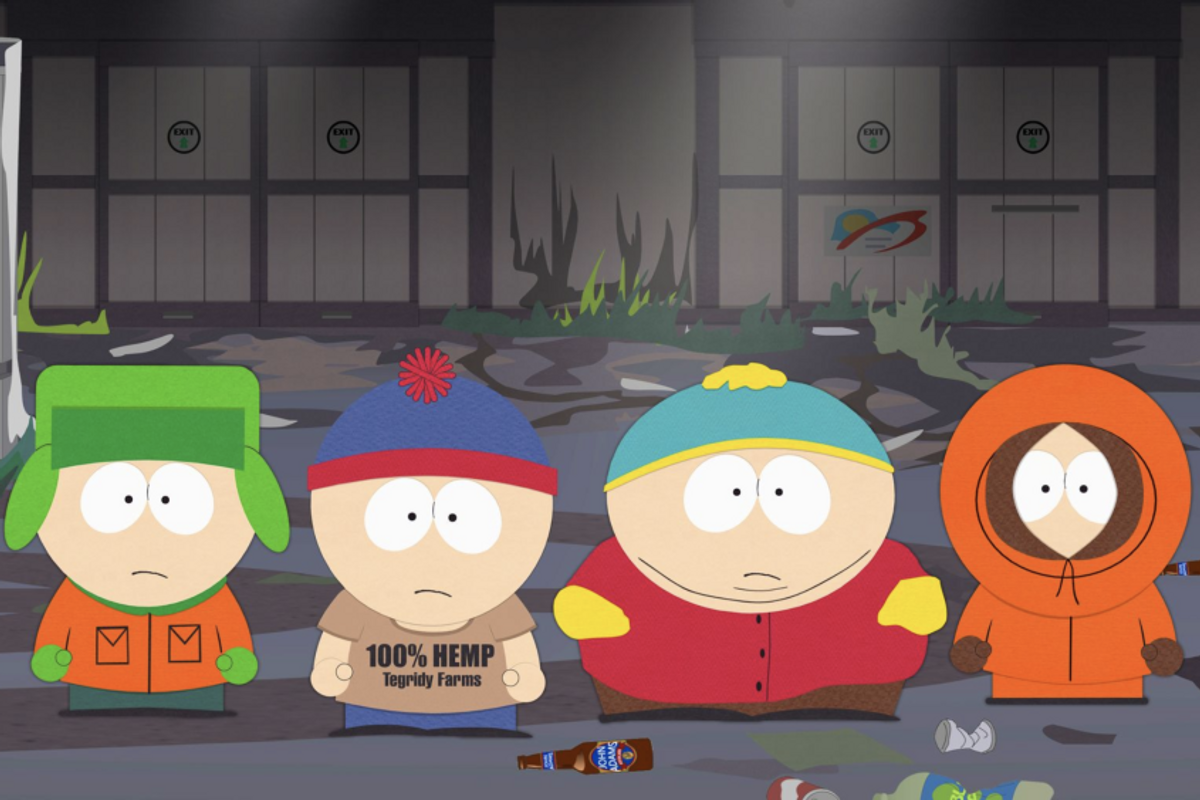 Comedy Central
She-Hulk writer Dana Schwartz started a massive online conversation (debate? angry dude screamfest?) when she tweeted her take on South Park's negative cultural impact.
In retrospect, it seems impossible to overstate the cultural damage done by SOUTH PARK, the show that portrayed ear… https://t.co/euevk0d8g8

— Dana Schwartz (@Dana Schwartz) 1581617570.0
"In retrospect, it seems impossible to overstate the cultural damage done by SOUTH PARK, the show that portrayed earnestness as the only sin and taught that mockery is the ultimate inoculation against all criticism," Schwartz tweeted. She went on to polish her argument, recognizing that series creators Matt Stone and Trey Parker have seemingly reckoned with themselves over issues they felt they misrepresented (notably global warming with Al Gore and ManBearPig), and she clarified: "To be clear, I don't blame the show itself as much as I do the generation of boys who internalized it into their personalities. Which maybe isn't the show's fault!"

Sure enough, Very Angry Men™ showed up to offer slurs and death threats in response to (*gasp*) a woman expressing an opinion they disagree with online. To be crystal clear, the people coming after Schwartz are the worst kind of human trash––the sort of people who delude themselves into believing that they're intelligent and reasonable while simultaneously epitomizing every negative male stereotype in existence.
Of course, Schwartz is hardly the first person to criticize South Park's libertarian-skewed, "both sides are terrible and nothing is sacred" brand of humor. In a semi-viral Reddit post from 2015, one user made a very good argument for their categorization of South Park as a "safe space" for people who don't want their views to ever be challenged: "It's a show that teaches their audience to become lazy and self-satisfied, that praises them for being uncritically accepting of their own biases, and that provides them with an endless buffet of thought-terminating cliches suitable for shutting down all manner of their challenges to their comfort zones."
But as a member of the generation of boys who grew up with the show, and, as Shwartz suggested, maybe even internalized it into my personality to some extent, I do think that there are reasonable arguments to be made in disagreement. After all, I turned out just about as leftist as a Brooklyn-based writer can get, and I still love South Park.
Nuance is a necessity here, and that tends to get lost amidst all the vitriol online. For starters, I agree with Schwartz on her point about the fault lying largely with many of the show's viewers––the men who showed up in her comments and DMs prove that point better than any argument anyone could possibly make.
My point was that South Park seemed to teach that it was always cooler to be reactionary and contrarian, and anyone… https://t.co/Py2xS6M6k8

— Dana Schwartz (@Dana Schwartz) 1581696765.0
So with that common ground on the table, my main disagreement with Schwartz is that I don't believe any one show can ever be held responsible for a culturally pervasive pattern of thinking.

It's important to keep in mind that South Park is a satirical comedy. That's not to suggest it's an invalid target for criticism. In fact, the argument that "it's comedy, don't take it so seriously" is one of the most brain-dead, non-thinking arguments that constantly shows up online and, again, paints the people who make it in a worse light than I ever could. But it is to suggest that the job of satire is to hold a critical mirror up to society and that, by its very nature, any position that South Park takes is reflective of the culture surrounding it.
Let's take the 2006 episode "ManBearPig" as an example, considering it's one whereby South Park clearly ended up on the wrong side of history. In that episode, Al Gore visits South Park to warn everyone about ManBearPig, a horrible mythic creature that served as an allegory for global warming. The thrust of the episode involved Al Gore making increasingly dangerous attempts to catch ManBearPig, which never actually shows up. It's still a funny episode, albeit one that aged very poorly.
But even though the episode aged poorly, and even though we now know for a fact that Matt Stone and Trey Parker were wrong about global warming, it's incredibly unlikely that "ManBearPig" actually convinced anyone that global warming wasn't real. Back in 2006, global warming was not as accepted as it is today. Al Gore's An Inconvenient Truth came out in the same year, and while it majorly shifted public awareness around global warming, doubt was still a lot more prominent. The movie's liberal sentiments and scientific accuracy were criticized in publications like The Boston Globe and even ScienceDaily, which would be inconceivable in the modern day.
People who believed the science surrounding global warming in 2006 were not going to be convinced otherwise by South Park. Similarly, anyone who took South Park's sentiments at face-value was almost certainly not someone who would be doing research for themselves in the first place.
Therein lies the main point here. South Park can't be held responsible for the beliefs of its viewers. Anyone who uses a show like South Park as a form of confirmation and protection for their beliefs is, at best, deeply ignorant, and someone like that is going to be ignorant regardless of whether or not they have a show like South Park to back them up.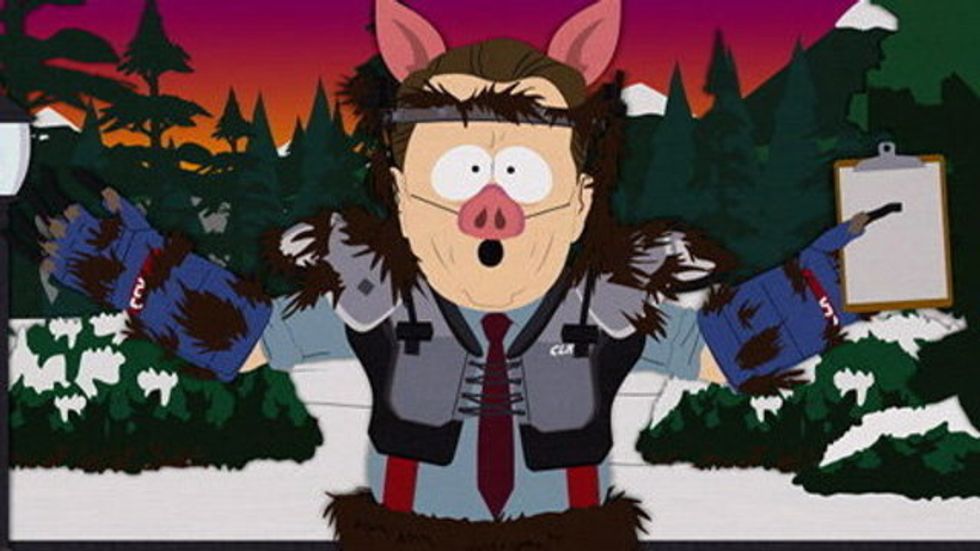 Comedy Central
When I was a suburban edgelord sh*thead in the mid 2000s, I agreed with South Park's general outlook on the world much more than I do now. But I wasn't an edgelord sh*thead because of South Park. Plenty of angsty teens going through puberty act like assh*les, and that was a fact long before South Park ever existed. Moreover, my political views were shaped far more by the conservative household I grew up in than they ever could have been by a TV show.

But as people grow up, they mature and hopefully question the "f*ck anyone who cares about anything" ideology that tends to plague angsty high schoolers. Of course, the people who cling to that outlook tend to become adult assh*les, but the ability to make it through adulthood while staying closed off to outside world views is much more closely related to complex, systemic socioeconomic issues (class mobility, the ability to afford a higher education, freedom to travel/leave one's hometown) than it is to what a person watches on TV.
Even as someone who strongly disagrees with a lot of the political views that South Park currently suggests, I still find the show funny. I enjoy the PC Principal character, for instance, and I like being able to laugh at some of the more absurd elements of my own opinions and beliefs. It's important to note, though, that I don't face the same sort of discrimination as someone who is non-white, non-male, or LGBTQ+. I'm capable of admitting that South Park can be genuinely super-problematic on a lot of issues (first and foremost, its frequent transphobia) and that I fully understand the reasons that a lot of people dislike the show and refuse to watch it. Not liking a show is valid, as is calling out the ideologies it supports.
But the truth is that TV shows, even incredibly culturally prescient ones, don't dictate people's views. People are either interested in doing the work or they're not.