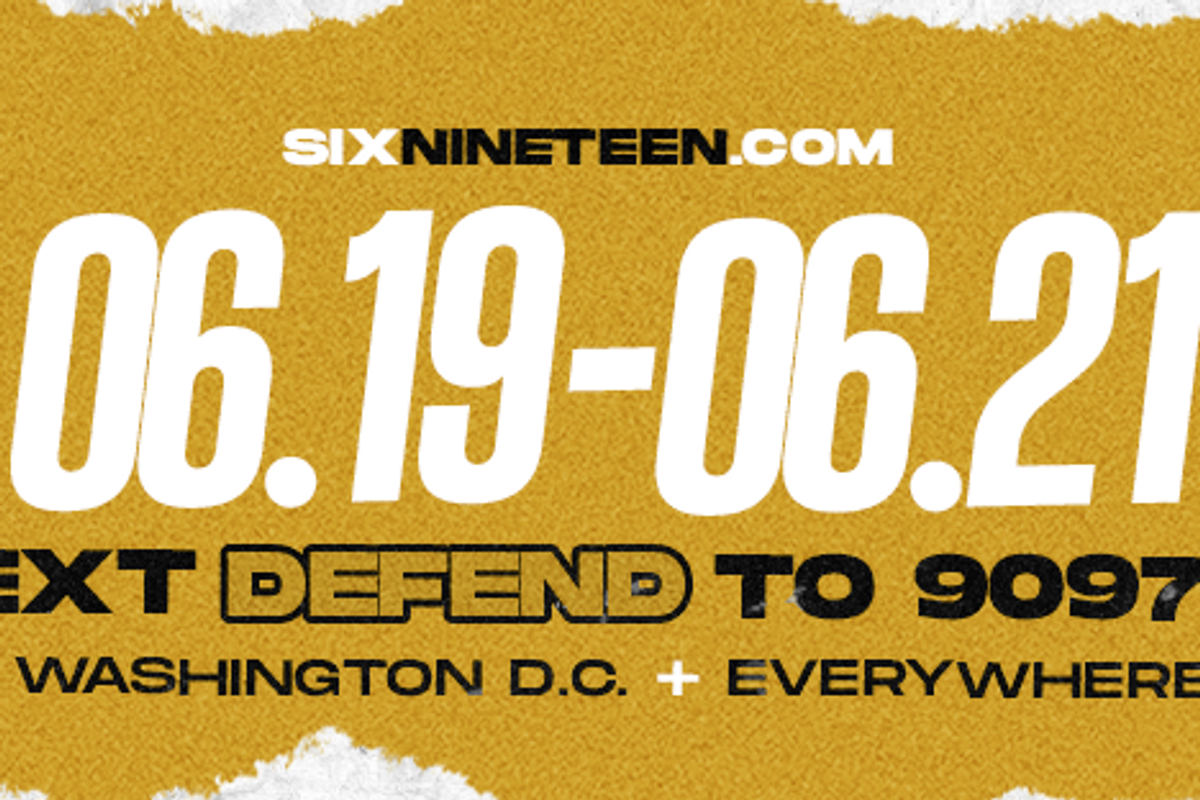 On June 19, 1865, a Union edict announced that all slaves in Texas were free.

Now, June 19th is known as Juneteenth (or Jubilee Day or Freedom Day). It's an official celebration of the end of slavery. This year, Juneteenth is falling in the midst of a massive revolutionary Black Lives Matter movement, which erupted following the recent death of George Floyd but which is an extension of the Civil Rights movement and a reaction to 400 years of Black oppression in America.
---
"Juneteenth (June 19th) is a day that honors Black freedom and Black resistance, and centers Black people's unique contribution to the struggle for justice in the U.S.," writes the Movement for Black Lives (M4BL). "This Juneteenth is a rare moment for our communities to proclaim in one voice that Black Lives Matter, and that we won't tolerate anything less than justice for all our people."
The movement, which is organizing many of the larger demands shared by the major Justice for George Floyd protests happening around the nation, is planning a massive mobilization on June 19th and the following weekend. They're offering many ways for people to get involved, whether in-person or behind the scenes.
---
"In response to the deaths of George Floyd, Breonna Taylor, Tony McDade, and countless other Black people who have been killed at the hands of vigilanties or law enforcement, millions have taken to the streets with a clear and distinct call to end police violence and to defund police," the organization's website reads. "Right now, uprisings are taking place in all 50 states, and more than two-thirds of Americans agree that police violence is systemic. The Movement for Black Lives is alive and vibrant... Combined with COVID-19 and four years of Trumpism, Black communities are demanding: justice; accountability; a divestment from policing; and an investment in healthy, sustainable communities. To honor our ancestors and to lay a path to freedom for future generations, we are calling for the SIX NINETEEN mobilization on Juneteenth weekend, June19–21, 2020, at home, in your community, or in Washington, D.C.."

They are urging people to visit www.sixnineteen.com to sign up for updates, and are encouraging people to protest at the White House or in their local cities.
According to the movement, this weekend's three goals are:
Defund the Police
Invest in Black Communities
Resign Donald Trump
There are a lot of ways to plug in. Visit https://act.sixnineteen.com/survey/volunteer/ to sign up for a role and visit sixnineteen.com for more information.
If you're able to attend an in-person action, here are three ways to do so:
Here are a few events to consider attending in NYC on Juneteenth:
Here's what you can do right now:
Here's how to learn more about the weekend:
For allies, white folks, non-Black people of color and anyone newer to racial justice work:
And finally, everyone can commit to learning how to talk about defunding the police.
In addition to actively protesting and participating in large online or in-person actions, it's also incredibly important for allies to have conversations with their friends and family about the importance of supporting Black Lives Matter and its objectives, which include—prominently—defunding the police and re-investing in Black communities. Though these conversations can be difficult to have, they're much easier when you know that you're prepared, so the M4BL have created a guide to talking with different types of people and communities about defunding the police. They encourage all supporters to read it and to understand the nuances of why, exactly, defunding the police is so important.
"We know the safest communities in America are places that don't center the police.What we're looking for already exists, and we already know it works. We need look no further than neighborhoods where the wealthy, well-connected, and well-off live, or anywhere there is easy access to living wages, healthcare, quality public education, and freedom from police terror," the guide reads. "We can't stand by while our city, state, and federal governments continue to fund an excessive, brutal, and discriminatory system of policing. We will no longer be told that what we deserve is not politically viable or logistically possible. We will no longer be deprived of what others have long enjoyed in this country: basic rights, safety, and freedom."
The guide also urges people to develop an understanding of what exactly defunding the police might look like in their individual communities. "Since we have only ever known a country with the existing policing infrastructure, it is hard to imagine anything else. We have to paint a picture for people of what alternatives to violent policing look like. We are building the world we need, and this is our opportunity—our moral imperative—to stimulate people's imaginations and help them envision what they may not yet be able to see," it reads.
Defunding the police won't happen overnight, and it doesn't mean immediately getting rid of all police. Instead, it'll involve shifting funding to health services and investing directly in schools. It means first taking steps to removing budgets that allow police to purchase military-grade firearms. It means denying benefits to officers accused of excessive force. It means establishing alternatives to calling 9-11.
"More policing doesn't automatically mean less violent crime, and expanded police budgets doesn't mean less violent crime," the guide reads. "The United States spends more on policing than it ever has before, but we aren't any safer. Devoting large percentages of our local budgets to police has created an environment for more police violence. In fact, the data shows that reducing the numbers of police officers and the size of police departments could actually reduce crime. Back in 2014, the NYPD staged a halt of aggressive police tactics as part of a protest. But the effect wasn't what they expected: Crime actually went down when cops took a more passive role, in the same way that the protests today escalate to violence when police decide to get violent."
From Your Site Articles
Related Articles Around the Web