Lizzie McGuire, the classic Disney Channel series starring Hillary Duff, is officially being given new life on the Disney+ streaming service, to the delight of nostalgic fans.
More than 15 years after the original show's run, pictures of Duff reuniting with co-star Adam Lamberg—AKA Gordo—have sparked excitement across the internet, but the fanfare has tended to overlook one critical question. Where is Miranda?
In the core series, you would not find Lizzie and Gordo hanging out at The Digital Bean without the third member of their group, Miranda Sanchez. That is, up until the last six episodes, from which she was entirely missing. Miranda's sudden absence was attributed to an indefinite family trip to Mexico; but in reality, Lalaine Vergara-Paras, who portrayed Miranda, was doing other work for Disney—touring with Radio Disney and shooting the Disney Channel movie You Wish! in New Zealand. Her absence extended to the 2003 Lizzie McGuire Movie, but will she still be missing for this long-awaited revival?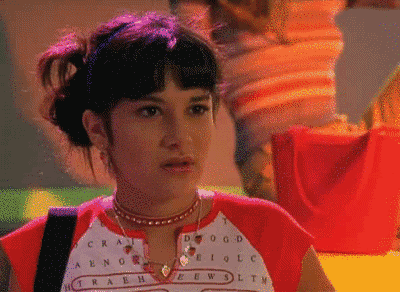 The answer is....unclear. She has previously expressed interest in the concept of a reunion show, but she hasn't yet been confirmed for the Disney+ project. Does her fraught legal past factor into Disney's plans for the show?
Like so many child stars before her, Lalaine's early fame and success led to some bad decisions in what she now refers to as her "dark years," culminating in a conviction for possession of methamphetamine in 2007. She and Hilary Duff lost touch during this time, leaving behind their real life friendship. Is that estrangement to blame for the fact that Miranda is still missing, or is Disney just protecting their brand? This is hardly the first time their squeaky-clean image has come into conflict with one of their star's personal lives—they are, after all, in the business of making child-stars—but with a reunion show starring the original cast now in their 30s, concerns about presenting good role models seem like a bit of a stretch.
Another possibility is that Vergara-Paras' recent comments about whitewashing in Hollywood were not well-received at Disney. When she wrote this April that throughout her childhood she was "forced to look as 'white' as possible," it was hard not to see that as a criticism of Disney, where she worked from a young age under the mononym Lalaine—having dropped Vergara-Paras as "too ethnic." If this was perceived as an accusation of misconduct, it may have ruffled some old white feathers at Disney.

Then again, all this scandalous speculation is overlooking a more innocent possibility. Maybe Hilary Duff and Disney are just teasing us. As recently as October, Vergara-Paras was sharing screenshots of texts from co-star Adam Lamberg. It's entirely possible that she is already signed on and getting ready to reprise her role, but we won't find out until they want us to know. If they think they can get some more press by spreading out their news and their cast reunion photos as they ramp up for the new show, then they will use our nostalgia against us and keep adding drips and drops of news until all of pop culture is consumed by the wild speculation of Lizzie McGuire fandom.
Will Clayton Snyder be spotted next week wearing Ethan Craft's signature surfer necklaces? Are Matt and Lanny going to perform "Long Tall Sally" at the Grammys? Are we doomed to get one step closer each and every day? Curse you, Disney! You have used me in your nefarious plots for the last time!