Music Features
9 Great Rock Albums For Summertime
Summertime is finally upon us. Here are some records to help you rock out.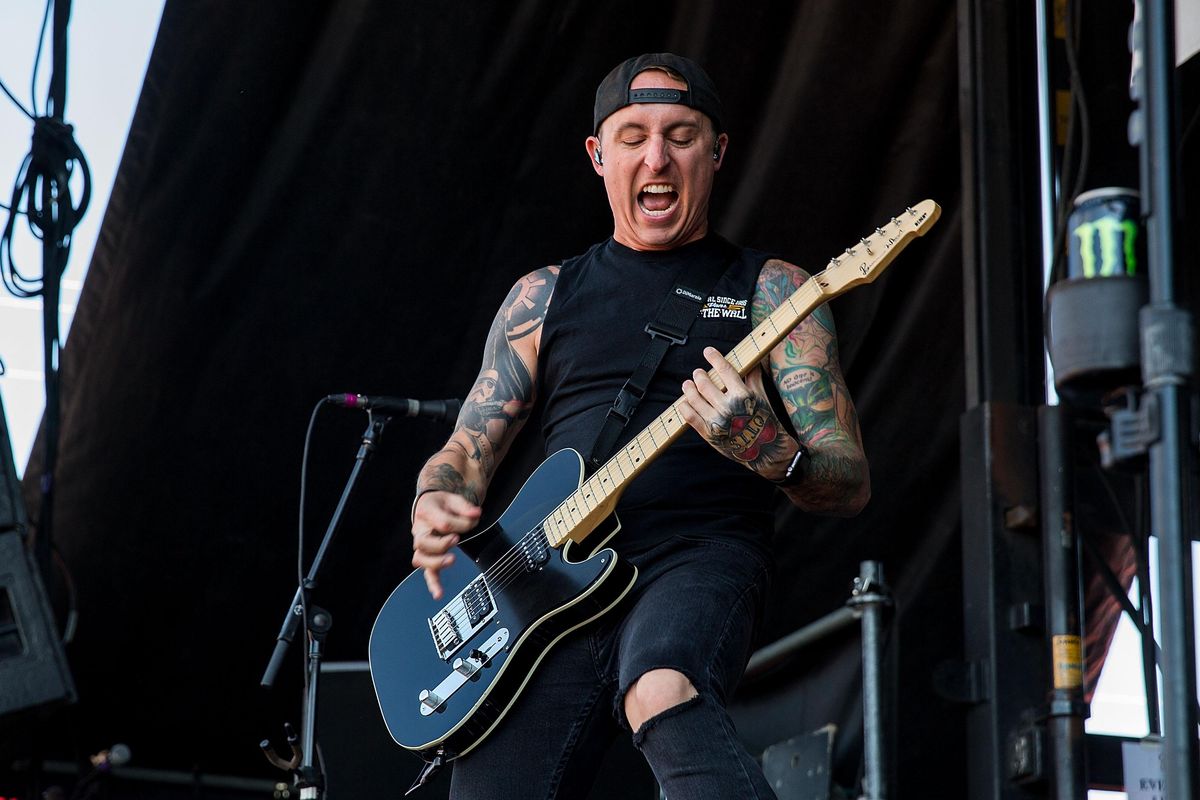 getty
Summertime is finally upon us.
Whether we want to admit it or not, this summer is going to be different than any summer that's come before. With the end of the COVID-19 pandemic near, people are heading outside, plans are being made, and trips are being taken. It will no doubt be busy and all consuming. Chances are last summer was not like this for you, and instead of listening to the albums below, you were stuck listening to yearning music about how you felt trapped or caged in.
---
Well, if you're going to get busy this summer, you'll need the perfect soundtrack. Here are the best summertime rock albums to help you snap into action.
Blink-182 – "Take Off Your Pants and Jacket"
No one quite captured the carefree angst of teenagehood quite like Blink. Pretty much any of their early works would be a perfect summertime collection, but 2001's Take Off Your Pants and Jacket is nothing but a rip-roaring good time.
"First Date" and "The Rock Show" capture the youthful exuberance and nostalgia of summertime romance, and "Stay Together for the Kids" touches on the anxiety of watching your struggling parents find love. The anxieties of being young are sprinkled throughout the album's fun moments, but that's what makes it so relatable to the childhood experience.
Deftones – "Around The Fur"
Deftones Around the Fur, despite its unforgiving grind, feels as toasty as a hot August day. "My Own Summer (Shove It)" is especially steamy, with its merciless guitars and gurgling vocals courtesy of Chino Moreno. The track remains a great nu-metal ode to those loner kids that forever loathe the heat.
"There's no crowd in the streets and no sun in my own summer," Moreno murmurs. "The shade is a tool, a device, a savior / See, I try and look up to the sky / But my eyes burn."
Green Day – "Dookie"
To be fair, Dookie's youthful adrenaline rush works for any occasion, but it especially works in the summertime heat. The album sounds the way Berkeley, California feels and kicked off the pop-punk movement that has since been synonymous with summertime mischief. "Burnout" and "Basket Case's" sticky guitars sound carefree, like they're being performed by the neighborhood band right in your backyard.
Billie Joe Armstrong's voice also radiates with surprising warmth. On "Having a Blast" he sounds like a kid determined to be a kid at all costs, even when dreary reality tries to sink in. "Nothing's gonna change my mind, I won't listen to anyone's last words / There's nothing left for you to say / Soon you'll be dead anyway." It's an album rank with nostalgia, dedicated to a time when the biggest question of the day was: "Am I just paranoid, or am I just stoned?"
Queens of the Stone Age – "Rated R"
Queen of the Stone Age's desert rock grime is perfect for some balmy day-drinking and Rated R captures this feeling the best. "The Lost Art of Keeping a Secret" is saturated in bristling guitars and lo-fi vocals perfect for a top-down drive through the city with a cigarette dangling out of your mouth.
"Monsters in the Parasol" is just pure pulsating adrenaline that sounds as loaded as a daytime blackout, and "I Think I Lost My Headache" is as pulverizing and corrosive as that hangover you get when the party ends. Needless to say, Rated R is a perfect album for those looking to get into some trouble.
Sum 41 – "All Killer, No Filler"
Those that remember this album remember how special those early aught summers were. Summertime in the time of All Killer, No Filler was full of bullshit shenanigans, with teens cruising around on their bikes trying desperately to score a gram of weed.
Sum 41's debut carries a perfect mix of pop punk, heavy metal, and even hip-hop, as the Canadian boys, much like the teen boys they were singing to, aimlessly try on different outfits in the hopes of figuring out who they are. "Attention that we crave, don't tell us to behave, I'm sick of always hearing 'act your age,'" Whibley belts out on "Fat Lip" as if it's a warcry. All Killer, No Filler is at times messy and barely holds together, but remains incredibly charming along the way, much like being a kid.
Weezer – "Blue Album"
If you're in your early 30s and want to spend your days relaxing by the pool sipping on a Rolling Rock, there is no better soundtrack for that experience than Weezer's Blue Album. "The sea is foamin' like a bottle of beer / The wave is comin but I ain't gonna fear / I'm waxin down because it's really a blast…' Cuomo calls out of "Surf Wax America."
The album sparkles like a freshly opened can of beer, and iconic tracks like "Buddy Holly" and "Say It Ain't So" are just as smooth and refreshing as taking a sip. A perfect album for both the social butterfly or the tanning loner, Weezer's Blue Album is a lighthearted affair, perfect for those just needing to catch a vibe.
Angels & Airwaves – "I-Empire"
A perfect summer can sometimes feel intergalactic and out of this world, especially when you're young. So much so that when it ends, it feels like you're exiting a fever dream. But Angels & Airwaves' I-Empire is the perfect album to remind you that those experiences were real and that the heightened emotions you felt were genuine, even if they were corny.
'Over the bands cascading guitars and spaced-out interludes, Tom DeLonge's boyish whines are comforting even if they generate an eyeroll or two. "Did you know that I love you?" he calls out on "Breathe." "Come and lay with me." On "Secret Crowds," he testifies that he will build his lover her own world, devoid of war and filled with "voices of kids out walking dogs, birds, planes, cleanest cars." It's all so heightened, but when you're locked in a summertime trance, it hits the spot like a splash in cool water.
My Chemical Romance – "Danger Days: The True Lives of the Fabulous Killjoys"
Ditching the emo theatrics for moments of power pop and pop rock, My Chem's final record before their break up is as animated and opulent as the world it takes place in. "The Kids from Yesterday" is a sticky power-pop track that glides like a sunny afternoon drive, and "Summertime" is actually the saddest track on the album, as it taps into a fleeting romance that ends when the sun goes down. "You can run away with me, anytime you want," Gerard Way calls out defeated, knowing that she's already made her mind up.
Yellowcard – "Ocean Avenue"
There is no other album that captures those summertime yearnings quite like Yellowcard's Ocean Avenue. From the album's epochal title track to its humid album cover, the Jacksonville collective's fourth record beams like a ray of sunshine in the Florida heat.
The album basks in innocuous summertime romance and remains a perfect record for those yearning boys and girls who were convinced their infatuations could outlast the balmy weather. "I'm falling into memories of you and things we used to do," singer Ryan Key calls out. "Follow me there." From breaking away from our parents ("Way Away") to begrudgingly returning home at summer's end ("Back Home"), Ocean Avenue is saturated in teenage melodrama.