Film News
Most Exciting Films We Saw at NewFest 2023
Paul Mescal and Andrew Scott in All of Us Strangers? Thomasin McKenzie and Anne Hathaway in Eileen? Natalie Portman, Julianne Moore, and Charles Melton in May December? Put me in coach.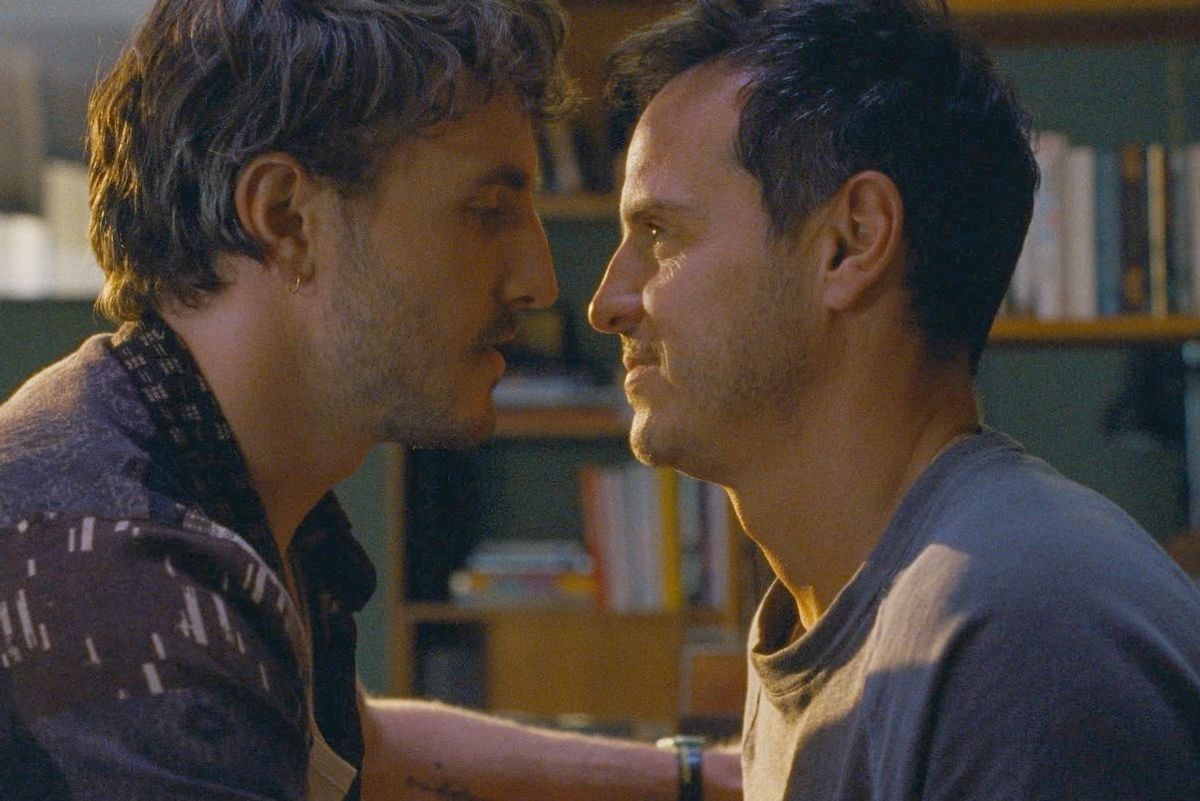 via Searchlight Pictures
Queer representation has come a long way — from nothing to something, as they say. But it still hasn't come far enough. 2023 has been the year of the Queer film, from Bottoms and Down Low to Red, White & Royal Blue and DICKS. Queer cinema is pushing its way into the mainstream with titles that are diverse and campy and wonderfully representative of vastly different queer experiences.
---
But mainstream titles aren't the only ones you should look forward to. And, often, the queer films that get an iota of the press only scratch the surface of what's out there. Luckily, we have platforms like NewFest to spotlight queer stories and give them the attention they deserve.
NewFest has been championing LGBTQ+ stories since 1988. The festival is New York's largest presenter of LGBTQ+ film & media, bringing together queer audiences and celebrating queer stories on a massive scale. It's film's pride parade. And this year's festival offered screenings of the most anticipated queer titles of the year.
#NewFest35 Trailer - The New York LGBTQ+ Film Festivalyoutu.be
Here are the films you should be looking forward to from NewFest 2023
All of Us Strangers - Directed by Andrew Haigh (UK)
A loose adaptation of the 1987 novel Strangers by Taichi Yamada, All of Us Strangers has been long awaited for a number of reasons. One: the haunting and heartwrenching source material about a solitary writer grieving his parents, who then appear to him in his childhood home. Two: the queer romance between characters played by Paul Mescal and Andrew Scott. God bless the Irish.
Rustin - Directed by George C. Wolfe (USA)
If you haven't heard of Bayard Rustin, blame the education system. This queer activist was a primary organizer of the 1963 March on Washington. Colton Domingo portrays this Civil Rights hero in this brand long-overdue adaptation.
NYAD - Directed by Elizabeth Chai Vasarhelyi and Jimmy Chin (USA)
Based on a true story, this upcoming triumph tells the story of a 64-year-old marathon swimmer Diana Nyad (Annette Bening) who, supported by her best friend and coach Bonnie Stoll (Jodie Foster), attempts to become the first person ever to swim from Cuba to Florida. Plus, it features a Mary Oliver quote (you know the one) so I, too, felt inspired.
MONSTER - Directed by Kore-eda Hirokazu (Japan)
This Cannes Award winner from Hirokazu Kore-ada, featuring the final score by the late legendary composer Ryuichi Sakamoto, is not one to miss. When her young son Minato starts to behave strangely, a mother (Sakura Andō) confronts a teacher to get to the bottom of a puzzling mystery.
EILEEN - Directed by William Oldroyd (USA)
The WLW community won with this one. Based on the best-selling novel by Ottessah Mosfegh, Thomasin McKenzie and Anne Hathaway star as two women who forge a mysterious bond in 1964 Massachusetts while working at a prison.
MAY DECEMBER - Directed by Todd Haynes (USA)
The hype is already real for this film — even spurring Oscar buzz for its cast: Natalie Portman, Julianne Moore, and Charles Melton. Winner of the NewFest35 Queer Visionary Award, this drama is about a couple's notorious tabloid romance is stirred up by an actress doing research for a film about their past.

Other films we're excited about:

CHUCK CHUCK BABY - Directed by by Janis Pugh (UK)
Two working-class women learn to live life to the fullest after reuniting at a chicken factory in industrial north Wales in this delightful (and musical!) story of star-crossed romance.
CLASHING DIFFERENCES - Directed by Merle Grimme (Germany)
Chaos reigns as a group of BIPOC and queer women discover the real issues that unite them at a retreat organized by white feminists.
CORA BORA - Directed by Hannah Pearl Utt (USA)
In this wry comedy, Megan Stalter stars as Cora, a messy millennial musician who heads home to salvage her rocky relationship with her girlfriend.
FANCY DANCE - Directed by Erica Tremblay (USA)
Lily Gladstone stars as an Indigenous woman who journeys with her niece from an Oklahoma reservation across the heartland to find a missing family member in time for an important powwow.

GOLDEN DELICIOUS - Directed by Jason Karman (Canada)
When an openly gay, basketball-loving teen moves in across the street, Jake tries out for the team to get his attention.

THE MATTACHINE FAMILY - Directed by Andy Vallentine (USA)
Nico Tortorella and Emily Hampshire are among the famous faces in this story about a queer married couple whose life unravels when their foster child is returned to his birth mother.

NATIONAL ANTHEM - Directed by Luke Gilford (USA)
A young man from the New Mexico plains joins a utopian community of queer ranchers and rodeo performers.
SUMMER SOLSTICE - Directed by Noah Schamus (USA)
A trans man and his cisgender, straight friend take a spontaneous weekend trip that pushes the limits of their longtime friendship
THIS PLACE - Directed by V.T. Nayani (Canada)
Two young women in Toronto connect across identities as they reconcile complicated feelings about family and heritage.