MUSIC
Mission Chinese Food, Roberta's Pizza, Oddfellows Ice Cream Co., KronnerBurger, and More Join 90+ Breweries and 20 Musical Acts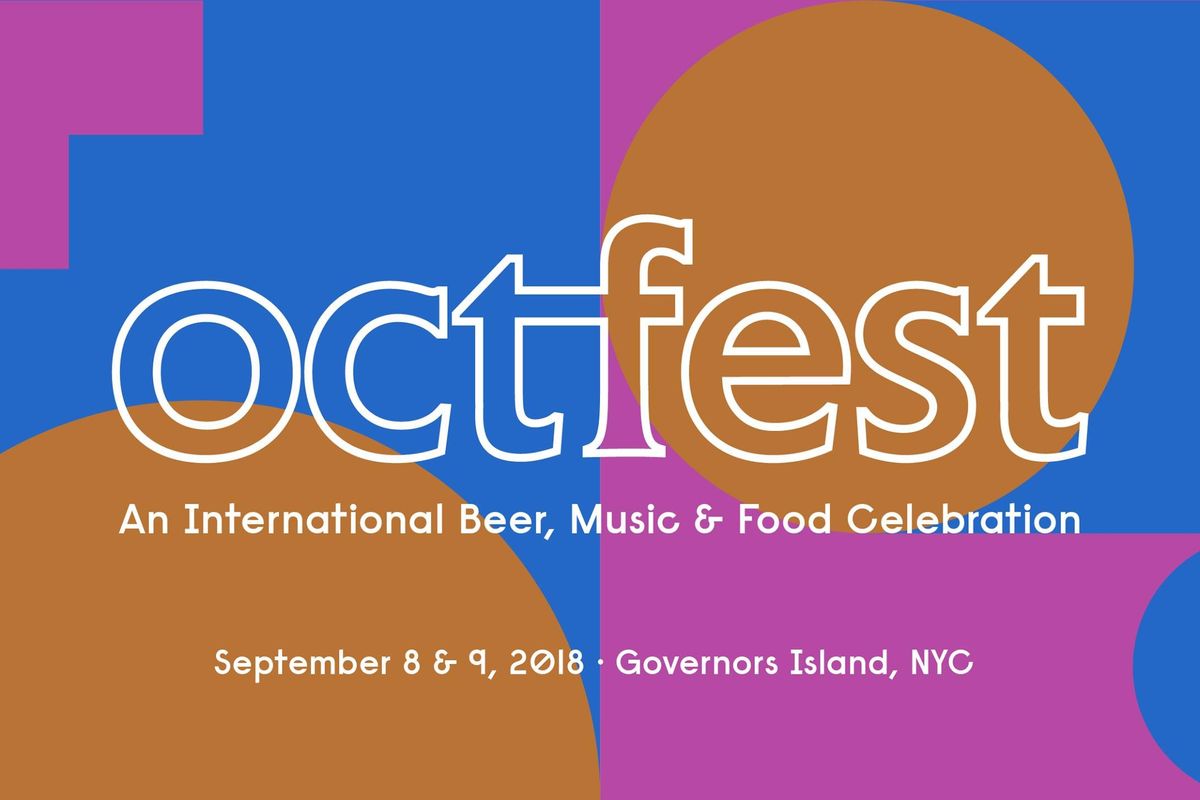 OctFest, the one-of-a-kind beer, music, and food festival presented by Pitchfork and October, today announces its food lineup, curated by Bon Appétit, the award-winning food lifestyle brand. Mission Chinese Food, Roberta's Pizza, OddFellows Ice Cream Co., KronnerBurger, and more join 20 musical acts including Vince Staples and The Flaming Lips, along with 90+ craft breweries from around the world at the reimagined OctFest 2018, taking place September 8-9 on Governors Island in New York City.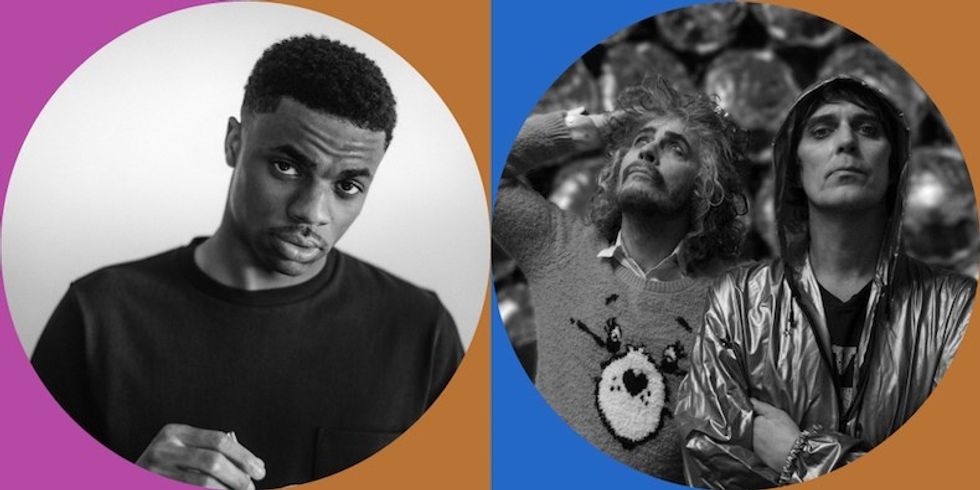 pitchfork.com
The all-new food program features a "Food Village" offering several New York City quick-serve staples like Roberta's, Sweet Chick, and STUF'D Truck. Additional restaurant participants include Cervo's and Best Pizza from Brooklyn, and KronnerBurger from Oakland, preparing specialties from around the world to complement the domestic and international craft beer being sampled."Mission Chinese Food has always had a close relationship with music, so working with Pitchfork on OctFest naturally made sense," said award-winning chef and cofounder of Mission Chinese Food, Danny Bowien. "We've had a few bands perform at the restaurant including my band NARX!, so it will be a change of pace to bring our food to an event with such a robust lineup."

OctFest is also teaming up with Billion Oyster Project (BOP) to help raise money to install and maintain community oyster reefs in New York Harbor. Blue Point Brewing Company, one of the breweries at OctFest is an official partner of Billion Oyster Project and will be launching Good Reef Ale in September. For every pint of Good Reef Ale sold, five oysters will be restored to Billion Oyster Project's Community Oyster Reefs in New York City.
Those five oysters can filter up to 250 gallons of water per day strengthening water restoration.As previously announced, musical acts include Vince Staples, BADBADNOTGOOD, NAO, Saba, Preoccupations, Vagabon, Standing on the Corner, Hatchie, Flasher, and Madison McFerrin on Saturday, and The Flaming Lips, Nile Rodgers & CHIC, Yo La Tengo, Girlpool, Hop Along, No Age, Kamaiyah, Shopping, Julie Byrne, and The Courtneys on Sunday.Additionally, OctFest 2018 is hosting 90 breweries from 20 countries, pouring more than 250 varieties of award-winning craft beer.

Several breweries, including Wicked Weed Brewing, DC Brau, Wedge Brewing Co., Four Peaks Brewing Co., Wild Beer Co., and Karbach Brewing Co., will be making their New York City debut at OctFest.Tickets are on sale now at OctFest.co. Passes are $75 for a single day and $140 for the weekend, and include 15 beer samples per day.For more information, including lineup announcements, event news, and updates, please visit Oct.co and follow @Pitchfork and @ReadOctober.Full food, music, and brewery lineups are below.
FOOD LINEUP:
Curated by Bon Appétit
Best Pizza
Cervo'sHank's
Juicy Beef
Island Oyster
KronnerBurger
Los Viajeros Food Truck
Mission Chinese Food
Oddfellows Ice Cream Co.
Sweet Chick
STUF'D Truck
Roberta's Pizza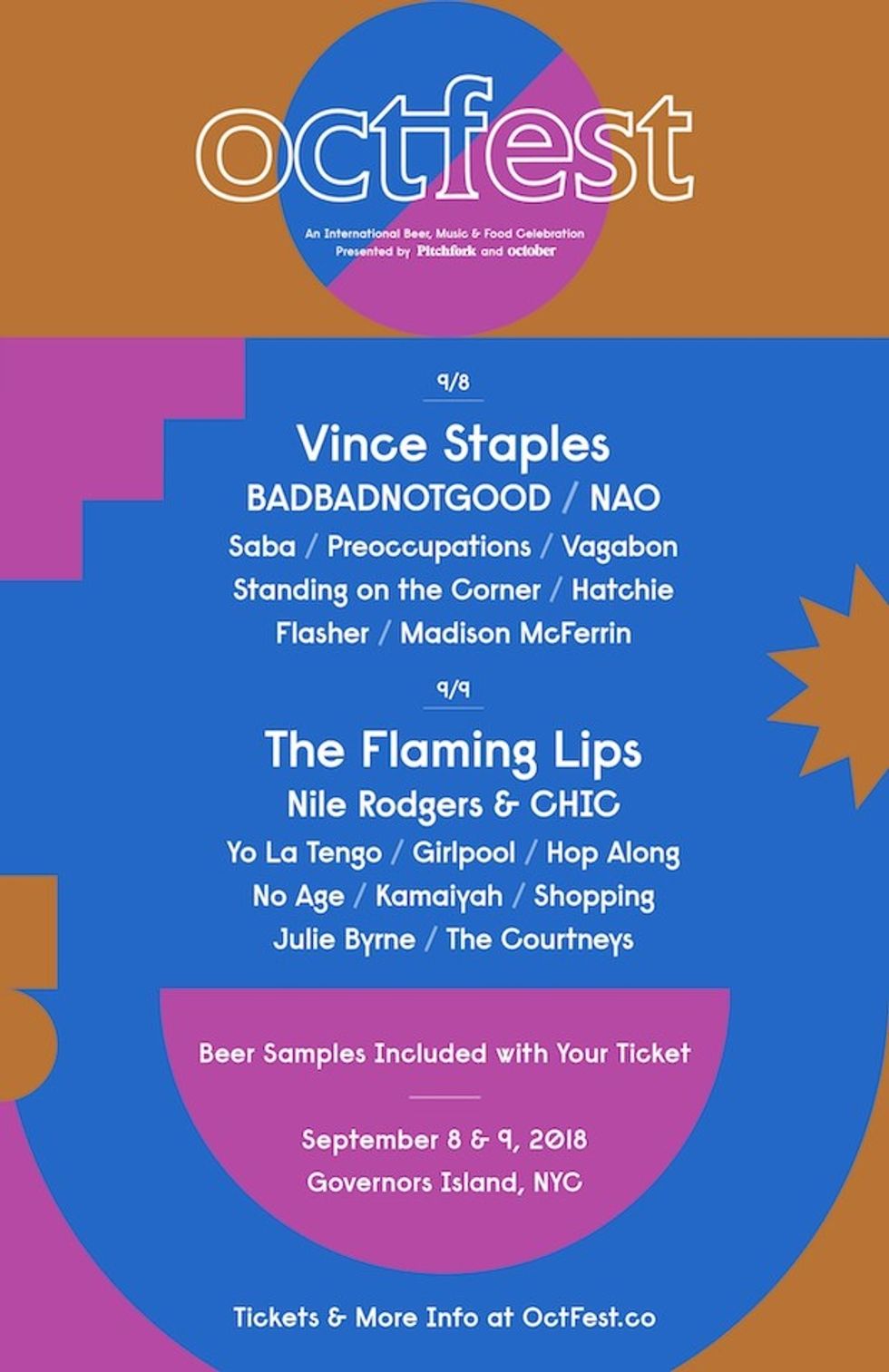 pitchfork.com
MUSICAL LINEUP:

Saturday, September 8
Vince Staples
BADBADNOTGOOD
NAO
SabaPreoccupations
Vagabon
Standing on the Corner
Hatchie
Flasher
Madison McFerrin
Sunday, September 9
The Flaming Lips
Nile Rodgers & CHIC
Yo La Tengo
Girlpool
Hop Along
No Age
Kamaiyah
Shopping
Julie Byrne
The Courtneys
BREWERY LINEUP:
North America - West
10 Barrel Brewing Co. (Bend, OR)
Austin Eastciders (Austin, TX)
Breckenridge Brewery (Littleton, CO)
Elysian Brewing Company (Seattle, WA)
FiftyFifty Brewing Company (Truckee, CA)
Firestone Walker Brewing Company (Paso Robles, CA)
Founders Brewing Co. (Grand Rapids, MI)
Four Peaks Brewing Co. (Tempe, AZ)
Golden Road Brewing (Los Angeles, CA)
Goose Island Beer Co. (Chicago, IL)
Jolly Pumpkin Artisan Ales (Dexter, MI)
Karbach Brewing Co. (Houston, TX)
Kona Brewing Company (Kailua-Kona, HI)
Live Oak (Austin, TX)
Monkless Belgian Ales (Bend, OR)
On Tour Brewing Company (Chicago, IL)
Rogue Ales (Newport, OR)
The Shop Beer Co. (Tempe, AZ)
Virtue Cider (Fennville, MI)
North America - East
Blue Point Brewing Company (Patchogue, NY)
Brasserie Archibald (Canada)
Braven Brewing Company (Brooklyn, NY)
Brewery Ommegang (Cooperstown, NY)
Brickworks Cider (Canada)
Circa Brewing Co. (Brooklyn, NY)
Cisco Brewers (Nantucket, MA)
Collective Arts Brewing (Canada)
DC Brau (Washington, D.C.)
Devils Backbone Brewing Company (Roseland, VA)
Flying Dog Brewery (Frederick, MD)
Hanging Hills Brewing Company (Hartford, CT)
Jack's Abby Craft Lagers (Framingham, MA)
Keegan Ales (Kingston, NY)
Lamplighter Brewing Co. (Cambridge, MA)
LIC Beer Project (Long Island City, NY)
Lord Hobo Brewing Company (Woburn, MA)
M.I.A. Beer Company (Doral, FL)
Microbrasserie Gainsbourg (Canada)
Mill Street Brewery (Canada)
Narragansett Brewing Company (Pawtucket, RI)
Sand City Brewing Co. (Northport, New York)Springdale (Framingham, MA)
Stanley Park Brewing (Canada)Sunday Beer Co. (Brooklyn, NY)
The Bronx Brewery (Bronx, NY)
Veza Sur Brewing Co. (Miami, FL)
Wicked Weed Brewing (Asheville, NC)
Zero Gravity Craft Brewery (Burlington, VT)
Europe

Aktien Brewery of Kaufbeuren (Germany)
Birra del Borgo (Italy)
Brasserie La Binchoise (Belgium)
Brouwerij Bosteels (Belgium)
Brouwerij DeKroon (Belgium)
Camden Town Brewery (UK)
Ginette (Belgium)