Sports
SPORTS | BALL IN THE FAMILY Ep 1 Recap: Thinking LaVar Ball is crazy is a common first impression, but nothing compares to the love he has for his family, and they for him.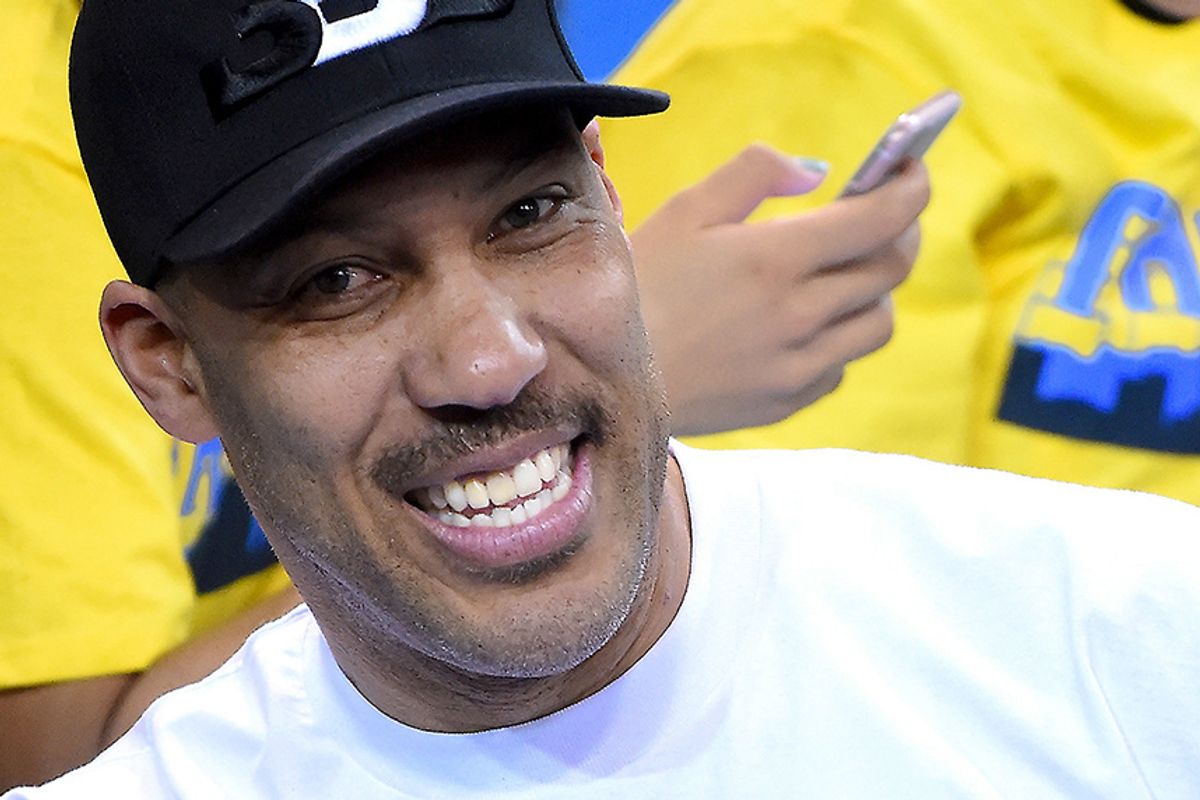 "If you're a good loser then you must be good at losing."
This is how 15 year old LaMelo Ball is introduced to viewers in the opening credits of Ball In The Family, a reality show style documentary on the now infamous Ball Family. Thursday, August 30, 3017, the first two episodes of the series debuted on Facebook, and to say I was intrigued is an understatement. See, I've always loved LaVar Ball. Since the loud-mouthed visionary and father of three uttered his first boastful sentence in front of a camera, I connected with him and his sons, rooted for them, and defended them. While others saw a man that would destroy his son's career before it started, I saw a father with a plan–the typecast of a father that is under-represented but ever present. He wasn't meek, he didn't walk around with his eyes cast down and a humble smile, he didn't leave his opinions to the "experts". Nah. The eldest Ball boasted about all three of his sons, compared them to the greats, commented on every single thing basketball related, and when it came to his family, he was the expert. LaVar Ball has a special makeup, passed down to him from his own father, that also came together to form Matthew Knowles (Beyonce and Solange's father), Richard Williams (father of Venus and Serena Williams), Joe Jackson (Father to the first generation of famous Jacksons, including Michael and Janet), and maybe even your dad. It definitely was passed down to mine, which is why I recognized the Balls as part of my tribe. While their methods may be unorthodox, they are visionaries who see the world in their children, and lucky for them, their children listened. Though ecstatic, Lavar is not surprised with the success of his family, "I expect all of this to happen...Speak it into existence every time."

Ball In The Family: Episode 1- Bittersweet Victory
The first episode starts off with a family introduction. Somehow five people are all weighted equally, the three Ball brothers, their mom Tina Ball, and the patriarch, Lonzo Ball. "They were born to go pro", LaVar says as the episode cues to a flashback of Papa Ball's appearance on First Take with Stephen A. Smith with Stephen A. Smith in March. "I'm concerned your mouth may get in their way", Smith shouted to Ball. For as loud and proud as LaVar is known to be, I hope to subtly serve crow the same way he does to Smith, in my own documentary while using a doubter's words to launch into a series that shows I am exactly who I said I am, as I told you I would be. To be fair, comprehending why Smith doubted LaVar is not obscure. In a world of fake news and instant gratification, Ball didn't have the receipts to match his hyperbolic claims. But see, Smith hasn't been around this type of father, I was raised by one. LaVar didn't need receipts, he had all he needed. Like a prophet in the wilderness, Ball held onto his vision of the promised land, convinced his family that the only things they required in life were their talents and his vision, and held onto his faith. Sure it seemed crazy, but Ball was used to crazy being a common first impression. His most faithful teammate, his wife, thought he was crazy when they first met.
"I don't care if your eye is on the side of the face…"
The story about how LaVar and his wife, Tina, met is a perfect example of self prophecy and persistence. He met Tina, told her he was going to have her in some kind of way still to be determined and she waved him off. Though LaVar likes to compare himself with Jordan on the court, he was most like Jordan when courting his wife. He was turned away, stuck it out, she put him on the team, and then he formed a team primed and ready for threepeat championships. A vibrant Tina recounted how LaVar told her that they would have all boys pretty early in their meeting. Another prophecy fulfilled. Tina learned early that if LaVar wanted something, it would be his, even when it came to her parents. LaVar's in-laws admit they didn't accept him immediately because he was Black. He didn't back away, he didn't pressure them, he focused on the plan. Tina was his girl, as he affectionately calls her. They were going to have all boys, Laker players of course, and they would be a team.
As the show takes us behind the scenes of Lonzo's NBA draft, the Ball matriarch has a stroke that leaves her life hanging in the balance for a few weeks. Still not fully recovered, her parents recount the story with fear, but her sons recall their mom's journey with strength and confidence, something else they evidently got from their father. A few tears are stifled, three red faces go blank for a moment, but they clear up almost instantly like a summer storm. They know that they their mom will be ok, and step up as the household changes to accommodate her recovery. This is one of several times you are thankful the boys have LaVar as their father. The Compton native steps up emotionally and physically while his wife deals with her own recovery, constantly checking in on her when the family is away and reminding his sons that she is always with them. As Tina watches the draft from their house in California and the Ball boys are all in Brooklyn on draft day, LaVar reminds them that her spirit is there with them, "She hasn't missed anything since they were kids. Everywhere they go she is there."
"We believe our dad's master plan and we will do anything to make it happen."
LaVar and Tina have three sons, Lonzo(19), LiAngelo (18), and LaMelo (15). Lonzo and Melo have been featured heavily in the media over the course of this last year, seen to some as the puppets in LaVar's circus. One episode of this show easily dispels this myth. Lonzo knows his dad, his character, and accepts the fact that his quirky ways and unshakeable spirit can be seen as abrasive. He doesn't mind, and
even makes fun of it in public
. It's his dad that helped him get this far, and Lonzo won't stop listening now because the media speaks out against his way, "We believe our dad's master plan and we will do anything to make it happen." Because of the master plan, Lonzo is a Laker, and Melo released his first shoe today,
MB1 by Baller Brand
. While Lonzo is the calm and humble big brother, taking fame and the road from college to pro in stride whose only unforgiveable flaw is
denouncing Nas for Migos and Future
, Melo is baby LaVar. Loud, proud, and ready to perform. Gelo plays into his birthright as a middle child so far in the show. We don't know much about him other than he looks up to his big brother while being a role model for his little brother and according to his father, he too, is going to be a Laker. Only time, and more episodes will tell.
---
Brittiany Cierra is an entertainment and travel journalist and On-Air host highlighting where culture, music, film, television, and current events intersect. When she's not writing about people, places, and things, she's speaking about, dancing on, or marketing them. Follow the journey on twitter and Instagram.
---