CULTURE
Corporate responsibility should never fall on employees and fans.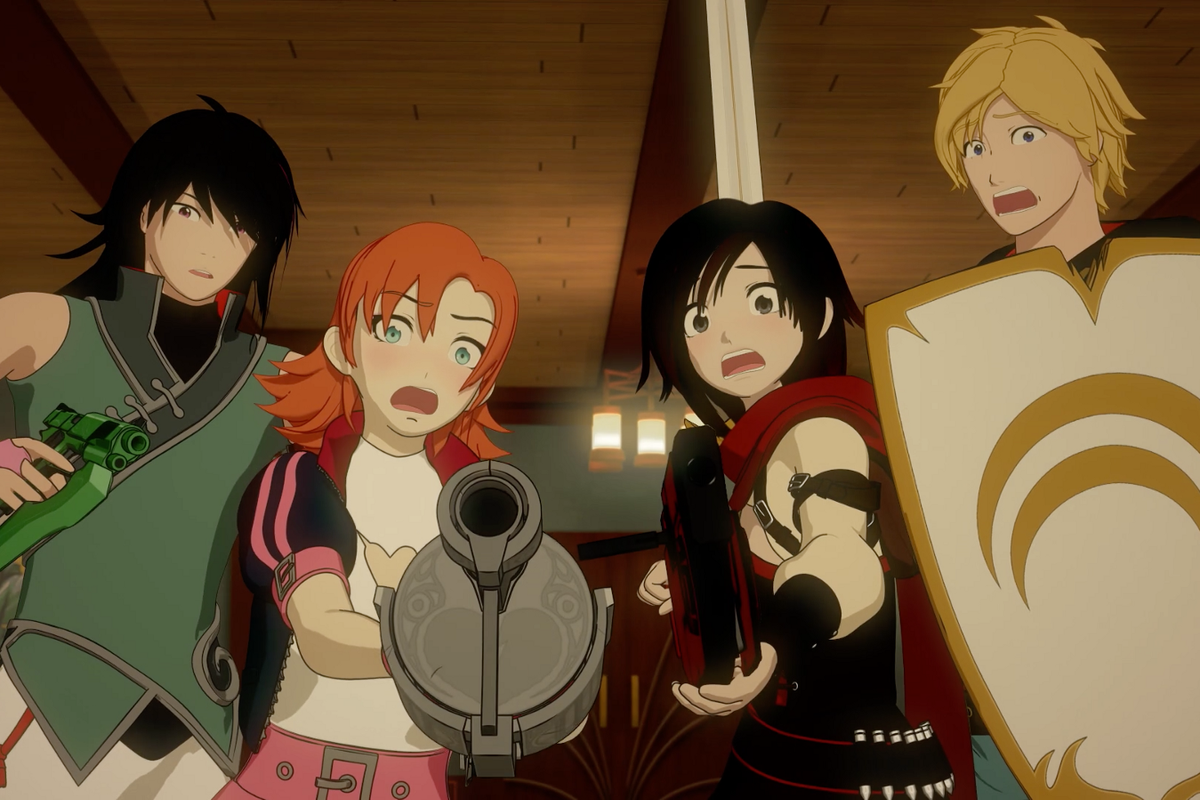 Rooster Teeth
One of the most beloved names on the independent animation scene, Rooster Teeth Productions, appreciates a squeaky clean public image and a fanbase that views them almost like a friend.
But behind corporate doors, Rooster Teeth's workplace is anything but friendly, characterized by extreme "Crunch Culture," zero overtime pay, and abusive management that takes advantage of employees' passion and career aspirations.
Founded by a group of five friends/filmmakers/video game enthusiasts in 2003, Rooster Teeth came to prominence with Red vs Blue, a sci-fi parody web series based around the Halo franchise and produced using machinima––a technique combining video game footage with pre-recorded audio. Currently, Red vs Blue is the longest running episodic web series ever, and Rooster Teeth continues to crank out hit content, including the anime-styled RWBY and their recently released mecha title Gen:Lock starring Michael B. Jordan. Their team of five has grown into an independent animation powerhouse, now owned by AT&T's WarnerMedia and running a subscription streaming service known as "FIRST," alongside multiple highly successful YouTube channels totaling over 45 million subscribers.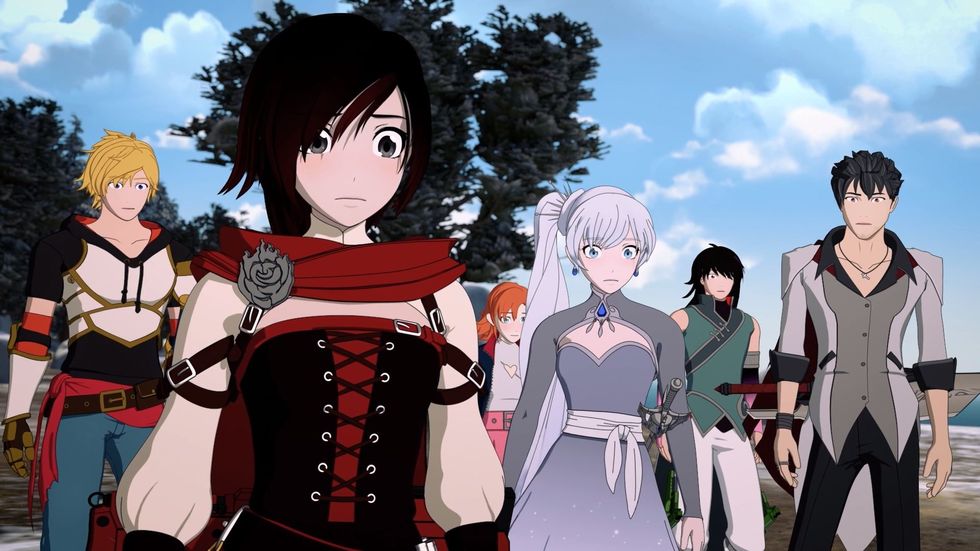 RWBYRooster Teeth
Through all this, Rooster Teeth has maintained an extremely loyal, dedicated fanbase that follows their content across platforms and mediums, knows all the creators by name, and actively engages with them online and at conventions. On the independent animation scene, Rooster Teeth is akin to Disney, in the sense that many young creatives grew up inspired by their content and now dream of becoming part of the team. Unfortunately, the old "never meet your heroes" adage goes doubly true for corporations.

Recently, Rooster Teeth's Glassdoor page has been hit with a slew of negative employee reviews. These reviews outline a corporate culture plagued by oppressive working conditions, forced unpaid labor with zero benefits, and a trend of lying and hand-waving complaints on the part of management. This stands completely at odds with Rooster Teeth's friendly, engaged public image. Many of the highlights have been compiled on an RWBY fan Tumblr.

"Crunch here is out of control. No Paid OT. Expect to work A LOT for free. 70-80 hour work weeks. Mandatory 10-12 hour work days sometimes with no days off," said one employee.
"Every season of RWBY and GL gets about 1/3 or less made for 'free' because no one gets paid over time and it's not uncommon to work hundreds of hours of overtime..." echoed another.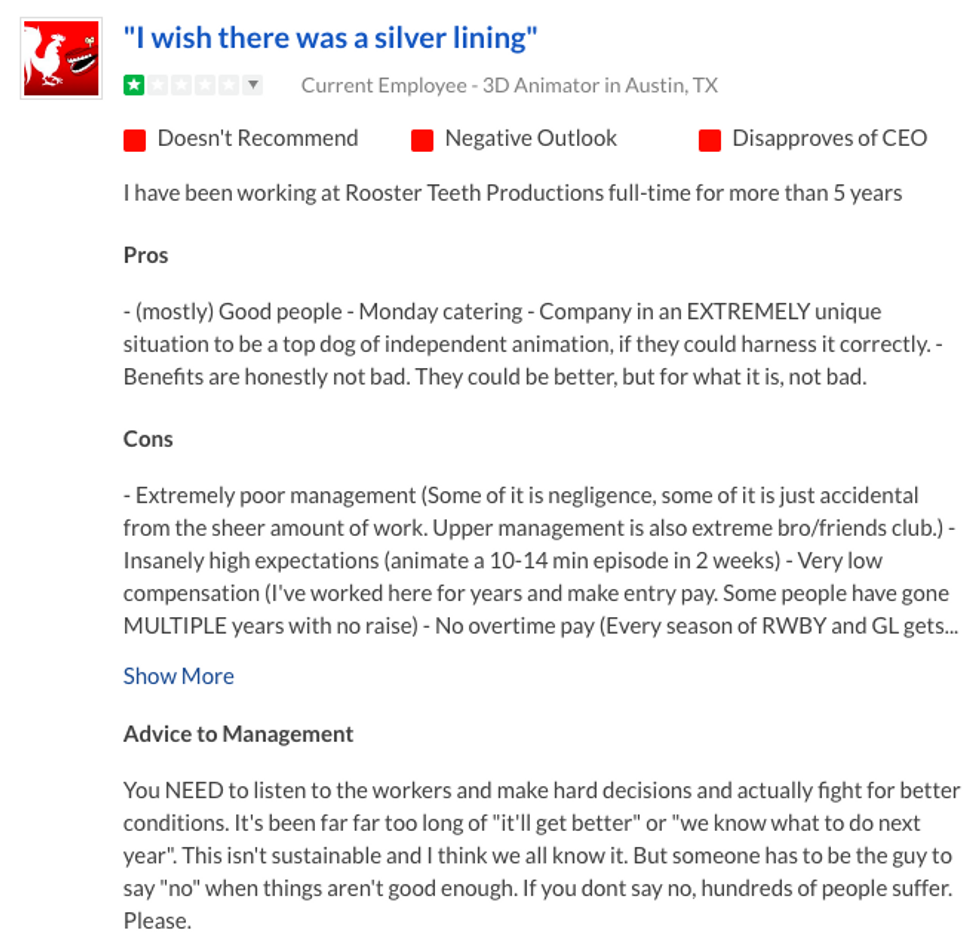 A sample employee review from Rooster Teeth's Glassdoor page
Many of the recent employee reviews continue in this vein. "Crunch Culture" has been covered frequently as an overwhelming problem in the video game industry. "Crunch," as it's come to be known, is the period prior to the planned release date of a video game when everything that hasn't been finished already needs to be finished immediately. Crunch can last a few weeks or a few months, but it's almost always characterized by the same things––ungodly unpaid hours and extreme pressure to deliver too much work in too little time. While press coverage of Crunch in the video game industry has been high-profile, with major accusations levied against powerhouse publishers like Rockstar Games and BioWare, coverage about the animation industry has been scarce.

Crunch situations are, by nature, rife with employee abuse. Nobody should ever be expected to work for free, especially for such long periods of time and at such great cost to their physical and mental health. That such a practice exists and, worse, is considered par for the course, indicates a corporate culture predicated on abuse.
Some of the Rooster Teeth reviews offer insight into how this abuse functions. "Artists are lead on with the promises of 'full time employment and benefits' dangled in front of them without ever being addressed and ultimately are never given…" said one employee, highlighting management's use of healthcare benefits as a form of leverage.
"No career advancement, and contract workers are given empty promises of full time employment before being shown the door once production is done," said another. Rooster Teeth management capitalizes on the passion and ambition many employees hold for the company and projects, lying to employees about career advancement after what one reviewer described as "a 90 day trial period" and then discarding them as soon as the project is finished.
Time and again, employees made their concerns clear to management and were blown off. "Management has been using a weird method to try and deescalate hard feelings about crunch. They're acting like counselors who are 'there to talk' and to try and find 'coping mechanisms' to deal with crunch," explained an employee who goes on to note how flawed this response is, due to both management's inherent bias in favor of the company's desires and the fact that managers are not trained mental health professionals.
Another employee described upper management as an "extreme bro/friends club." The same reviewer went on to plead for change. "You NEED to listen to the workers and make hard decisions and actually fight for better conditions...If you don't say no, hundreds of people suffer. Please."
Initially, some Rooster Teeth fans suggested that these Glassdoor reviews might simply be the work of a few disgruntled, fired employees, as opposed to legitimate whistleblowers about a larger toxic culture. This theory was quickly debunked by Georden Whitman, a visual development artist and creator of the Rooster Teeth series Nomad of Nowhere. Whitman took to Twitter to back up the reviews, saying, "...It's true and people likely don't want their careers affected when seeking jobs elsewhere."
@MurderOfBirds_ @CathalMad @ThatKaitoDan @UnicornOfWar @Raymond_McNeil Ill be the reliable one when i say its true… https://t.co/TZG0FzZc27

— Georden Whitman (@Georden Whitman) 1560699026.0
Astoundingly, this kind of employee abuse through extreme unpaid overtime is completely legal due to a "Creative Professional Employee Exemption" loophole in the U.S. Department of Labor's Fair Labor Standards Act (FLSA). This exemption states that while, normally, not paying an employee overtime past 40 hours a week is criminal, an employee whose primary work includes "invention, imagination, originality or talent in a recognized field of artistic or creative endeavor" and makes more than a measly "$455 per week" is not included. As such, companies like Rooster Teeth can get away with legally abusing their workers, just as long as nobody speaks up.

Luckily, many Rooster Teeth fans are not taking these accusations lying down. A major thread currently stands on the front page of Rooster Teeth's subreddit detailing the abuse. Some fans are already cancelling their subscriptions to Rooster Teeth's FIRST service and unfollowing their accounts on YouTube in protest. Others, who already have tickets to Rooster Teeth's annual RTX convention, are planning to use official panels to ask questions about their company culture.
Fan outrage is so strong that Rooster Teeth CEO, Matt Hullum, released a statement addressing the Reddit thread, apologizing "to all who have been affected." He clarifies that Rooster Teeth's head of animation, Gray Haddock, will be "stepping down...to dedicate himself to a strictly creative role" and that they will be "consulting with experienced leaders in the animation industry on our workflow, pipeline, production structure and other areas to enhance the workplace experience for our staff."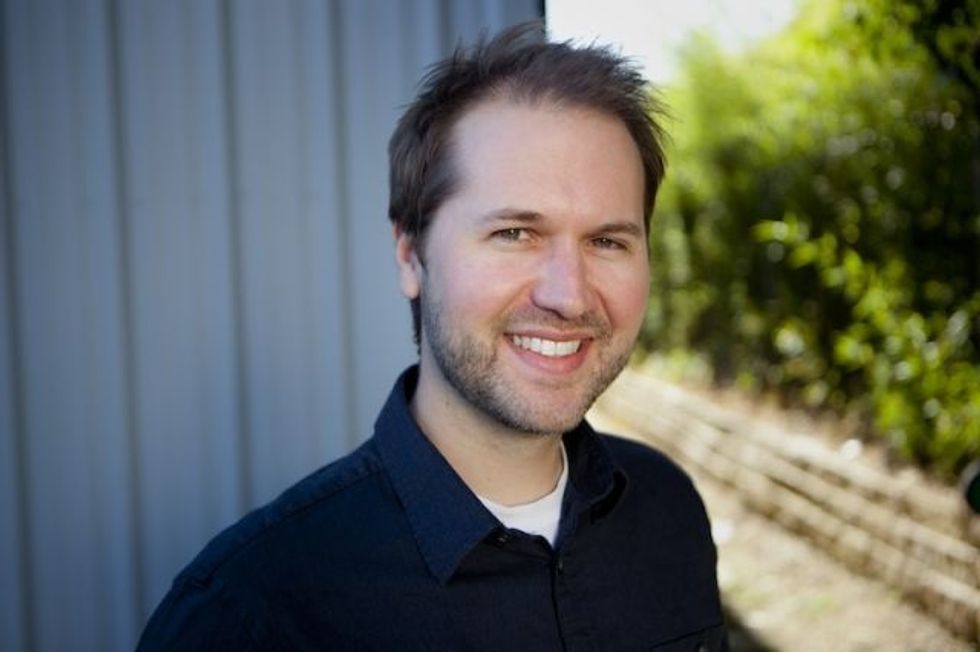 Rooster Teeth CEO, Matt Hullum
While Matt Hullum's statement might be seen as a step in the right direction, it's important to note that employee reviews highlight the fact that this has been an internal issue for years. Management has been aware of and complicit in this abuse for years. Claiming that they intend to fix something like this only after fans express outrage is not okay. Corporate responsibility should never fall on employees and fans. Crunch culture boils down to poor management and deeply ingrained hierarchical abuse of artists and creatives.

As hard as it is to criticize and turn one's back on a company that creates beloved art, it's incredibly important not to let fandom overshadow employee abuse. Caring about a creative medium means caring about the people who make that medium a reality. Great shows and great games can and should be made without abusing creatives behind the scenes. Rooster Teeth doesn't need to do better tomorrow. They need to do better yesterday.
*When reached out to for additional comments, Rooster Teeth directed us back to Matt Hullum's statement.
Related Articles Around the Web