Sports
The young free-skiing phenom is currently in the middle of Olympic trials and will be competing in the Winter X Games in late January.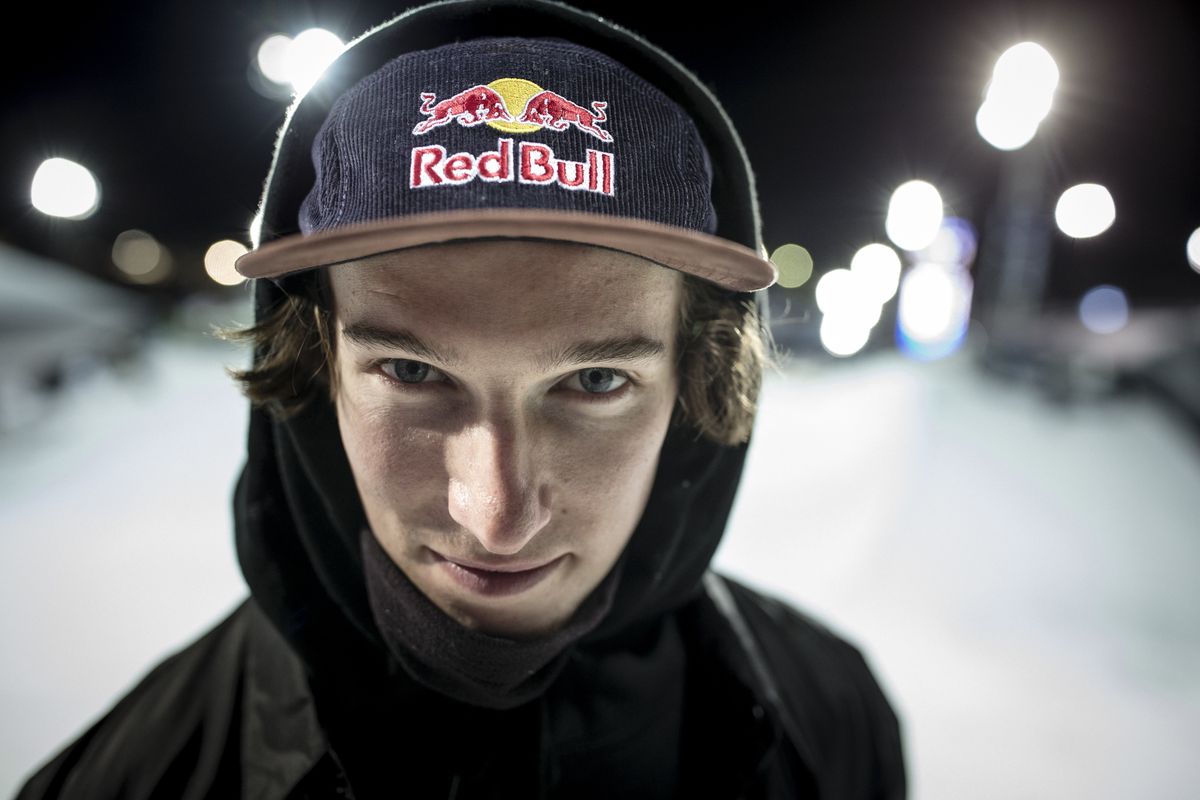 Christian Pondella / ESPN Images
Torin Yater Wallace is a singularly gifted skier. This isn't hyperbole designed to manufacture interest. It's an objective fact. When he was 14, an age when most of us are starting our freshman year of high school, Wallace was beginning his professional free-skiing career. For those of you who don't know, this is free-skiing:
Wallace grew up in Aspen, Colorado and learned to ski right around the time he learned how to walk. It became apparent that he was destined for X Games glory when he began winning local and regional competitions at just ten-years-old. His journey to the top has not been without adversity however. His early life was marked by financial hardship and his early career was jeopardized when his father's business went under and landed him (Wallace's father) in jail. When Wallace's career took off, he was crashing on friends' couches. When he won the USASA Nationals at 14-years-old, Wallace was in such dire straits, that the prize money essentially became a rent check.

Eventually though, his skiing skills began to pay dividends and he was able to advance to the top of his sport, earning a trip to the 2014 Winter Olympics. Before his trip to Sochi however, Wallace's mother was diagnosed with colon cancer. She luckily made a full recovery and was able to make it out to watch him, but Wallace suffered a collapsed lung during one of the selection events and was barely able to compete. As if all this weren't enough to contend with, Wallace was hospitalized with a deadly liver infection two years ago and was placed in a medically induced coma, eventually walking down a lengthy and extremely arduous road to recovery. He lost over 20 pounds and it took him months to start skiing again, but he's back now and better than ever.

This year, he's headed back to Aspen to compete for X Games gold in his hometown. And while he still has a few more Olympic trials to compete in, his chances look good with regard to appearing at the 2018 Pyeongchang Winter Olympics. I gave Wallace a call at his Breckenridge training facility to talk to the young skier about training, music, staying grounded, and overcoming adversity in this Pop Dust extended interview.
---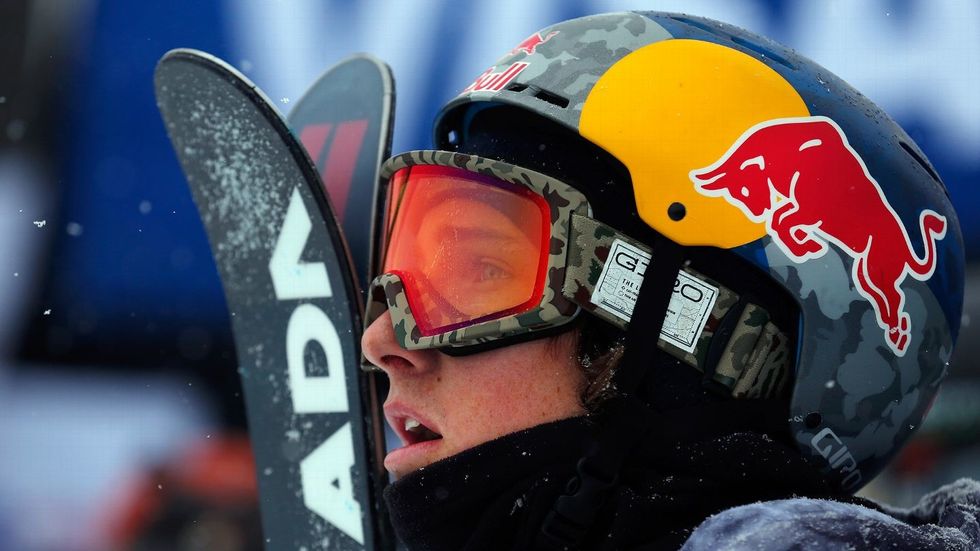 Getty
You've been skiing since you were two years old. How is that possible? Is your family crazy about skiing?

I'd say for any person who grows up in a ski town, especially one in Colorado, it's kind of second nature. You learn how to walk and then you learn how to ski. It's just kind of a ski town thing. On top of that, my parents are both avid skiers and most of my friends and the people I went to school with got on skis at a pretty young age, between one and four years old.
When did you know you wanted to ski professionally?
At around six or seven years old I got into the freestyle ski club and was getting a little bored of the traditional stuff. I was just a little kid jumping off everything, looking for that thrill of airtime. On top of that, growing up in the Aspen valley, I had the opportunity to go watch the X Games every year in person. This was a major influence and such an appealing thing to me. From a pretty young age I was aspiring to be a professional skier. It became a little more attainable and realistic to become a professional skier in the freestyle aspect at around 14 or 15. At 15 was when I got my first X Games invite.
There's definitely a big difference between someone who is pretty good at skiing and someone who's competing in the X Games. When did you begin to think "yeah, I'm really good at this?"
I was doing all the local contests and I was winning a lot of them at a pretty young age. I realized I might have some pretty decent potential when I was between ten and twelve years old.
For someone to go pro at something at 14, that's pretty rare. I think a lot of people would have a hard time staying humble if they got to compete in the X Games during their freshman year of high school. How do you stay grounded?
It was truly a dream come true for me to be at the professional level and go pro as a 14-year-old. It was such a desire of mine. I had such a passion, and still do, for skiing. I think when you're in a position like that, you just feel so fortunate to be there, and you're such an underdog that it's really just a feeling of "Oh my gosh. I'm actually at the most elite level I want to be at." For me, it was an appreciation for being at the stage I was and for all the people that helped me get there. In no way or form did I feel like I was the coolest kid ever or like I had everything. To me, it was such a fortunate thing to be in the position I was.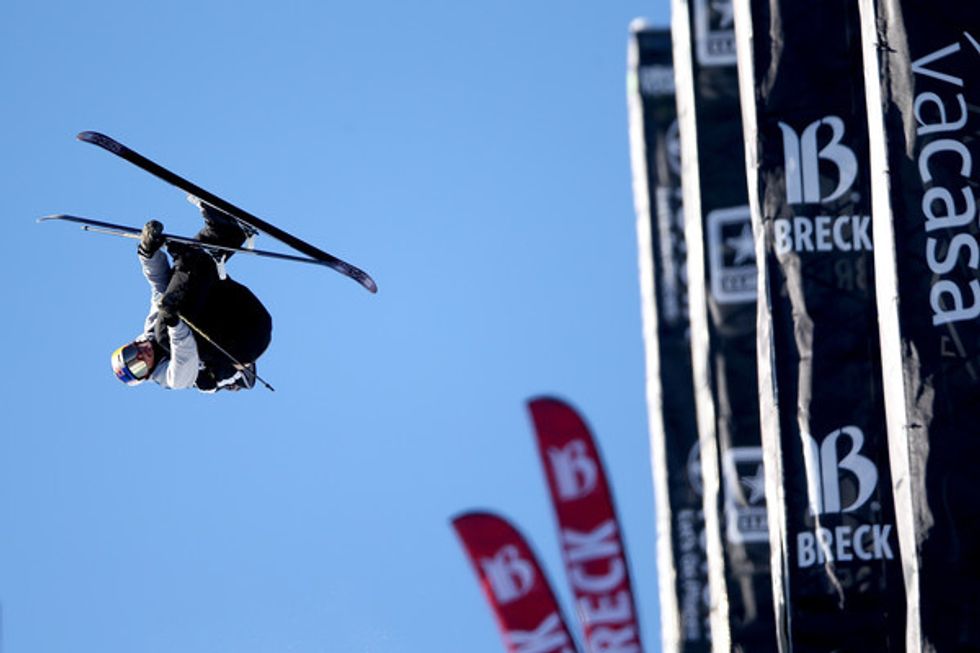 Matthew Stockman/Getty Images
Who did you look up to back when you were younger? I guess they're probably your competitors now.

Yeah some of them still would be. Growing up, there were a few really good people out of the Aspen area who were really inspirational to me. [I liked] the guys who were at the top of everything when I was growing up: Tanner Hall, Simon Dumont, and Candide Thovex. Those three were such superheroes in my eyes, winning contests back-to-back, putting out the most insane videos. If you looked up free-skiing on the internet at that time, those were the people that would come up. Wanting to be on that level had a lot of influence on me.
Have you had to ski against any of those guys?
I had the opportunity to ski against Tanner Hall and Simon Dumont throughout the beginning of my career. I got to know them as close friends. I never competed against Candide Thovex. He kind of retired from competing earlier on and started making some pretty amazing ski movies. I got the opportunity to hang out and spend some time to get to know him as well.
So you were a slope-style guy for awhile and then you switched to the halfpipe. What made you make the switch?
As a kid, I kind of rode and competed in everything. I still mostly ski slope-style but as far as competing goes, I kind of noticed that I have a certain skill at halfpipe that I felt I had potential in. I kind of figured I'd put all my marbles into one discipline and ski everything else when I want. I keep my halfpipe skiing strictly for competition. When I'm skiing every other day of the year, it's sort of everything else. I like to diversify myself. I'd like to get back into competing in all of it, [but] it's quite a difficult balance with the level skiing is at nowadays to do all the disciplines.
You're the first person to land the 1800 switch in slope-style. I watched a video of you doing it. It was insane. It sort of reminds me of how I felt watching Tony Hawk land the 900. How do you practice a trick no one's ever done?
In this day and age, it's really quite hard to do something that no one's ever done. There's only so many ways you can flip and so many rotations you can do. It's a lot about variety and showcasing your personal style. That's my favorite aspect of what I do these days. It's being able to be an individual and put my own flavor and style into my skiing. I think that's really important for what we do in an individual sport. As far as first-evers and new tricks, a lot of us have done most of the basics and all the stepping stones. Ultimately, a lot of that is in the moment, right day, right place, good music is cued up in your ears. I always ski with music. I don't really know how to explain it. It really is just right time, right conditions, and the right mindset.
Wallace nailing an 1800
So you always ski with music. What do you listen to?
Yeah I always ski with music. It's kind of my tool to be able to go to a different place than where I'm at currently. When you're at a contest for instance, there's thousands of people yelling in the stands. If it's at night, the lights are on. There's a lot of nerves around. Being able to put my headphones on and go into my own space is something I've always done as a skier. If I'm at the top of the pipe and I want to be a little more casual, I listen to old school rap. Maybe some Guru or Gang Starr maybe a little jazz in there. I have a lot of diversity in my library. When it becomes time to ski and go 100%, [I listen to] a lot more energetic upbeat music, mostly rap. I always look for new music. I never listen to the same stuff over and over.
What matters more to you, X Games gold or Olympics gold?
X Games gold [matters] much more than Olympics gold in my eyes. I feel that way because the X Games is the history of our sport and the top 12 people in the world are invited. The best runs are going to be put down. All the best people that should be there, are there, regardless of which country they're from. There are 6 Americans in the top 10 in the world who are skiing really well. At the Olympics, you can only have four people [per country], and it's not only the best countries in the world but also some countries that aren't at the top level.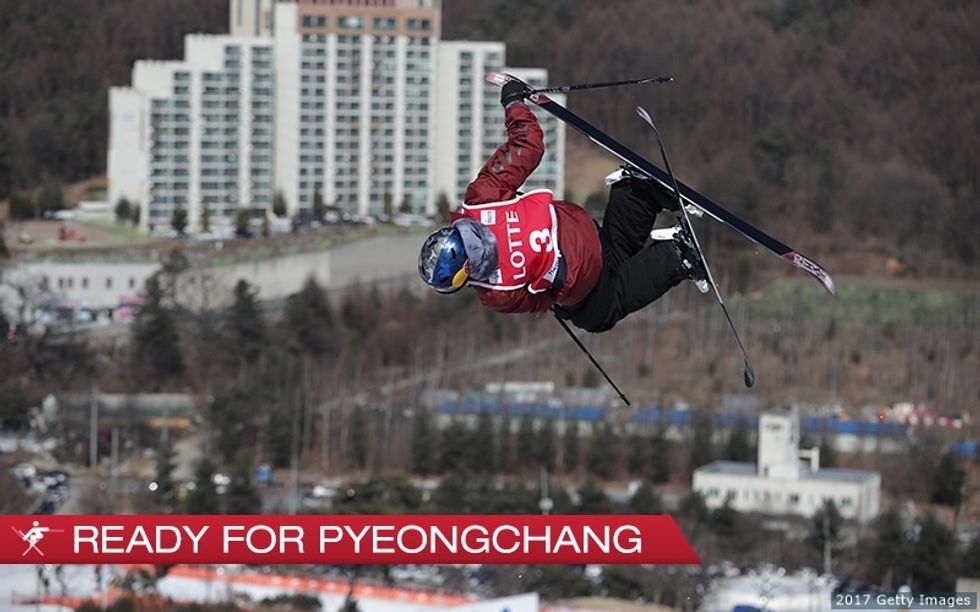 Getty
So you're all about having the best possible competition?
For sure. To me, [ The X Games] is and has always been the highest level of competition in our sport. X Games is kind of the history of what we do. They've been their every year and their roots are completely built on free-skiing. Whereas the Olympics is such an amazing opportunity but to me, it's just a little extra. It's a little add-on to be able to represent the States.
A couple years ago, you had that big medical scare. You lost somewhere around 20 pounds. What was that recovery process like?

The infection I got two years ago was one of the scariest things I've endured in my life. I 100% almost lost my life. I woke up feeling sick and before I knew it, I was in the ICU and completely unconscious and paralyzed on life-support. There wasn't really anything I could have done about it. Recovering from that was a solid two months of doctors every week, all kinds of tubes in my body, trying to put on a ton weight, and learning to support myself on my two feet again. Over the next two months I gradually got to the gym and finally, at the end of January that season, [I was] able to get back on snow which was truly a miracle in and of itself. Thankfully I was able to have a decent season still. It was one of the craziest things I've ever endured but I think one of the biggest lessons I learned from it was to really appreciate every day.
On top of the medical stuff, you've also been going through a lot of stuff in your personal life. How do put that stuff out of your mind when you're competing?
Currently in my life, family-wise, things are going pretty well, which is amazing. Unfortunately, before the last Olympics, my mom dealt with colon cancer. Thankfully she made a full recovery, which was insane. She definitely didn't think she was going to make it out there to watch me compete but she was able to, which was another miracle in and of itself. Throughout my childhood, we dealt with some pretty severe financial issues and my dad was convicted and not at home a lot. It was tough as a kid. What I do is an expensive sport to be in and I can never thank the people who supported me enough for scholarships and for letting us crash on their couches and everything. It was just pure motivation to become the professional skier I aspired to be. [Skiing] was my getaway as a kid when things were rough at home. I'd go out, click into my skis, put my headphones in and get into my zone. That's kind of how I've always dealt with it. Anytime people deal with family stuff it's rough, but you just gotta be close to each other and work through it. I'm really thankful that the skiing career I've been given has been able to help me support myself and my family.
---
POPDUST Picks | Divisional Round

New England over Tennessee
Pittsburgh over Jacksonville
Philadelphia over Atlanta
New Orleans over Minnesota
---
Matt Clibanoff is a writer and editor based in New York City who covers music, politics, sports and pop culture. His editorial work can be found in Inked Magazine, Pop Dust, The Liberty Project, and All Things Go. His fiction has been published in Forth Magazine. -- Find Matt at his website and on Twitter: @mattclibanoff
---
POP⚡ DUST | Read More…

THE OPTION | The Stafford Effect
THE OPTION | Catalan Independence and What It Means for Barcelona Soccer