Frontpage Popular News
Stadiumx Takes Us To "Heaven" With Sam Martin and Azariah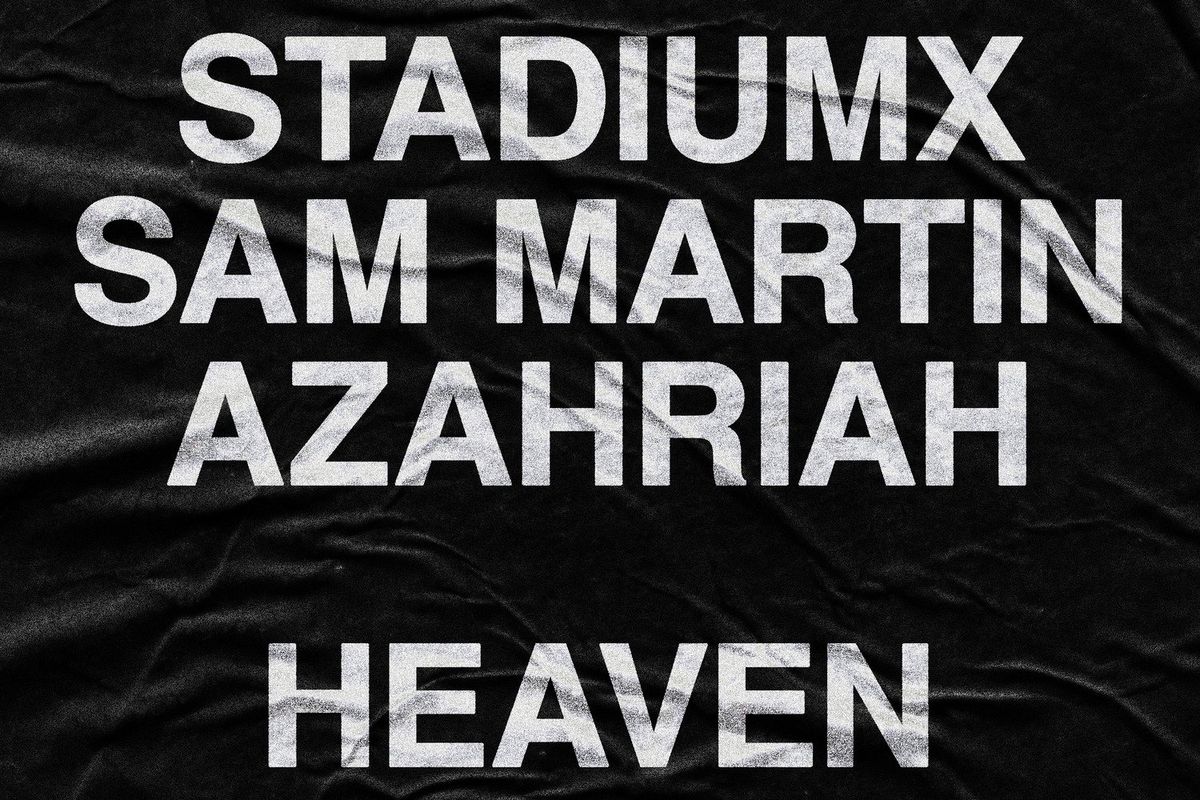 Warner Music
If you look at Stadiumx's discography, you'll realize their career is prolific...to say the very least. For over a decade now, they have an impressive career both collaborating with artists and releasing their own music. Beginning in 2014, platinum-certified record, "Howl At The Moon", was Ultra Music Festival's most played song that year. But for them, it was just the start.
---
They have collaborated with some of the biggest names in the electronic dance community like Cash Cash and David Guetta. And now, they've teamed up with the legendary vocalist, songwriter, and composer Sam Martin. Martin's known for helping out on hits with Jason Derulo, "Want To Want Me", and Ziggy Marley, "Fly Rasta." Together, Stadiumx, Azariah, and Sam Martin are releasing the masterpiece that is "Heaven!"
"Heaven" is about looking back on your past relationships...and it's masked by a summery, upbeat track that reminds you of sunshine and pool parties. It's a classic Stadiumx mix, true to their beats and production, and to mix in Azariah and Sam Martin makes for a nearly perfect track. You can listen to the song here:
Stadiumx talked to Popdust about what it was like making "Heaven" and working with all of these amazing artists through the years!
PD: Congratulations on "Heaven!" It's a perfect blend of genre-bending sounds that make for a great summer anthem. What was it like to work with Azahriah and Sam Martin for the track?
Thank You! We are very happy to working with Sam again! He's a great guy and an awesome singer/songwriter! Azi is also a very talented artist and deserves to be known by people outside of Hungary and internationally.
PD: What was your favorite memory creating the song?
I think that was the moment when we got the final masters. It was a huge challenge to combine two such different vocals in one song! We got huge help from Cass (Wired Masters) from London, he did an amazing job on the final masters.
PD: When collaborating with different artists across multiple genres, do you have a different production process?
Yes. When we make a completely own song, what we do is much more dancefloor oriented. When we work with other songwriters, the goal is that the song works together with the vocalists and that the sound design does not dominate the entire song. You have to find the perfect balance.
PD: What was it like collaborating with some of the biggest names in the EDM community right now like David Guetta and Cash Cash?
It's a honour to work with such great artists. Getting the best of a song is always our priority!
PD: How do you create such a unique sound when making your music?
For those singles that we make to play in DJ sets for the clubs, dynamics and energy are the main aspects. For the songs that we make together with singers and songwriters, the most important thing is that the song is whole and everything works all together.
PD: Your first hit was "Howl At The Moon", which was a smash and the number one song played at 2014 Ultra…how did that song help shape your music careers?
HATM gave us the opportunity to get to know by the audience. It was a very important step in our career. However, we are producers who have been making music for more than 20 years, so it is important to renew, to search for new inputs. We want to make songs that are not necessarily based on repetition or the past success, but bring new experiences to us and the fans.
PD: What's next for you this year? Any more new music or touring?
I have to say that this year promises to be very strong with releases! There will be many collaborations this year! I can't reveal some of them yet, but what I can tell you is that we have two new songs coming out in August. One with Bingo Players and the other one with the American producer Morgan Page.