Shueisha
In the world of anime, 2019 will forever be known as the year of Demon Slayer.
Crunchyroll announced the winners of their fourth annual Anime Awards this weekend in a live event hosted by WWE Superstar Xavier Woods (AKA Austin Creed), and in a victory that likely came as a surprise to absolutely no one, Demon Slayer took home Anime of the Year. Demon Slayer's kind-hearted protagonist, Tanjiro, also won the coveted Best Boy Award, and Tanjiro & Nezuko vs. Rui won Best Fight Scene. Considering all of its major category wins with over 11 million global votes cast this year, it's clear that Demon Slayer has taken the anime community by storm.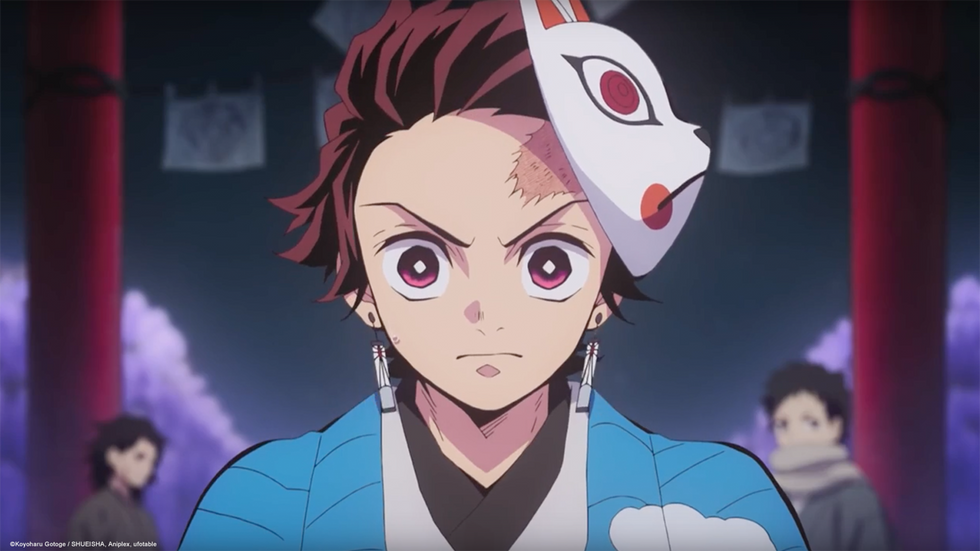 Shueisha
But while some anime fans might balk at the idea of a battle shonen winning the ultimate accolades, it's worth considering the fact that Demon Slayer stands as a testament to the power of anime–specifically, as a medium. After all, Demon Slayer's success story is somewhat atypical.

Normally, shonen anime series that achieve massive popularity are backed by extreme levels of manga-reader hype. This is because shonen anime series are almost always based on already popular manga, meaning that their core fanbases are essentially built in from the get-go. As an example, manga volumes of My Hero Academia had been selling out in Japan before the anime ever aired.
Demon Slayer, however, didn't enter the anime scene with those same levels of fan excitement. In fact, the Demon Slayer manga––which began publication in 2016––was considered by many to be just okay, and a lot of readers of Shonen Jump (the Japanese manga magazine where Demon Slayer is published) expected the series to be canceled early into its run. So when the Demon Slayer anime started airing in April, 2019, most people didn't have high expectations.
Studio Ufotable didn't let that stop them. They went all out on Demon Slayer, crafting brilliant fight animations that gave the impression of woodblock prints come to life. Every battle in the show, from the smaller Zenitsu scenes to the Best Fight-winning Rui brawl, played out in spectacular fashion. The anime performed so fantastically that fans began clamoring for the manga, with new volume sales in Japan even giving One Piece a run for its money.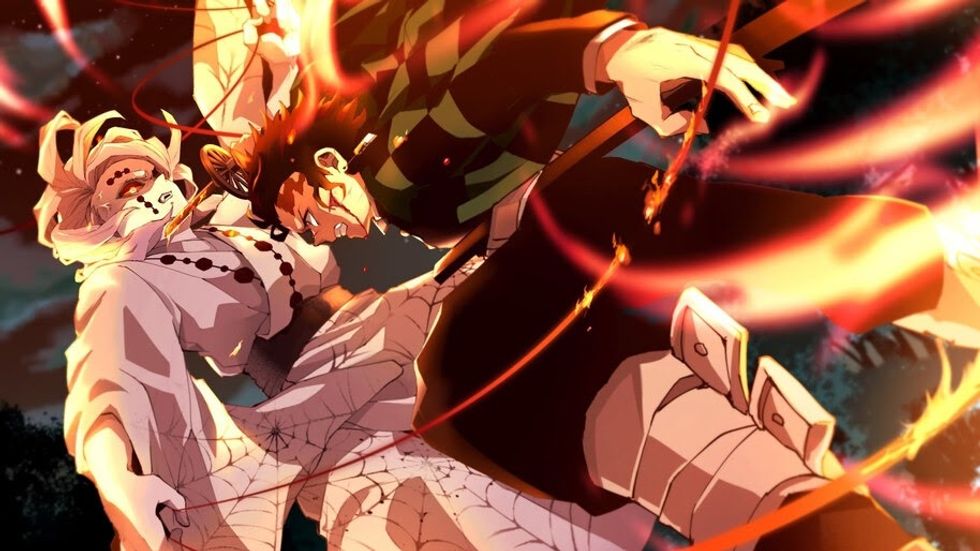 Shueisha
So yes, while someone might personally think that Attack on Titan Season 3 deserved every single award ever (Tetsuro Araki and Masashi Koizuka did rightfully win Best Director), Demon Slayer's big win was the right choice within the larger context of the medium.

The full list of Crunchyroll 2020 Anime Awards winners can be found below:
Anime of the Year: Demon Slayer: Kimetsu no Yaiba
Best Animation: Mob Psycho 100 II
Best Opening Sequence: Mob Psycho 100 II, ♪ 99.9 - MOB CHOIR feat. sajou no hana
Best Ending Sequence: KAGUYA-SAMA: LOVE IS WAR, ♪ Chikatto Chika Chikaa♡ - Konomi Kohara
Best Boy: Tanjiro Kamado, Demon Slayer: Kimetsu no Yaiba
Best Girl: Raphtalia, The Rising of the Shield Hero
Best Score: Mocky, Carole & Tuesday
Best VA Performance (JP): Yuichi Nakamura voices Bruno Bucciarati in JoJo's Bizarre Adventure: Golden Wind
Best VA Performance (EN): Billy Kametz voices Naofumi in The Rising of the Shield Hero
Best Director: Tetsuro Araki, Chief Director and Masashi Koizuka, Director – Attack on Titan Season 3
Best Character Design: Satoshi Iwataki, Original Character Design by Hiroyuki Asada, Dororo
Best Protagonist: Senku, Dr. STONE
Best Antagonist: Isabella, The Promised Neverland
Best Fight Scene: Tanjiro & Nezuko vs. Rui, Demon Slayer: Kimetsu no Yaiba
Best Couple: Kaguya Shinomiya & Miyuki Shirogane, KAGUYA-SAMA: LOVE IS WAR
Best Drama: Vinland Saga, WIT STUDIO
Best Fantasy: The Promised Neverland, CloverWorks
Best Comedy: KAGUYA-SAMA: LOVE IS WAR, A-1 Pictures
Industry Icon: George Wada, WIT STUDIO