Veteran actor Tom Selleck is being accused of stealing water to keep his Los Angeles estate looking lush and green during the current crippling drought afflicting California.
The 70 year old Blue Bloods and Magnum PI star and his wife, Jillie Mack, have had a suit filed against them by the Calleguas Municipal Water District which claims they have repeatedly stolen literally truckloads of water from a nearby public hydrant, that is crucially located in a different district—it is illegal to transport water across district lines.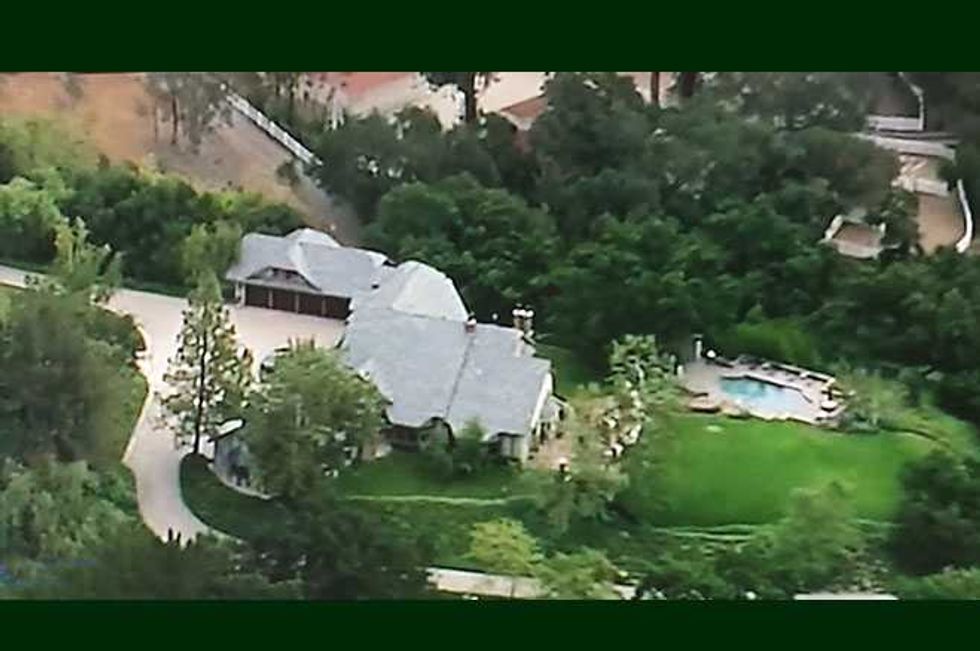 The Hidden Valley Ranch
The couple's Hidden Valley ranch is over 60 acres and is an eight bedroom Spanish style property. The celebrity couple have a number of water hungry luxuries to feed, including a golf course, swimming pool and avocado farm (even thought the actor himself hates avocados) and documents claim that a neighboring district's fire hydrant was raided regularly by a white water tender truck (not a red Ferrari).
The water board's accusations date back two years and they are claiming that water was stolen on at least 12 occasions. How did they find out? Well, they hired a private investigator (yes that's right a PI, oh the irony) at a cost of $22,000, to follow Selleck and his alleged water thieving buddies—they original sent a cease and desist letter back in November 2013. Presumably the pilfering didn't cease or desist and so the water board has now filed court papers.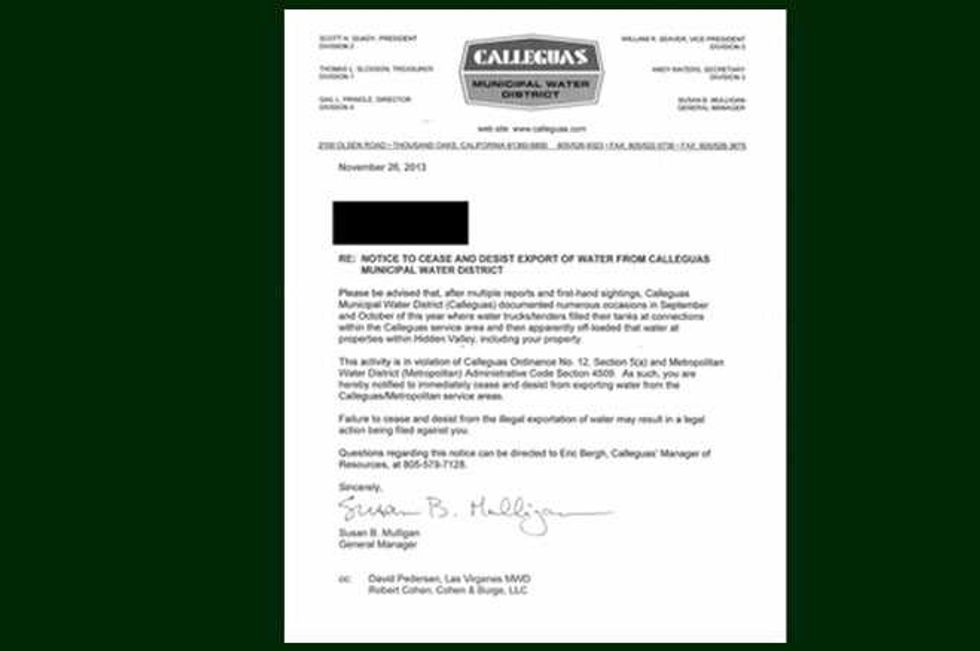 2013 Cease and Desist Letter
Eric Bergh, resources manager for the Calleguas Municipal Water District said;
"Our 630,000 customers are ripping out their lawns, drastically cutting back on the water they use. The water that we have secured for them, that they have paid for, should remain in district boundaries."
Hidden Valley properties are not connected to a public water supply and so have to rely on about 100 wells for enough water to drink and meet their other needs. Obviously some of the wells dry up during a drought and the residents have to look elsewhere for supplies—and remember these are essential living supplies, not just a vanity thing to keep their properties looking pristine. Selleck is not alone, as another resident also received a cease and desist letter.
There's history here too—at the end of the last drought in CA in 2009, Selleck and five other residents actually had permission to fill up water trucks from a hydrant in nearby Lake Sherwood. However the agreement only lasted a few months and the then director of Ventura County Public Works Agency canceled it after learning of the law banning transferring portable water outside a district's boundaries.
Residents living near the Thousand Oaks hydrant in question have noticed the trucks filling up and commented that "it's always the same guy and truck", typically arriving at about 6 am.
Maybe you could originally have given the alleged water raiders the benefit of the doubt—however after the 2013 letter it was pretty clear which hydrants were out of bounds.
California is in the middle of a relentless drought that has been going on for four years and communities have been ordered to cut water use by 25 percent compared with 2013.
Ventura County, where Selleck's ranch stands has suffered cutbacks of up to 36 percent, and the state of California is on high alert to the over use of water. With social media in full force—there are apps available to share photos and info about water wasters in what has become a #droughtshaming culture. Previously Kim Kardashian and Barbra Streisand amongst others have been taken to task over their still lush sizable green lawns.
Representatives for Selleck have not responded to requests for comment.