Culture News
The Good Will Hunting star has been locked down in Ireland with his family and multiple teachers since early March
Jason Bourne
In a recent interview with Irish radio show Fully Charged, Matt Damon revealed the charming circumstances of his family's lockdown in Dalkey, Ireland.
Dalkey is an upscale suburb of Dublin where the Contagion star had arranged to stay with wife, Luciana Barroso, and their three daughters while he was filming The Last Duel with director Ridley Scott and co-star Adam Driver. The couple brought teachers along for the trip to make sure their children stayed on top of their education, but ever since the project was put on hiatus in early March, Damon, his family, and those teachers have all been locked down together.
For Damon and Barroso the situation sounds about as good as can be expected during a global pandemic. Not only are they trapped in a setting that Damon compared to a fairytale, saying it's "one of the most beautiful places we have ever been," they also have help with their daughters, aged 9, 11, and 13. As Damon put it, "We have got what nobody else has which is actual live human beings teaching our kids." For the teachers, on the other hand, it must be a nightmarish scenario.
Fully Charged Chat To Matt Damon In Dalkey www.youtube.com
At first, of course, the job would have sounded perfect. Damon always comes across as thoughtful and friendly in interviews. The prospect of traveling Europe with him and his family sounds amazing. While he didn't specify how many teachers they hired—one for each child, one for each subject, or some other arrangement—they must all have been ecstatic when they were brought on. But what happens to the student-teacher relationship when you're all trapped together for weeks on end? They don't get to go out to a pub for an evening away, or take a weekend trip to Limerick.

Maybe it was fun at first—playing board games and watching Netflix with the family. But now the eight weeks they were supposed to spend in Ireland have come and gone, and there's no end in sight. And unlike the rest of us (who are drinking more and showering less) these teachers wake up every morning and they're already at work. They are always at work. And their boss—who was supposed to be busy shooting a movie—has nothing to do but loom about, judging them.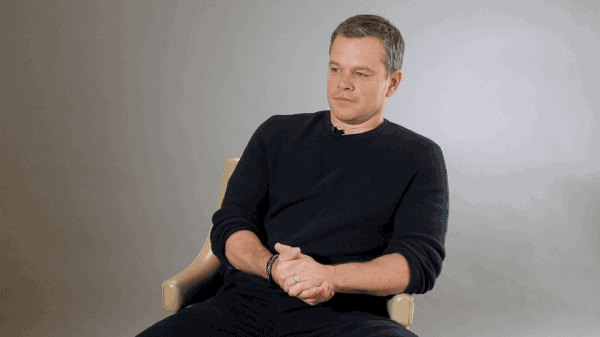 When they spill some of their breakfast in their laps, they have to ask movie star Matt Damon to pass them a napkin. When they get up in the middle of the night to get a glass of water, there's A-lister Matt Damn, judging their disheveled hair. And when they try to explain their perspective on pre-American economic modalities to his children, Oscar-winner Matt Damon is in the next room, ready to call out, "Of course that's your contention. You're a first year grad student. You just got finished reading some Marxian historian—Pete Garrison probably. You're gonna be convinced of that until next month when you get to James Lemon, and then you're gonna be talking about how the economies of Virginia and Pennsylvania were entrepreneurial and capitalist way back in 1740."

Dear God, the horror.