sharon stone naked harpers bazaar Sharon Is A Stone Cold Naked Fox In Harpers Bazaar Nude Photo Shoot
Sharon Stone is daring to bare… and then some.
The 57-year-old stripped down and revealed all for the September issue of Harpers Bazaar—and Popdust has the super sexy nude photos.
Sharon Stone With No Make Up Looks NOTHING Like Sharon Stone
The mom-of-three, clad in just Jimmy Choo pumps and jewelry, looks absolutely stunning in the fully naked, black and white photo shoot—which was shot by renown American fashion photographer, Mark Abrahams.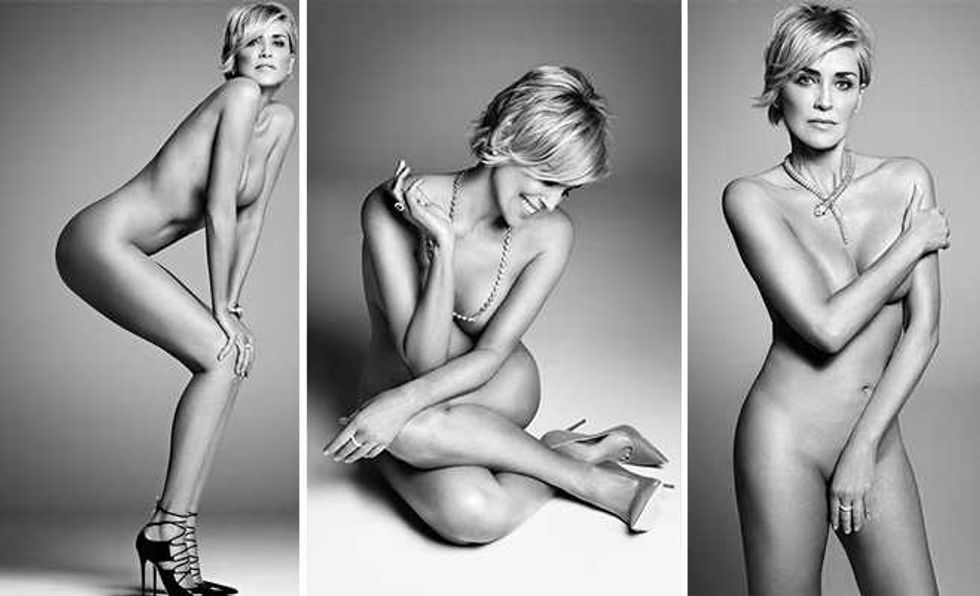 It's not just her body that Stone shows off, she also bares her soul in the candid interview—discussing the stroke she suffered in 2001; her body image; mental health; plastic surgery and her love life—or rather, her distinct LACK of a love life…..
Sharon Stone Admits She 'Cried And Cried And Cried' Over Getting Older
On her stroke:
When I came to, the doctor was leaning over me…I said, 'Am I dying?' and he said, 'You're bleeding into your brain.' I said, 'I should call my mom,' and he said, 'You're right. You could lose the ability to speak soon.' I was hemorrhaging so much that my brain had been pushed into the front of my face. It took two years for my body just to absorb all the internal bleeding I had. It almost feels like my entire DNA changed. My brain isn't sitting where it used to, my body type changed, and even my food allergies are different.

Director Dishes On 'Slightly Declining Actress' Sharon Stone's Diva Behavior
On body image:
I'm aware that my ass looks like a bag of flapjacks, but I'm not trying to be the best-looking broad in the world. At a certain point you start asking yourself, 'What really is sexy?' It's not just the elevation of your boobs. It's being present and having fun and liking yourself enough to like the person that's with you. If I believed that sexy was trying to be who I was when I did Basic Instinct, then we'd all be having a hard day today.

Miley Cyrus Is OBSESSED With Being Naked—Here's All Her NSFW Nude Photos
On her mental health post stroke:
I became more emotionally intelligent. I chose to work very hard to open up other parts of my mind. Now I'm stronger. And I can be abrasively direct. That scares people, but I think that's not my problem. I have brain damage; you'll just have to deal with it.
Kim Kardashian—Most Hideous Semi-Naked Photo Shoot Ever, Styled By Kanye West
On plastic surgery:
It's so common now for people to use fillers, it's almost like a beauty treatment. It's like you have mascara and a filler. And it's a far better alternative than having your face cut apart and ending up looking like you got sucked into a wind tunnel.
Rihanna Laid Bare—RiRi's Very Best Butt Naked, Topless, Crazy Sexy, Nude Photos
On her lack of a love life:
I never get asked out. It's so stupid. I don't know what to do. I've been getting more brazen with flirting, but I don't think men realize that I'm flirting. They just think, Oh, she's fun! If there's anybody out there who's an adult and who would like to ask me out, please call Harper's Bazaar.

And, there you have it…… even stone cold foxes get the love blues….
Pick up the September issue of Harpers Bazaar to read the complete interview—on newsstands August 18