My partner and I finally found our dream home and we couldn't be happier because it really ticks every box.
But boy, was it a long process—we went through viewing after viewing, and lots of rejected offers.
We finally have the perfect home for us and our future, but now it's time for the next step—decor & furniture. We decided we want to go for a tasteful, minimal style in our home. Here's how our journey went:
It's Finally Moving In Day
Moving day was exciting, but the start of a lot of work. We started off with the downstairs rooms—living room, kitchen. One place we wanted to spend some extra time on is the bedroom. Our bedroom is our sanctuary, so it had to be peaceful.
The room has built-in wardrobes (win), so our main focus was our bed. I really wanted us to get a bed that would last, not a flimsy one that would keep us awake all night creaking.
We thought it would be hard to find a bed that was good quality and fit the aesthetic we were going for, until we found The Bed, by Thuma. Its minimalist design instantly caught our eye. It's the type of bed that really would look good in any bedroom and match any style.
We Researched The Bed
We loved that it's Greenguard certified and made from sustainable repurposed wood. With the subtle variations, grains, and knots indicative of real wood, we knew our bed was unique in its own right. It had thousands of 5-star reviews online, and one thing customers kept calling out was the Japanese Joinery.
The Japanese Joinery technique of building meant that it only takes five minutes to assemble. But I'm always skeptical of anything that takes "5 minutes" to do, especially after all the pieces of furniture my partner and I had built over the last few weeks (none of which took less than 30 minutes. We decided to give it a try anyway and ordered The Bed, by Thuma.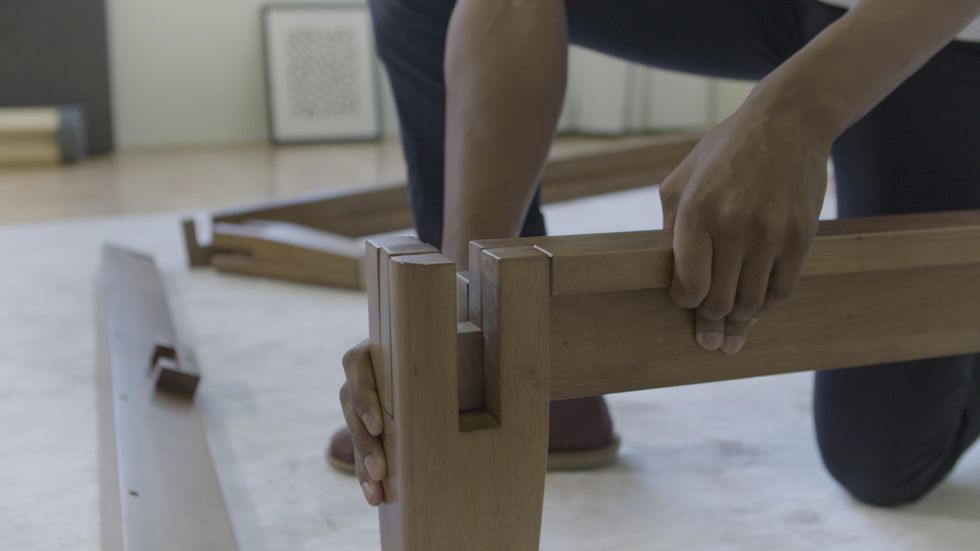 The Bed by Thuma Arrived

It was delivered promptly, and we appreciated that all the packaging was sustainable. The boxes are made from recycled cardboard, and the packaging uses zero styrofoam.
When it was time to assemble The Bed, I was shocked to see how simple the instructions were. No hardware, drilling, or 10-page instruction manual. It was easy to follow and there were no nuts and bolts scattered about the carpet (that was the best part).
With Thuma and the Japanese Joinery technique, each bar locks into the adjacent bar at the leg. It's literally that easy, the slats simply unroll and lock into place.
And yes, it only took 5 minutes! Even with all the decorating and furniture-building we've done lately, this was a first for us. Plus, it'll be just as easy to disassemble if we ever decide to move.
Our Final Thoughts On The Bed By Thuma
We've been sleeping in our new home, and The Bed, for about a month now. One thing we both noticed about this bed frame is its sturdiness. It's surprising that a bed that is so quick to assemble can also be strong, but it really is built to last your whole life.
The Japanese Joinery technique and cushion-lined slats ensure not just durability, but also sound reduction. I think it's the first bed we've slept in that didn't creak when one of us moved. So we've both been sleeping soundly every night (which is exactly what we need after the moving process).
Not to mention, the ample under-bed storage has been a major plus for us while moving and beyond. The Bed, By Thuma, has helped us settle into our new space smoothly and really make it our own.
If you're looking for a new bed, we'd highly recommend The Bed, By Thuma. It's the last bed you'll ever buy!