Music Features
The iconic pop singer sat down for an exlusive interview with Popdust
Johnny Marques (Hats+Rabbits)
On Monday, I had gotten word that Natasha Bedingfield wouldn't be able to keep our scheduled interview time.
The details were mum, but all I knew is "something had come up." As I started to pack up for the day, she called me back. She admitted with a laugh that her son wouldn't go down for his nap. "Sometimes he's not...completely on schedule," she said.
The international pop star, whose fierce anthemic R&B pop songs defined the early aughts, is still new at being a mother. The experience has been transformative for her, but she admits mothering in quarantine can be slightly arduous. "We're tribal; we're supposed to have all of our people around us," she said. "I don't think it's natural to be alone with a child."
Natasha has maintained a low profile in recent years to focus on her family, but after almost a decade of silence, she returned to music with 2019's ROLL WITH ME, a gallivanting collection of pop ear candy that's rarely somber. It was a return to form for the singer, whose triple-platinum debut Unwritten defined the pop sound of a generation with its uplifting choruses and messages of self-perseverance.
ROLL WITH ME reaffirmed Bedingfield's uncanny knack for recognizing life's silver linings, and even after her son underwent two invasive brain surgeries to remedy an unexplained abscess back in December, Natasha didn't sulk. She viewed the experience as a "head start" to the incoming quarantine. "We were in the hospital for a whole month, so we got used to seeing people with masks on and being in small spaces." Her son has since completely recovered.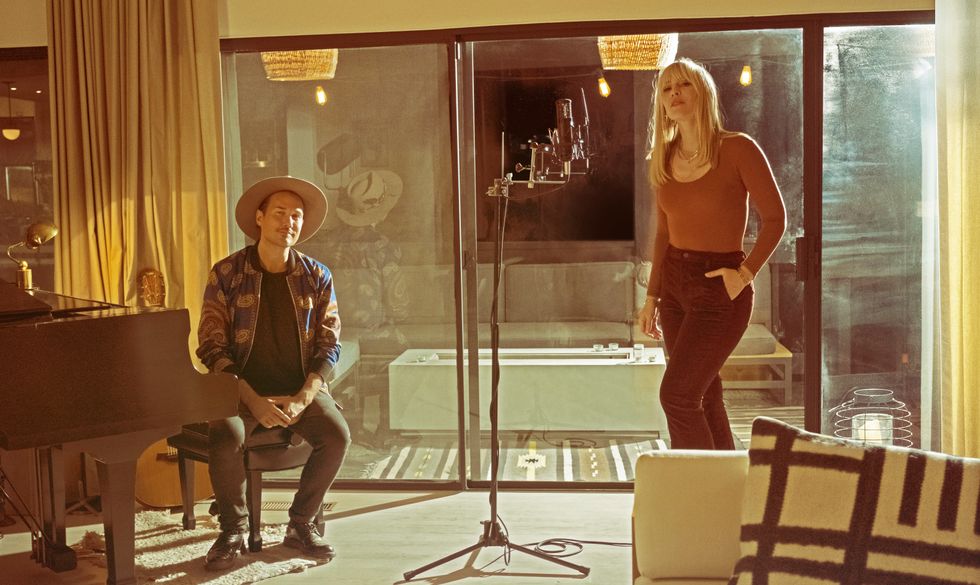 The singer's latest offering, "Together In This," is a testament to those times and to the stress and anxiety that embroil the world. The song was written by Natasha's best friend Jonas Myrin, the Grammy-award winning producer who called the singer and said he had a song that was "written for her voice."

The track was for an upcoming animated feature titled JUNGLE BEAT: THE MOVIE, which follows an alien that crash lands on earth and tries to find its way home with the help of earth's animals. Uplifting premise aside, Natasha was eager to accept, as her son was already a fan of the popular YouTube series of the same name.
"The show is very cute," she said. "I usually write my own music, but I just loved the song so much, and right now, there is just a lot of tension," she said. "I feel like I'm at this moment with everyone. I'm just going through it. We need unity."
Are you finding it hard to keep positive while in quarantine?
I'm trying to take it a day at a time and not get caught up in the "fear" part of it. If you watch too much news, it completely takes over your brain, and I can actually be a bit pessimistic, so I'm very careful about how much I let myself go into "the fear" of it.
What is it about the fear that alarms you?
I think fear divides people. In this thing that we're all going through at the same time, I think the important part right now is that we actually unite in the hardship we're going through. We're all going through different versions of a similar thing.
It's true. After a few weeks of quarantine, I really felt so distraught, and it helped to know that I wasn't necessarily alone in that feeling.
The first week or two, it feels like a vacation! But after a while, you can start to feel like "something is very wrong here." Now even when you go to the grocery store, some people can be quite hostile. This scarcity kind of thinking. That's why we really need to make sure we look out for each other and not get so disconnected from each other.
YouTube www.youtube.com
That seems to be the idea behind "Together in This."

That's one of the themes of the video especially. Especially with how technology is a way we're connected and how grateful we all are right now for technology.
What do you hope this film will do for kids?
It feels like there's a civil war going on, rightfully so. There are lots of metaphorical divisions that have been present in our society forever, and I think the parents are all a bit stressed out. So I think [JUNGLE BEAT] will be a little break.
And there are so many lessons to teach kids these days. From the pandemic to what's going on at the White House to race relations in America. It's all a lot to absorb for a kid.
Sometimes you can tell a story with animals that offer simplicity and can really get the point across. That's why stuff like Mr. Rogers and Sesame Street is so important.
How are you keeping your mental health in check, being a mother in quarantine?
The thing to remember about this virus is that if your immune system is good, it won't hurt you. Eating healthy and balanced and taking vitamins is so important. I'm trying to remember to breathe. When you feel you're about to explode, just ask yourself: "Am I breathing?" because you can panic without knowing. Just be gentle on yourself.
Stream "Together in This" below:
Together In This (From The Jungle Beat Motion Picture)
From Your Site Articles
Related Articles Around the Web