TV Features
Our comfort show just got more complex. Here's everything Heartstopper Season 2 gets so so right about queer adolescence
Netflix
SPOILER ALERT: BINGE HEARTSTOPPER SEASON 2 BEFORE READING THIS. SEE YOU ON THE OTHER SIDE
So you got what you wanted. And the thing you hoped for, dreamed about — the thing you thought would make everything else in your life perfect, you have that too. So, now what?
This is the question Heartstopper Season 2 poses. Charlie Spring (Joe Locke) ends season one with his dream not-so-straight crush, rugby lad Nick Nelson (Kit Connor), becoming his boyfriend and promising to come out for him. Everything is perfect. And Charlie is determined to be the thing that keeps it perfect.
In eight episodes, it takes its beloved cast of characters on a journey — literally, as fans of the books will be eagerly awaiting the famous Paris trip saga — but more importantly, emotionally.
After a sweet first season, Heartstopper levels up for its gutwrenching sophomore season. And oh my god, it took my already-high expectations and raised the bar.
What happened at the end of Heartstopper Season 1?
If you haven't been periodically rewatching Heartstopper Season 1 as you wait for the second installment, what have you been doing?
Season 1, Episode 8 is iconic for a lot of reasons: Nick and Charlie have their first date at the beach, where they officially become boyfriends. And if that wasn't enough, at the end of the episode, Kit Conner masterfully portrays Nick's beautifully tender coming-out scene opposite Olivia Coleman.
And with that beautiful, hopeful ending, what could go wrong … right?
Heartstopper: Season 2 | Official Trailer | Netflixwww.youtube.com
Here's what to expect from Season 2 of Heartstopper:
Cutest moments between Nick and Charlie
It wouldn't be Heartstopper without our favorite boys. Nick and Charlie are sufficiently joined at the hip this season. In fact, almost immediately we get a fluff montage of the couple just getting to be a couple. Without, you know, any of the drama that follows them. Get ready for endless cute gif sets of TV's favorite couple. Complete with the show's token illustrated leaves and hearts and sparks, of course.
I mean, this Netflix Tudum sneak peek gave me life for weeks before the season dropped:
The First Scene of Heartstopper Season 2 | Exclusive Clip | Netflixwww.youtube.com
The Paris Trip is just as much fun as you expect
The second installment of the Heartstopper graphic novel features one of the most iconic sagas: the Paris trip. The characters leave the confines of Truham/Higgs Grammar Schools and are let loose around the city of light. And thanks to Netflix's giant budget, the show adaptation rendered it with the grandeur it deserved.
The Paris trip features a birthday party, a trip to the top of the Eiffel Tower, and a whole day spent in the Louvre. Fun fact: Netflix rented out the entire museum to film in — then CGI'd other museum-goers in. Anything to avoid spoilers.
Also, Imogen's (Rhea Norwood) Paris outfits might rival Margot Robbie's Barbie outfits. Queen of camp (and being an ally)!
Heartstopper season 2 : things you must know❤️😍 | Nick and Charlie #heartstopper #kitconnorwww.youtube.com
More character development for the iconic friend group — and new friends!
The gang grows! The Truham gang starts with Charlie, Tao (William Gao), and Issac (Tobie Donovan), then grows to include James (Bradley Riches). Meanwhile, at Higgs, the group of Elle (Yasmin Finney), Darcy (Kizzy Edgell), and Tara (Corinna Brown) to officially include Imogen, plus new faces like Sahar (Leila Khan). Elle also makes some new art school friends in Felix (Ash Shelf) and Naomi (Bel Priestly).
With this robust group of familiar and new faces, it's no surprise that more attention is paid to the side characters this season. We get more developed storylines, more complicated relationships, and some of the purest moments of self-discovery and queer friendship I've seen on TV — but more on that later.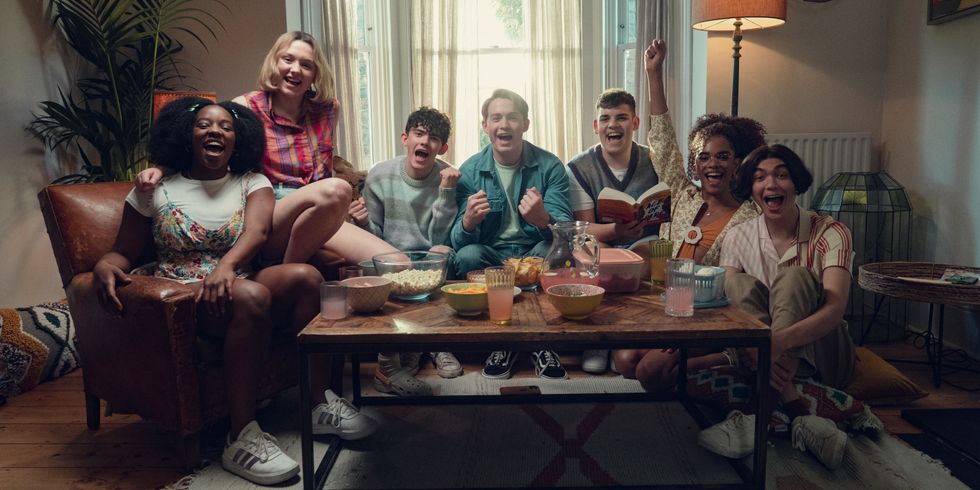 Heartstopper cast on set Samuel Dore via Netflix
Same enemies, different day
Ben Hope Hate Club, this season's for you. While Harry (Cormac Hyde-Corrin) and his overt homophobia were the main antagonists in Season 1, Ben Hope (Sebastian Croft, unofficial President of the Ben Hope Hate Club IRL) and his internalized homophobia take the mic this season.
Props to Sebastian for making a character so hatable. In his own words "That's my face and I want to punch it."
Heartstopper Cast Rewatch Iconic Season One Scenes | Netflixwww.youtube.com
More intense themes
While Season 1 focused on epistemic themes — like Nick-and-Charlie's sexuality, homophobia, and Elle moving from Truham to Higgs — Season 2 is concerned with more existential things. Each of the characters go through emotional upheavals, portrayed with care and compassion that's rare for most YA shows.
This is not the sensationalization of Euphoria or the needless trauma of 13 Reasons Why. Heartstopper makes its move to more mature themes gracefully and gut-wrenchingly. While I want my precious characters to stay in the cocoon that made it my comfort show in the first place, I am achingly invested in their new arcs.
In Season 1, we brushed against heavier themes. Charlie, for example, showed signs of depression that anyone familiar with the experience would immediately understand. But the show never confronted the implications of mental health beyond Charlie's brush with bullying until now. And boy does it dive into the deep end.
From parental struggles to eating disorders, self-harm, and more, we get a deeper understanding of our characters through deeper themes. Keep tissues on hand.
The importance of your chosen family
What strikes me most about this season is the importance of your chosen family. Queer people know this. It's why we gravitate towards each other, knowingly and unknowingly even before we understand our own identities. And the importance of queer friendship is a major theme this season.
You see it in how these characters give each other permission to be their unapologetic selves — even in the face of an unaccepting world outside. You see it in how they affirm each others' experiences and give each other room to grow within a safe space. You see it in little comments, like: "It's so good to be around other gay people," and "Your friend group is so cool."
Watching this season, I was so thankful for the world that Alice Oseman has created — where the familiar experience of having all-queer friend groups is represented over the oft-characterized token gay friends. Instead of queerness being othered, it's in the center of Heartstopper, and it creates a cocoon where our characters are safe. Young people are lucky to have this show, especially now that it has expanded past the bubble of Season 1 into something more heart-wrenchingly complex and earned.