Frontpage Popular News
Introducing The American Royal Couple: Taylor Swift & Travis Kelce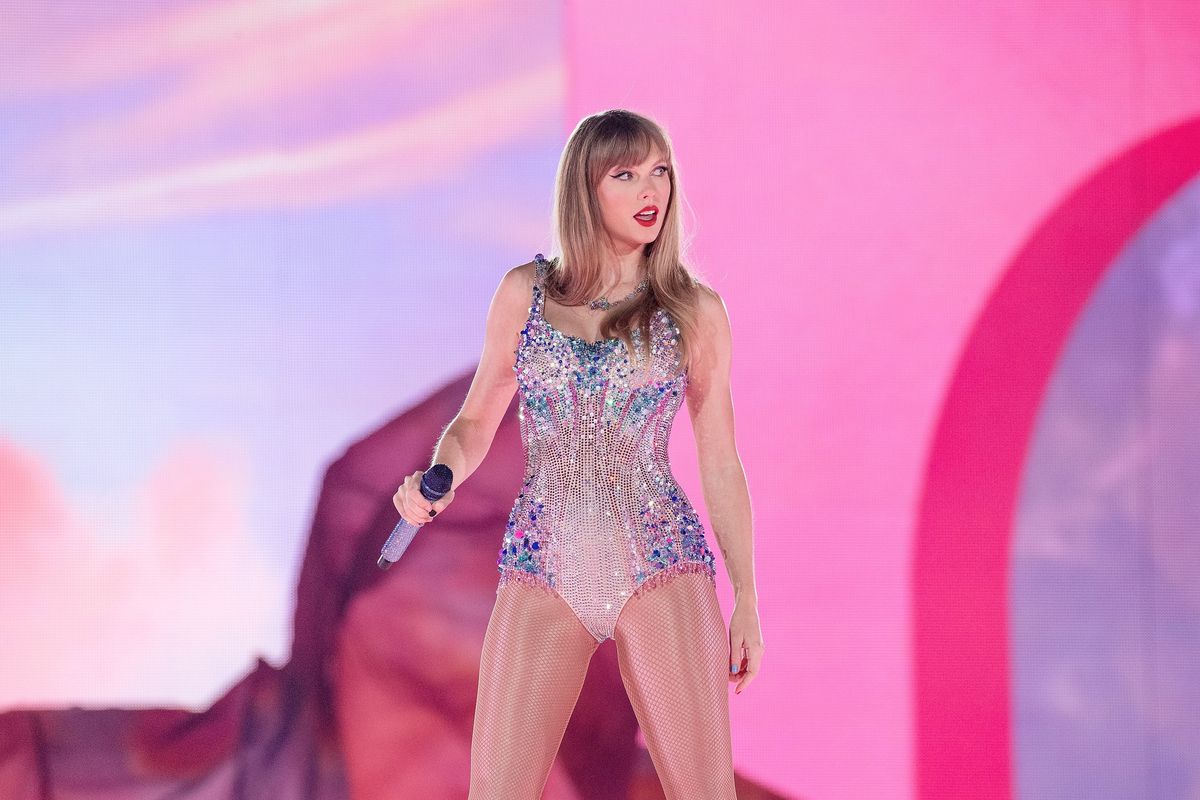 Casey Flanigan/imageSPACE/Shutterstock
Well ladies and gentlemen, it's the moment you've all been waiting for. Taylor Swift, after almost a decade, is dating someone born in the United States of America. And it's none other than star Kansas City Chiefs tight end and Super Bowl champion Travis Kelce.
---
Rumors about the pairing been circulating for a few weeks. They started when Travis Kelce went on his podcast — New Heights, with his brother Jason of the Philadelphia Eagles — and said he made Taylor a friendship bracelet with his number on it at her concert, but could never get it to her.
Normally, you'd think the story ends there. Tough luck for Travis, but no. Then, Jason Kelce went on Philadelphia sports radio WIP and confirmed the two were definitely an item. And finally, Taylor Swift broke the internet when she was spotted at the Chiefs-Chicago Bears game in Kansas City this weekend, next to Travis's mother, Donna Kelce.
I've been wondering for years how to get women into football…it turns out all you need to do is get Taylor Swift to date one of the players. Easy enough, now Swifties all over my socials are musing what a "tight end" is (he is supposed to both block and score points) and why scoring looks so easy (it isn't, he's just that good).
Who is Travis Kelce?
Born in 1989 (I'm sure Taylor is aware of the number), Kelce is widely acknowledged as one of the best tight ends of all time — even surpassing former New England Patriot, and Tom Brady's right-hand-man, Rob Gronkowski.
Drafted into the NFL in 2013, Travis credits his brother Jason for saving his football career. Travis, on scholarship at the University of Cincinnati, tested positive for marijuana and was kicked off the team before Jason got him back on track and playing football after a one-year suspension.

Now, Travis plays alongside arguably the new GOAT quarterback, Patrick Mahomes, in Kansas City. The duo have won two Super Bowls together, most recently in 2023 against Jason Kelce and the Philadelphia Eagles…the only brother duo to ever play in the Super Bowl.
He confirmed that he asked Taylor to come see him by saying he saw how she rocked Arrowhead, and wanted to know if she wanted to come see how he rocks it. Travis scored a touchdown in her honor.
Travis is known for his style, always pulling up in a lavish gameday fit. Yesterday was a blue and white jacket set that fits Taylor's upcoming 1989 (Taylor's Version) theme…so much so that the Kid Super renamed the set to "1989 Bedroom Painting Set" after spotting Travis wearing it.
Are Taylor Swift and Travis Kelce Actually Dating?
All signs are pointing to yes as Taylor and Travis were seen leaving Arrowhead Stadium on September 24, 2023 (12 years on the day that Taylor performed there for Speak Now) in Kelce's convertible last night. It's one of Taylor's more public dates in the past, but we are here for America's princess dating football royalty.
Apparently, Travis even rented out the restaurant for the Chiefs afterparty and their date! While we wait for more, shop styles similar to the New Era jacket T-Swift was wearing here.