New Releases
The Ivy Walls Release Their New Music Video Featuring Chris Pine
Dreamy, dark synth-rock from one of L.A.'s premiere bands.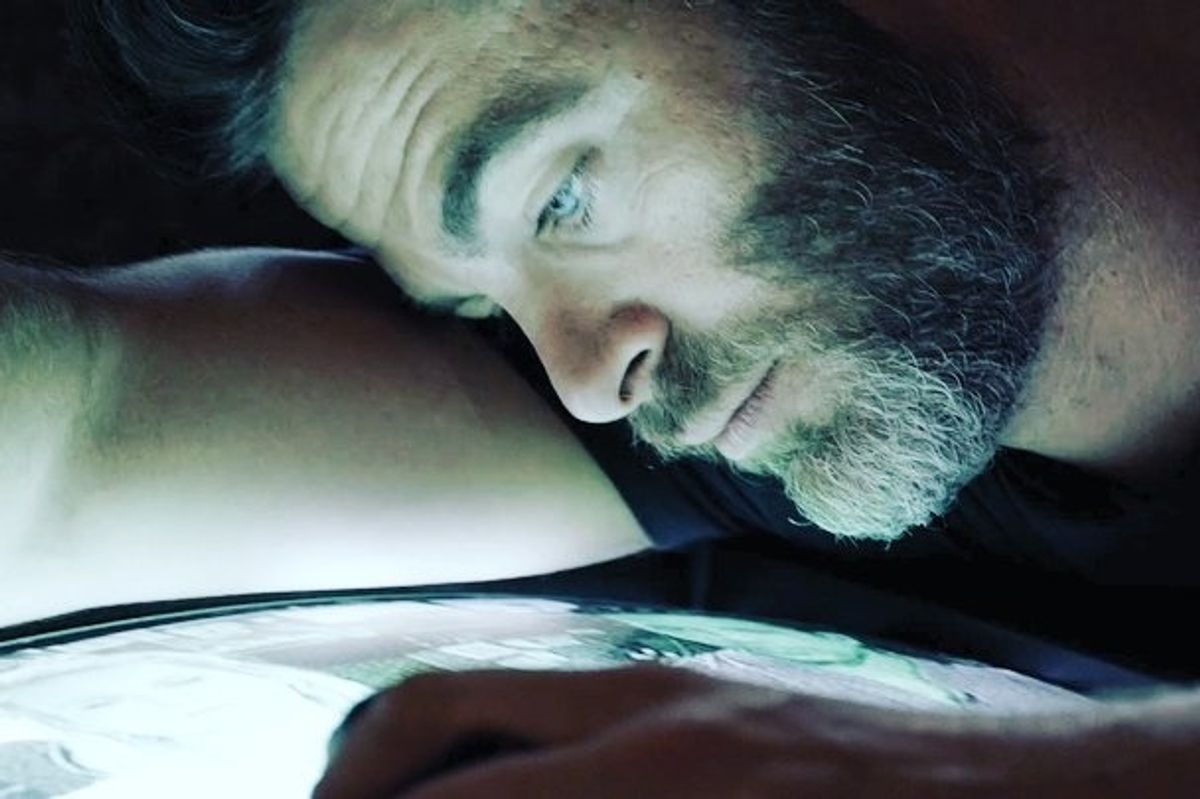 White Ocean
Los Angeles' dark synth-rock outfit The Ivy Walls recently dropped their fourth album, Pheromones.
The band described the album as a "sonic version of what it's like to live and love in this Lord of the Flies environment."
The first single/music video from the album is "White Ocean," featuring the voice of Chrissy Depauw. The video stars actor Chris Pine of Star Trek fame, who is a big fan of The Ivy Walls.
Popdust sat down with frontman Jeff Yanero to discover how The Ivy Walls achieved their unique dark vibe, and find out when new music will be coming our way.
The Ivy Walls - White Oceanyoutu.be
What's the band's musical backstory? And how did you come to get together?
Ryan and I met on a music message board while attending Santa Monica College. We had instant chemistry and immediately started writing songs and performing at open mics. We thought we would put a band together with the same ease that we had been able to work together but it took years before we would actually be able to do that. We went through every musical phase that one must go through to find the foundation of our sound during what I think was a good time for music not only in LA but just sort of in general. There had been a lot of post '90s stuff happening in years prior. Things were just stale out there and then came bands like The Killers, The Strokes, Interpol, etc. All of sudden there was a new era, a fresh decade. Los Angeles had a great local scene happening as well with bands like Midnight Movies, Silversun Pickups, Coldwar Kids, and Neuromance just to name a few, and at the center of it all was this great, truly indie radio station that had popped up called Indie 103.1. It wasn't sophisticated or yuppie curated; it was truly on the beat and the energy it gave the live music scene in LA is undeniable.
So in that indie setting we were searching for the right players to not only complete our sound but to also help us get better as players. The Count and Adam were a perfect fit as they were both in fact better players than us, but they also believed in our creativity. Once we all came together it was a very natural progression to this sort of indie new wave style that had room for synth layers as well as washy and distorted guitars.
Who is in the band (names) and what instruments do they play?
Ryan Varon:Lead guitar, synth; The Count: bass, guitar; Adam Waldon: drums; Jeff Yanero: vocals, guitar, piano.
What are the dynamics of the band like? Does the band run like a democracy, everybody has a vote and majority rules? Or is it a benevolent dictatorship? Or something in between?
It's a creative family. In our younger years we may have fought for our ideas more feverishly, but I think being creative together for that long brings a level of intimacy that allows you to operate pretty honestly. Everyone has their strengths and weaknesses and sometimes roles reverse etc. I would say it's a thick-skinned democracy where we respect each other enough to either trust that it will be ok if you don't get your way, as well as that you will be heard if you need to fight for your idea, even if that idea is the minority vote.
What is the most trouble you've ever gotten into?
As a band? Well we do have a thing called "band secrets" where every member has one thing that only we know and can never tell anyone on the outside. I'm sure there is some incriminating footage out there somewhere, though.
What's your favorite song to belt out in the car or the shower?
"Alive and Kicking" by Simple Minds!
What musicians/vocalists influenced you the most?
I'd say a fusion of the standards, like Echo and the Bunnymen, Cocteau Twins, Ride, Slowdive, JMC, and The Psychedelic Furs, are one end of it, but then there are bands like Secret Machines, The Daysleepers, Elefant, Young Prisms, and the list goes on of more contemporary music that really had an effect on us. I think we'll always be that band adding new influences, though.
What is your musical background?
I didn't start playing music in a serious fashion until I was 25. Before that I had only known a few chords on the guitar. I also started learning piano chords that year and taking piano and voice lessons. While our friends from school were having families and building careers with 401k's we were working crap jobs and spending countless hours in warehouses in downtown LA rehearsing and writing. We would drive home in the middle of the night exhausted, but still listening to the bands that kept us coming back to the rehearsal space and breaking down every aspect of what they were doing. As I mentioned, bands like Secret Machines and The Smiths. Elefant, Echo and the Bunnymen, BRMC, BSS. The list could go on forever but those are just some of who we were into at the time. We just loved being in a band so much. We appreciated it and the sacrifice we were making to each other. But that's what we spent all of our time doing, really. Building a musical background. We never felt practiced enough. We never felt like we sounded enough like the bands we loved. So there was always this carrot dangling that kept us exploring and experimenting and most of all just playing.
What kind of guitar do you play? And why?
I play an MIJ Fender Jaguar for the same reasons they became popular again in the 90's. It was what I could afford and it still sounds great. Little by little I've fixed it up through the years. Before that I played an Epiphone Casino and a Jagstang that I traded on tour for an acoustic and a hollow body. Still regret that trade! So nothing super-fancy on my end. I'm just not a good enough player to justify going any higher end. A better question for me is what pedals do I use to get by. However RV plays an SG, and a beautiful Tele. The Count plays a Hagstrom.
In the various venues you've performed at so far, which was your favorite? Why?
I think our roots are at the old Silverlake Lounge. Packing in that little place and just feeling at home under the Salvation sign.
The band's name, The Ivy Walls, carries a multitude of connotations and implications. What's the story behind the name and why it was selected?
We had many names along the way. The Ivy Walls was one that just felt right for us at that particular time. Somehow the imagery it evoked for us went with the sound we were developing. It came right at a time when we were starting to understand who we were as a band. I think we needed to shed certain aspects of old names and projects, and The Ivy WalIs was our coming of age moment, as we were starting fresh and embracing more elegance in our sound.
Where do you find inspiration for your songs?
I keep saying this record in particular was meant to be a New York inspired cold wave group of songs spearheaded by our ode to the '90s, "We Were Beautiful." But somehow along the way it turned into a real-time account of what's it's like to live and love in LA. I think we find inspiration everywhere. Sometimes we find it sonically and other times we find it in life experience.
What is your songwriting process? Does the music come first and then the lyrics?
It comes every which way. I may have a lyric hidden away that works over a particular piece of music one day or RV or The Count may have a piece of music with a verse or chorus lyric idea. Other times it just all comes at the same time. There's no one way other than just when inspiration knocks you have to be sure to answer and be a polite host.
I'm a sucker for good drumming. Who plays the drums on "White Ocean?" And which drummers influenced his/her style of play?
The drum programming on "White Ocean" was done by Paul Blasi and Pablo Alejandro Carr. I'm not sure exactly who their influences are but they are both amazingly talented producers.
It's presumptuous to ask at this point, but when might listeners expect new music? Are you back in the studio now?
We've been back for about 2 months now as far as getting started with new material. On one hand, I wanted to get back to basics with classic song writing almost in the manner that we did Lovers in Hotels, as well as tackle some of our backlog of songs that are still waiting to be recorded. On the other hand, Erik and I put a little tease of a new track up on our Instagram last week so you never know how thinks will shake out.
I think more than anything we're just in that phase of wanting to enjoy playing together without thinking too hard of the outside world just yet, which is hard for us. We have a tendency to make bigger plans.
---
Randy Radic is a Left Coast author and writer. Author of numerous true crime books written under the pen-name of John Lee Brook. Former music contributor at Huff Post.
---
POP⚡DUST | Read More...
Don't Try the Apocalypse at Home: Netflix Discourages Viewers from the "Bird Box" Challenge
Jordan Peterson and the Myth of the Modern Man
Kanye Begins New Year with Political Rant; Expects 4th Child with Kim Kardashian West