Culture News
About a year after being accused of selling furniture to ICE detention centers, e-commerce site Wayfair is in another controversy.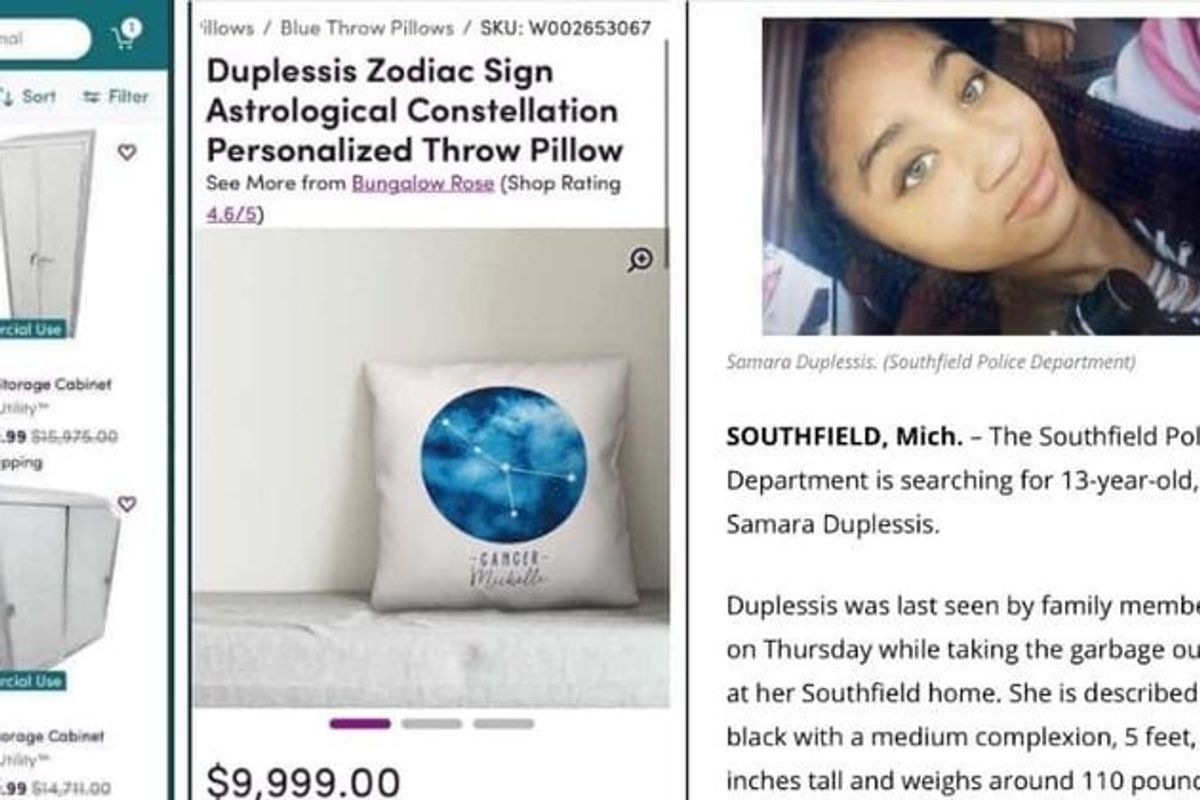 Wayfair, the e-commerce website beloved by millennials on a budget who don't want their apartments to look just like IKEA showrooms, is no stranger to controversy.
Last summer, employees of the company organized a protest after allegations surfaced that Wayfair had sold $200,000 worth of furniture to border detention facilities. Now, Wayfair is being suspected of trafficking missing children in their furniture.
---
Threads on Reddit and Twitter pointed out that Wayfair had listings of storage cabinets and pillows being sold for thousands of dollars–with names that correlated to those of missing children. One example is a $13,000 storage cabinet called the Yaritza Storage Cabinet; last month, a 16-year-old girl named Yaritza Castro went missing from Connecticut. Screenshots indicate that multiple, nearly-identical cabinets were being sold for jarringly high prices under different female names.
"Is it possible Wayfair involved in Human trafficking with their WFX Utility collection? Or are these just extremely overpriced cabinets? (Note the names of the cabinets) this makes me sick to my stomach if it's true," a Reddit user by the name of PrincessPeach1987 posted in a subreddit dedicated specifically to conspiracy theories. People in the responses generally agreed; before long, the topic had reached the masses on Twitter, sparking a nationwide conversation.
While Wayfair boasts a vast array of sellers on their website, the brand of the cabinets—WFX—is a trademark of the company itself. While these cabinets were all being sold for over $10,000, similar cabinets on Wayfair typically go for prices between a few hundred dollars and $1,000. Furthermore, some Reddit users pointed out that searching the SKU number of the cabinets in question pulls up photos of minors.
"There is, of course, no truth to these claims," Wayfair responded in a statement to Newsweek. "The products in question are industrial grade cabinets that are accurately priced. Recognizing that the photos and descriptions provided by the supplier did not adequately explain the high price point, we have temporarily removed the products from site to rename them and to provide a more in-depth description and photos that accurately depict the product to clarify the price point."

Since Wayfair has been accused of selling to detention centers, the ties between children at detention centers and human trafficking is no coincidence. Over the last decade, there have been staggering numbers of sexual abuse claims filed by people in immigration custody, with very little investigation.
Under President Trump's zero-tolerance immigration policy starting in spring of 2018, thousands of migrant children have been separated from their families. During a hearing in April 2018, Steven Wagner—a top official with the Department of Health and Human Services—said the Office of Refugee Resettlement was "unable to determine with certainty the whereabouts of 1,475 [unaccompanied migrant children]."
Expectedly, this sparked an even larger backlash—especially considering that Trump's zero-tolerance policy explicitly targeted the Mexican border, and Mexican and Latin American women and girls are at a disproportionately high risk of sex trafficking in the United States.
The Redditor who started the thread about Wayfair told Newsweek that she has been "involved in a local organization that helps victims of human trafficking," which has led her to be "suspicious most of the time now." According to information obtained by ChildrensRights.org, sex trafficking is one of the world's fastest-growing criminal industries, generating an estimated $150 billion per year.
Due to the increased vulnerability of being separated from parents, children in the foster care system are at the highest risk of child trafficking—a statistic that could very well ring true in ICE's detention centers.
The jury is still out on whether or not this conspiracy theory is true, but if you needed another reason to boycott furniture retail giants and resort to your local Craigslist, this one is as good as any.