A partial catalog of the pantheon of guitar gods includes Jimi Hendrix, Eric Clapton, Jimmy Page, Keith Richards, Jeff Beck, and B.B. King. Add to that list modern virtuosos like Tom Morello, Steve Vai, John 5, Joe Satriani, Slash, and Brian May. Now plug in Wulijimuren.
You say, "Who?"
I say, "The pop rock guitar god from Inner Mongolia, now living and working in the borough of Queens, New York."
His recent album, Sun of UTC+8 provides a posteriori evidence of the man's supernatural prowess on the axe. Adorned with insane flourishes, logarithmic sound spirals, and elegant textures, like Rumpelstiltskin, he spins out tones of sonic gold.
Popdust sat down with the bravura guitarist, who also plays the Morin khuur with Tengger Calvary, to find out more about him.
How would you describe yourself?

I am a Mongolian, but a Mongolian that comes from Inner Mongolian China. I graduated from music school. I used to work as composer and songwriter. Afterwards, I studied film and turned to editing, producing, and photography, as well as directing videos. Currently, I am working on my own at my studio located at NYC, mainly for MTV and shooting commercials.
What's your backstory?
Both of my parents were teachers while I was young and they were quite traditional. But I liked rock music which totally went against the traditions because rock is about freedom. I have three daughters and they are all in NYC right now. I think they can be simply who they are without any other people's judgement. I joined Tengger Calvary in 2015 and played Morin Hurr in the band. I toured twice in the U.S. and gradually fell in love with this country.
Are you still playing with Tengger Cavalry, or is your present focus on your solo career?
Yes, I will still tour with Tengery Calvary and play Morin Hurr in the band. Meanwhile, I will focus on playing solo guitar.
As an artist in multiple disciplines, how do you balance your time?
For the past 10 years, I have been working really hard on both music and film and balancing them out. It is really hard.
What's your favorite song to belt out in the car or the shower?
I come from Ordos, a small town in Inner Mongolia which is quite famous for Mongolian folk songs. Those songs are the songs I always sing and play in the car.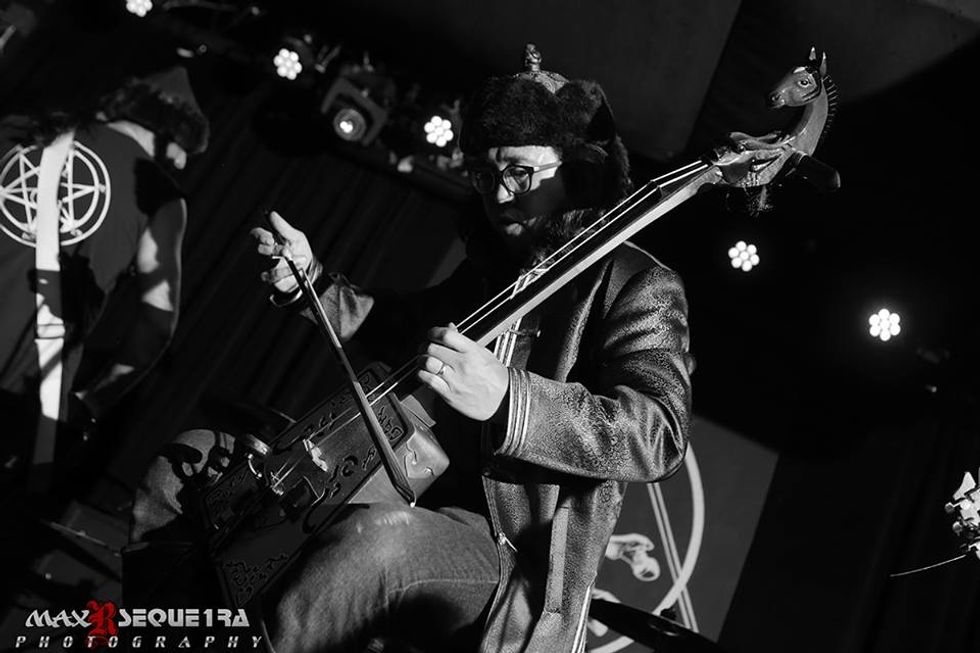 Photo Credit: Max R. Sequeira
What musicians influenced you the most?

The Mongolian rock band HARANGA influenced me the most. I am really grateful for those 1980's Mongolian musicians. They are just great and amazing! Because back at that time, Inner Mongolia was still very backward and I was so fortunate to get the chance to listen to their music
Who is your favorite guitarist?
David Gilmour. Words really can't describe how much I love him.
What kind of guitar do you play? And what modifications, if any, have you made to it?
I am playing an Ibanez right now, but the strings are Fender 009.
What kind of amplifier do you use?
I personally prefer Marshall, but I played with Logic Pro X and other guitar effects on this album.
You play both the Morin khuur and the guitar. Which is more difficult to play?
Playing Morin Hurr is harder for me, because the Morin Hurr has thousands of years of history and is all about the ancient times and my ancestors. Guitar is relatively new and modern. I have been practicing and playing Morin Hurr for a long time. I think it helps me to know myself better because it is closer to my ancestors. I never played Morin Hurr while I was young, because I thought it was an instrument for old people and the sound of it was too empty and sad. After I lived in the city for many years, I realized the Morin Hurr is a spiritual instrument intended to guide me through life's journey.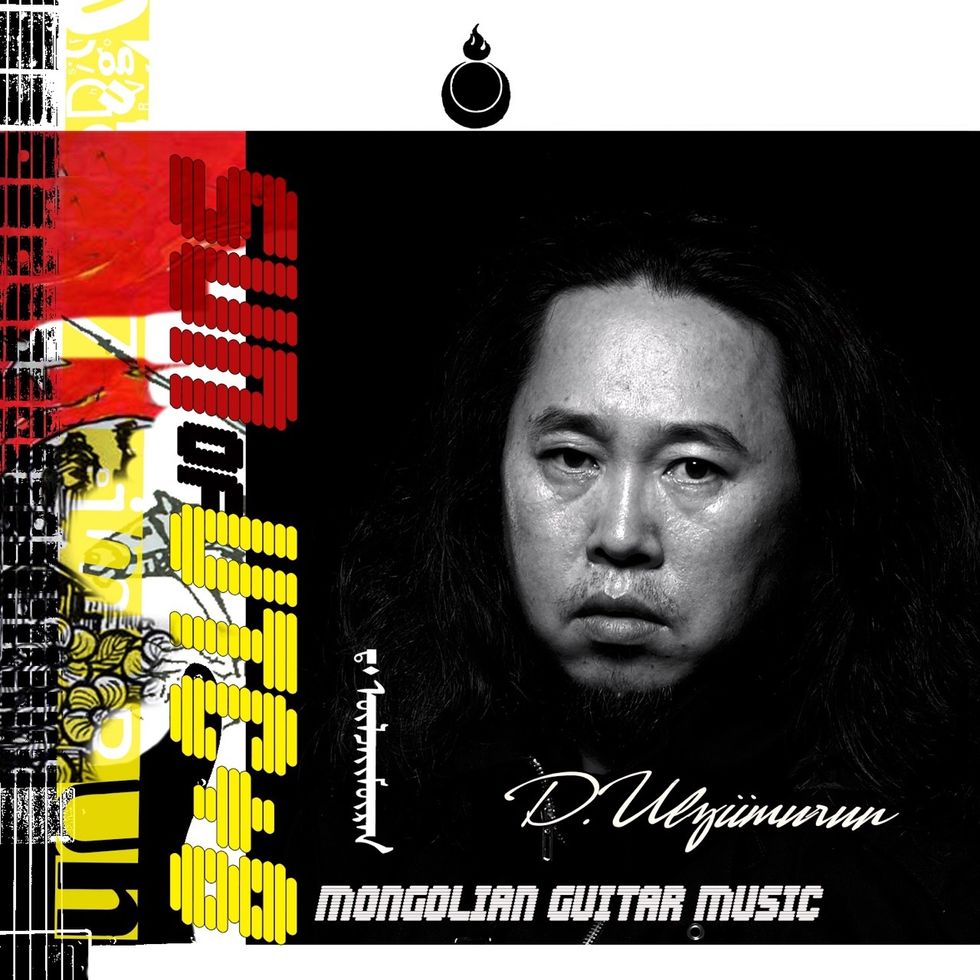 How, if at all, do your musical influences shape and impact your music?

Twenty years ago, I used to listen to lots of classic music from Europe and America, and try to imitate them. So the riffs are coming from the 1990s, such as soft jazz and funk. But I am trying to use the guitar to express Mongolian right now. I think it's a great combination for me to play Morin Hurr and guitar.
How would you describe your style of music?
I am not quite sure about my own music style and simply wish it could be as rocking as me.
Where do you find inspiration for your songs?
Sometimes I get inspired by someone I have been missing for a long time. Sometimes it is just some certain moment. In other words, I use music to express myself when words don't work for me.
What is your songwriting process?
Writing songs for me is just like making wine. The water was given by nature, while my inspiration was given by the God of music. But the flavor itself belongs to the wine. It's the same with my songs.
I really like your music video "Vast Sky." How did the video come together? Who produced the video?
I'm so delighted to hear you like it. I filmed this video for MTV at my own NYC studio. I did the whole thing by myself, so I am both the producer and the editor. And my daughter helped with lighting and my other friends helped with playing the other instruments.
Will you be touring this summer?
I am not planning to tour yet.
---
Randy Radic is a Left Coast author and writer. Author of numerous true crime books written under the pen-name of John Lee Brook. Former music contributor at Huff Post.

---