New Releases
Backstreet Boys & *NSYNC Talk Brotherhood & New 'Back-Sync' Collab Behind-the-Scenes of Perceived Rivalry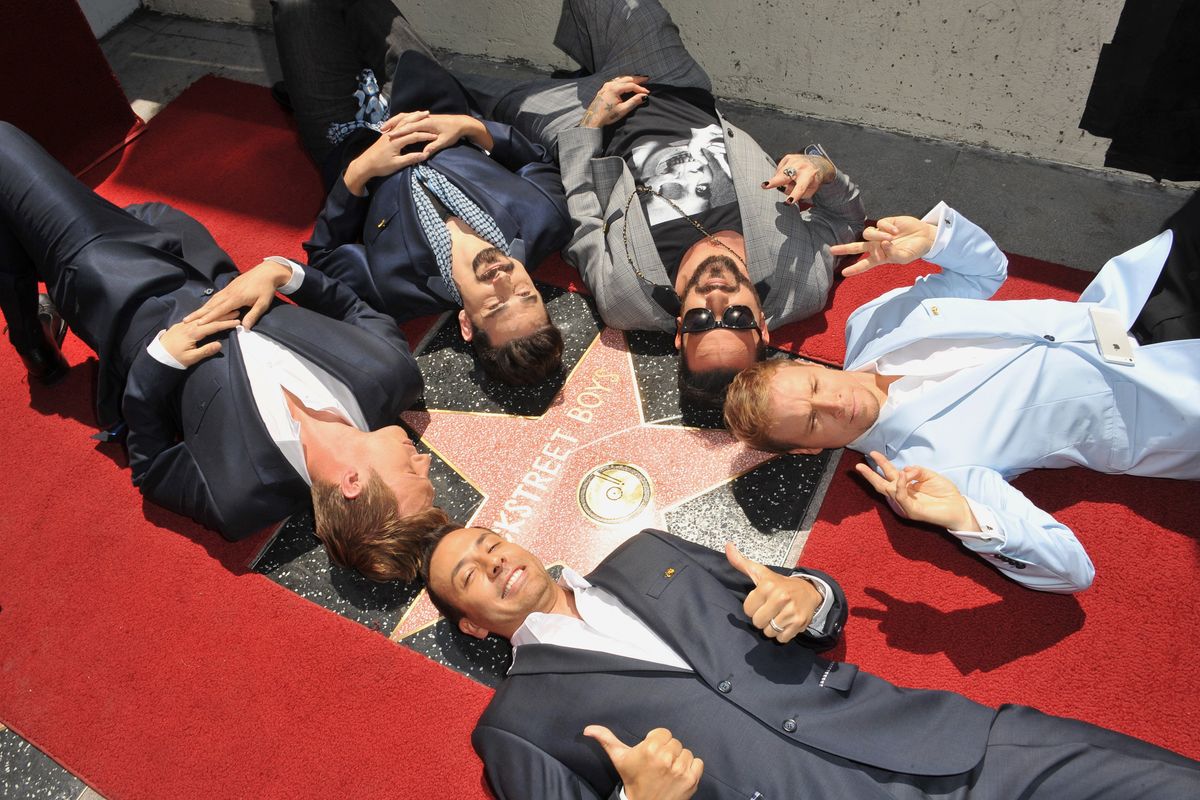 They've been labelled competitors for more than two decades, but members of the Backstreet Boys and *NSYNC recently hit the stage together in the ultimate show of unity, making their debut as "Back-Sync" at The Grove in Los Angeles, California.
Before performing each other's biggest hits, Nick Carter and AJ McLean of the Backstreet Boys and Joey Fatone and Lance Bass of *NSYNC shared how the seeds of their friendship and new professional endeavors – including newly-announced Las Vegas engagement The After Party, featuring Carter, McLean, Fatone and Boyz II Men's Wanya Morris – were planted behind-the-scenes of their groups' perceived feuds.
---
McLean, 43, noted that he has been buddies with Fatone, 44, since growing up in Florida, where both bands were formed. "I used to hang out with Joey back in Orlando when we were both off the road," McLean told PopDust. "And, I went to Lance's wedding. Lance and [husband] Michael have been very close with my family for a long time."
"My wife gravitates towards the gay man in the boy band – like Jonathan [Knight of New Kids on the Block] and Lance!" McLean continued. "Lance and Joey are amazing people and it's so nice to perform with them. It's nice to be finally be performing with my boy Nick again, too."

Fatone added that working on Carter's 2016 Syfy movie Dead 7 provided many hours of boy band bonding. Fatone and bandmate Chris Kirkpatrick starred in the film alongside Carter, McLean and their bandmate Howie Dorough, as well as 98 Degrees' Jeff Timmons and O-Town's Jacob Underwood and Erik-Michael Estrada. The singers spent much of their downtime in Butte, Montana, discussing their shared popstar experiences.
"There were a few times we'd had conversations and suddenly went, 'Wait a minute – we're linear as far as the journey we went through,'" said Fatone. "Then Nick was the one who really brought us together for the movie. At one point, me and Howie were hanging out and Howie goes, 'How did you guys really get together?' He never really knew the story, so we were always sitting around having those conversations."
The story of how late boy band mogul Lou Pearlman formed *NSYNC after creating and finding success with the Backstreet Boys has often sparked assumptions about bad blood between the two bands. However the members agree that much of the competitiveness was projected onto them from fans and those they worked with.
Fatone noted that any competition was healthy, remarking on how he and McLean even enjoyed debating whose songs were better during their Dead 7 downtime.
"I'd go, 'Listen to this acapella song we sang,' then he would be like, 'No, listen to this acapella song BSB did. It was really good!'" Fatone continued. "We were battling and going back-and forth-about different songs, which was fun. It's a friendly competition and it only makes us strive to do things better – and ultimately do better together."
Bass notes that while he has been friends with McLean's whole family for years, it was only last year that he developed a closer bond with Carter.
"Our relationship just started a year ago because of the pandemic," Bass, 42, explained. "We started talking and we're big crypto nerds, so we bonded over cryptocurrency."
Of course, the blondes have something else in common – their hair.
"We do bond over the frosted tips," Bass laughed. "We're pretty much the ones who invented that back in the nineties, so that's a club that we'll never be able to escape!"
Now, two decades later, the two are in their own Back-Sync club, having teased fans about a potential collaboration for months before performing for the first time together in June. The game night and concert were held in celebration of Pride and the LGBTQ community. The evening benefitted LA Pride and The Trevor Project, which assists struggling LGBTQ youth – a community where one person attempts suicide every 45 seconds in the US, according to CEO and Executive Director Amit Paley.
Paley appeared via video after the musicians presented The Trevor Project with a cryptocurrency check for one million dollars in $TKINU tokens, on behalf of their involvement with cryptocurrency project Mission Tsuki.
Bass and Carter, 41, became involved with the project after bonding over crypto. The two hope to create a trailblazing universe within the cryptocurrency world which will be centered around a meme dog named Tsuki, and which will merge virtual and physical words while also giving back.
"There are so many things we have in store, like clothing," said Carter, while wearing a Mission Tsuki jacket. "It's a lot of fun."
The boy banders were joined by RuPaul's Drag Race star Michelle Visage and rapper Todrick Hall for the check presentation. Visage and Hall also introduced Back-Sync to the stage after fans finished 10 rounds of bingo lead by "Bingo Boy" Jeffery Bowman and drag comedian Roz Drezfalez.
McLean kicked off the music with his solo single "Love Song Love," as his daughters, Ava, eight, and Lyric, four, adorably danced and sang along in the front row.
"When I was about six-years-old was the first time that I was introduced to the LGBT community and I have been a fan, I have been an ally and I have been a part of it my entire life," McLean said before performing the track. "I will continue to be on the forefront, showing my support and love for this beautiful community."
McLean, Carter, Fatone and Bass then performed Backstreet Boys anthem "I Want It That Way" and *NSYNC's "Bye Bye Bye."
The performance came just two weeks after McLean and *NSYNC's Chris Kirkpatrick debuted their collaborative single "Air" as part of McLean's side project, ATCK, in Las Vegas.
Back-Sync then hit West Hollywood for an after-party at Bass' bar, Rocco's WeHo, where he and Carter hung with spouses and loved ones in cabanas before being presented with a cake by Mission Tsuki.
Carter and wife Lauren Kitt were planning to drive back to their home in Las Vegas the next day, in time for Father's Day, with Carter gushing about the simple joys of parenting.
"There's been so many great memories and moments," Carter said about their first weeks as a family of five, after he and Lauren welcomed their daughter Pearl in April. The couple also have a five-year-old son, Odin, and a one-year-old daughter named Saoirse. "Even the simplest things like plopping down on the floor, picking the kids up, putting them on your feet and playing Superman, or rolling around and having tickle time or chasing them – all those things we grew up loving are the best times because that's when you're not looking at your phone and you're literally grounded."
Carter's now gearing up for The After Party, taking place at The Venetian Resort Las Vegas over four nights in August. The shows will see the musicians perform each other's hits, tell stories, and bring out surprise guests. Little known to fans, the Las Vegas stint was already in the works prior to Back-Sync's formation.
"This is something you've never seen before," Fatone says. "People have done Y2K band tours and stuff, but they come out as a group. This is different – you've never seen AJ and Nick together in a different entity.
"You're going to hear Boyz II Men hits, Backstreet hits and of course *NSYNC hits and we'll also have special guests and surprises coming through."