Frontpage Popular News
Becky Hill Is The Main Event
A headline show at The Brooklyn Steel, her new album in the works, and a conversation about women in dance music.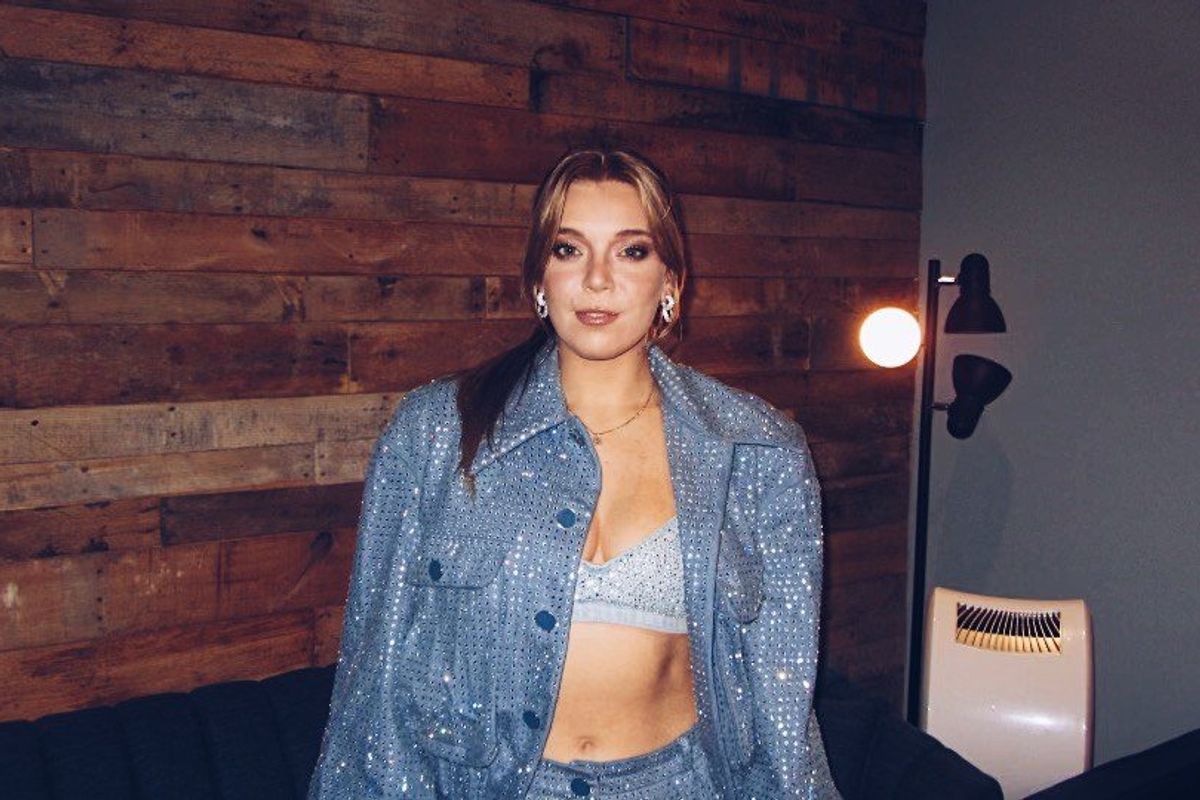 Brynn Cameron
Becky Hill is digging through her purse as I walk into her dressing room. It's about a half hour or so until she's headlining at The Brooklyn Steel in New York, and the opening duo act GAWD is getting the already-hyped crowd, who has chanted her name at any lull, ready for her. Arriving at the venue, there was no doubt in my mind people were ready for Becky Hill, but right now Becky is ready for me.
---
She's wearing a denim set that glistens in the light thanks to a thousand crystals, it's reminiscent of Y2K pop queens like Britney Spears. Her face stretches into a warm smile as she hugs me and my photographer hello, ushering us to the couches and introducing herself as if I haven't been listening to her music for a good chunk of my life. Sitting with Becky Hill already feels comfortable, and it's all thanks to her.
What Becky was looking for in her purse was her set of press-on nails, which she begins to put on as we speak...like we're two besties gossiping before she has to perform. We start talking about the year she's had already, with releasing two new singles: "Disconnect" with Chase & Status and "Side Effects" with Lewis Thompson.
The two singles indicate a new album currently slated to release in May, which she's so excited about. She knows how to write an album now, it's a real dance album. She's shed the fear of not being accepted for her album not being pop enough, and is showcasing her confidence as a woman, songwriter, and singer.
"I found that the music I was putting out wasn't matching the music I wanted to listen to...and I decided last year that I was going to make a f---ing album that I would rave to, that I would be seen listening to in the clubs."
She takes me on a journey: moving to London alone at age 18 with no friends or family to help her, she meets Karen Poole (or as Becky lovingly calls her, Auntie Karen) who has since helped her write and create songs like "Remember" with David Guetta. Poole is the melody queen, and Becky Hill has the voice that can take your breath away: powerful, gritty, moving, and real. It's a match made in music heaven.
"If you would say a lyric to your friend, then that's what makes the song,"
Becky got her start on The Voice UK as a member of Jessie J's team, quickly separating herself as a star in her own right when she became the first and only member of the show to score a #1 UK single with Oliver Heldens' "Gecko (Overdrive)." For the past two years, she's received the BRIT Award for Best Dance Act. She's collaborated with David Guetta, Joel Corry, Matoma, Jonas Blue, and more.

Since I've spoken with both Joel Corry and David Guetta, I ask her about those collaborations: songs like "Remember" and "Crazy What Love Can Do" with Guetta, and "HISTORY" with Corry. Joel Corry is a friendly face, a hard worker and "an utter sweetheart." She goes on to tell an amazing story about her relationship with David Guetta, one of the most iconic DJ's to date.
"David made a turning point in my career that he didn't have to make. It just shows what a beautiful f****** person he is. "
When Becky Hill proposed her song to David Guetta she left out a few facts: (1) that is was her song and (2) that Guetta wouldn't own it
for himself. Once she got his approval of the track, she let him in on the secret and he still wanted to work with her. Becky delves into how she hasn't always been well-received as a woman in the dance sphere.
"I absolutely love and respect David Guetta not for his empire of what he's built and who he is...but how he has treated me as a woman in dance music, which is quite rare. The respect he has given me has been second to none and I'll always have him to thank."
"Remember" is the catalyst track for Becky Hill- the one that changed it all for her and allowed her to unlock new, well-deserved success. It's the last song she plays on her sets for a reason, the one he allows for her to perform at the BRITS, to celebrate all she's accomplished summed up in one song.
She shares her dreams of working with Calvin Harris, but being a feature artist is not where Becky deserves to shine. As a woman in a predominately male dance music field, it hasn't come easy. Someone with Becky Hill's voice and already impressive track record should be a well-respected titan in her industry...but not everyone is so easy to trust a woman. Becky gets serious as I ask about being a woman in the industry,
"It's more-so just deflating. I have had to work twice as hard in the industry- I've been working for 12 years, I came off The Voice when I was 18 and I just broke the UK two-three years ago. Still to this day I have been having to do features for people to even give a f-- about my music. My label is amazing, but there's still this conversation when I make a song about which DJ to put on. I think people are less responsive to women than they are faceless male DJs."
She lists faceless DJ's like Marshmello and Daft Punk, who have found major success while women have to dress and look a certain way to be well-received. She's not wrong, but she admits since she's broken through she's seen more women have the confidence to pursue their dreams.
"It's the same for all women: you have to be sexy...but not too sexy. You can't dress too masculine, but you can't dress too feminine."
And while Becky Hill has navigated all of this, she's still a blazing star constantly growing her outreach. It's a sold-out show, her first for New York, with 8,000 people there only for Becky Hill, and you know it won't be her last.