TV
While the racism is clear to fans, the producers still try to cover it up in editing.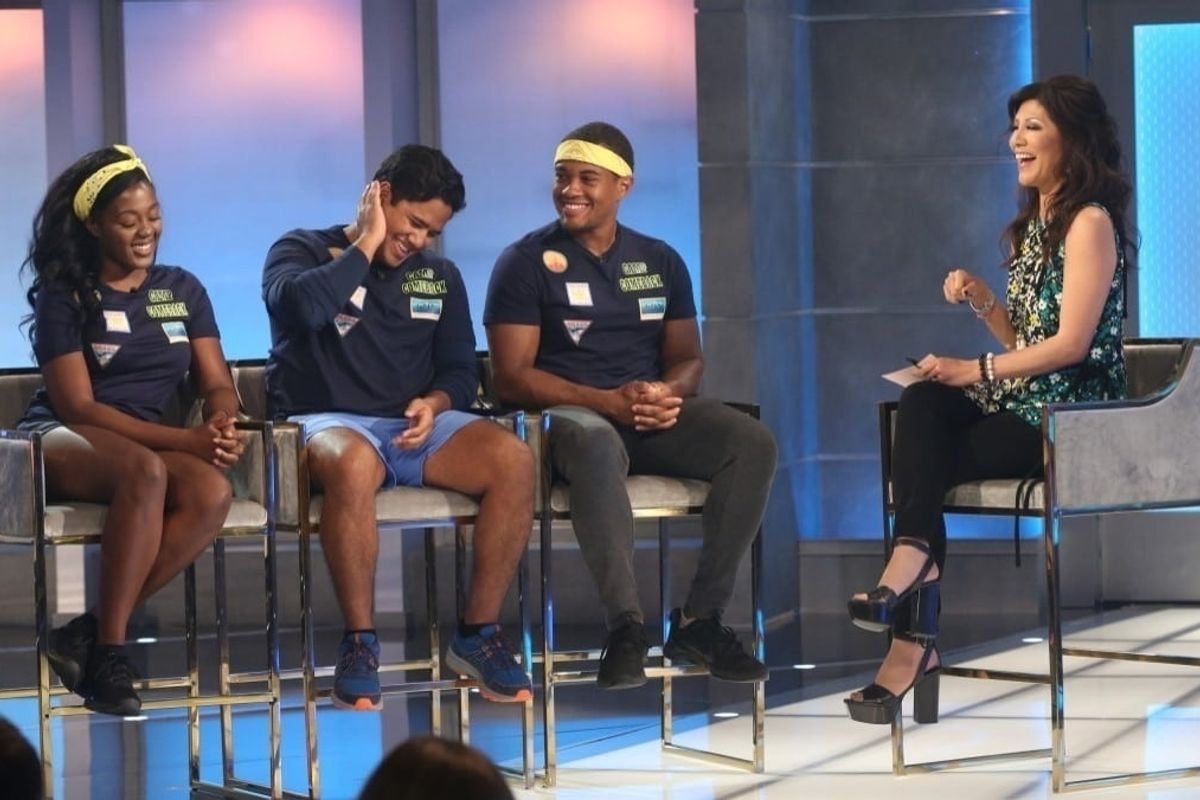 Monty Brinton/CBS
Three people of color left the Big Brother house on the same night amidst blatant racism and all sorts of other nasty behavior from the other contestants.
CBS' reality mainstay follows a group of houseguests stuck together in a house full of cameras as they compete for a monetary prize. To truly live up to the Orwellian implications of the title Big Brother, the show streams live footage of the cast 24 hours a day on the CBS All Access app. But what was once a summer guilty pleasure feels extra dirty this year, thanks to racially-charged bullying and disgusting comments from half of the show's contestants. But what's just as bad as the racism in the house is the producers' attempts to ignore it.
Racial lines were drawn from day one, when Camp Director Jackson selected Jess, a Latina woman, David, an African American, and Ovi, a Bangladeshi American, for possible banishment. Later, David, Ovi, and Kemi, a black female, were the first evicted and sent to Camp Comeback, a twist that allowed them to remain in the house to await a chance to re-enter the game. Viewers certainly noticed the race-based decisions of those in power. David went so far as to say, "Camp Comeback is looking real colorful," causing the live feeds to quickly switch off him.
Jack and Jackson, two physically fit white dudes, remain the two biggest problems. On the feeds, Aquaman-wannabe, Jack, was caught saying, "F**king Kemi makes me want to stomp a f**king mud hole through her chest." Jackson said he wanted to "cut this tumor out of us because she's a cancer on the house." What did Kemi do to deserve this treatment? She simply existed. But instead of showing footage in the episodes of Jack calling her "dogsh*t," "toxic," and a "f**king maggot," producers aired a clip of the Jacks insincerely comforting Kemi.
Jack calls Kemi a bitch and dog shit #BB21 #BBLF https://t.co/t1tmfTptYO

— Duke the Duck (@Duke the Duck) 1562826627.0
The show's production team is breaking a sweat trying to give Jack and Jackson glorified nice-guy edits, repeatedly refusing to acknowledge their racist overtones. The hate seems to be contagious, as many other houseguests are guilty of similar behavior. After David temporarily exited on Day 1, houseguests reamed him for being "a villain," "terrifying," "intimidating," and "disrespectful." David was only in the house for a few hours, yet the hate machine churned against him. And then there's Nick, a children's therapist, who said he wanted to spit in Kemi's face because "she's a piece of sh*t." Think this will make it on air? Don't hold your breath.

BB21 Nick wants to spit on Kemi www.youtube.com
So, when exactly did Big Brother turn into a dumpster fire?

This isn't the first time the show has faced accusations of racism. In 2013, four season 15 houseguests were fired for similar racist behavior. When the episodes' edits reflected what was actually happening, live feed fans felt vindicated that the racism and ugliness they witnessed was finally exposed on national television. When Aaryn Gries was evicted, host Julie Chen Moonves grilled the Texan college student, reading back all the disgusting comments she dished out on the feeds. It was a savage serving of justice. But it's not likely that a similar reckoning will happen in BB21. Kemi, David, and Ovi deserve better.
Adding salt to the wound, producers tried to manipulate Kemi to act like a racist stereotype. Kemi told other houseguests, "I think I'm portrayed as a bitch. One-hundred percent. They were like, 'Oh, why don't you, like, wag your finger and be like, 'Uh uh girlfriend.' I'm like, 'I don't even talk like that,' I literally don't talk like that, so, like, what are you trying to do?"
@emoblackthot @CBSBigBrother kemi talking about a producer who wanted her to "act black" https://t.co/WdMdnkCTwr

— moodydemon (@moodydemon) 1562985511.0
On the feeds, Kemi was sweet, hilarious, and loyal to her friends, yet the show worked overtime to paint her as a villain to excuse the other houseguests' racist behavior and opinions. If disliking someone's cooking and putting her water bottle in the fridge are reasons for this much hate, then this is a cruel world.

The show has a long history of hiding bigoted remarks from the designated Golden Child of the season, but Twitter is tired of the BS, defending Kemi and calling out the show.
Im still waiting for the following clips #BB21 1: Nick saying he'd spit on Kemi 2: Jack Acting Like a monkey in re… https://t.co/yL2VAUxaKW

— Danny Stavens (@Danny Stavens) 1563413379.0
@CBSBigBrother I'm refuse to give you all any of my views. Demanding kemi to act more "ghetto" in the DR? Editing t… https://t.co/QS8Int6NtI

— Cardibree (@Cardibree) 1562556742.0
After this season, I am DONE with Big Brother. They give racists the good edits but make the poc on this show the v… https://t.co/WciiC7VmRZ

— Destiny 🌟//KEMI FOR AFP!!! (@Destiny 🌟//KEMI FOR AFP!!!) 1562809983.0
Really disgusted that producers didn't show any of the shit Jack and Michie said about Kemi but tried to portray Ke… https://t.co/1wTCK84o8c

— Hermit Hattie (@Hermit Hattie) 1562938822.0
Even former houseguests are stepping up. Audrey Middleton (the show's first trans contestant), recently called the show a "completely corrupt operation," tweeting, "They protect the worst individuals on the show and undermine the edits of the minorities because they need people to keep watching. They can't exploit the Jacks because they need to be likable for the long game to retain viewership. They represent those that suit them. If you don't, they will discredit, sabotage, and exploit those who they deem lesser than to limit their voice."

If the show is a microcosm of American society, it's clear we have a long way to go towards equality. While you can't always control what people say or do inside a pressure cooker like the Big Brother house, purposely altering the narrative or changing the context of houseguest's character isn't editing magic, it's unethical deception. As the novel 1984 warns, Big Brother is always watching. But heads up, Big Brother, so are we.