Frontpage Popular News
The Iconic Brasstracks On His New Single "Indigo"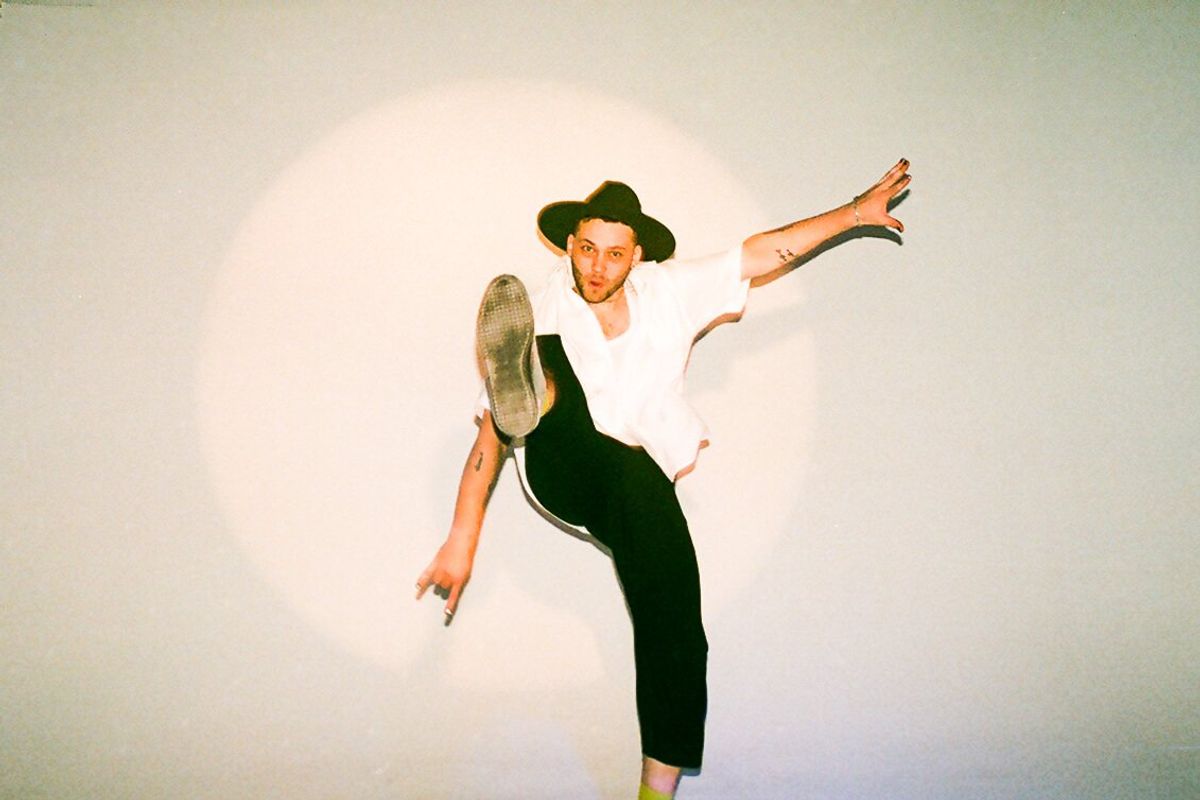 Shawn Jordan
One thing about Brasstracks is that he can make a collaboration with just about anyone and it's a guaranteed hit. But you don't really need me to tell you that, ask his Grammy awards for songs like Chance The Rapper's "No Problems" or Harry Styles' "Watermelon Sugar." He's collabed with big names across all genres like Anderson .Paak, Khalid, and Mac Miller, and his recent singles are no exception.
---
Brasstracks came back with yet another hit in "Anesthesia" with the ever-talented Mandy Lee of Misterwives for a fast-paced, hard-hitting single that gets you up and moving. He followed it up with "Indigo", which features the smooth vocals of Adelaide James and also reveals the name of his album. "Indigo" is the perfect representation of Brasstracks' album: complementary beats paired with talented vocalists, hard sounds and soft words.
"Indigo" is about something we can all relate to: being a night owl and its consequences. It has all the makings of a hit: lyrics that make you want to scream along, a catchy back beat, and a signature Brasstracks feel. You can listen to the single here:
Brasstracks has already had a noteworthy, iconic career helping others create hits...but his own music is equally worth the hype. He sat down with Popdust to talk about those collaborations, his new album, and more! Check it out below.
PD: Congratulations on your new single, "Indigo", do you have a favorite memory making this track?
Thank you!!! Yes I do - I remember the moment that we decided to make the chorus sound pitched up, or "chipmunk-esque" to some. After writing the chorus, we slowed the song down a whole bunch and also pitched it all down. We recorded the vocals at this new key and tempo, and it felt like we were swimming through molasses. We had our fingers crossed the entire time, hoping that when we brought it back to the original key and tempo it would sound like what we wanted, and to our surprise, it sounded better than anything we could have imagined. I think I settled on the album name being "Indigo" just a couple days later.
PD: "Indigo" is about not being a morning person and that edgy feeling you get when you wake up. How does this song set the tone for the rest of your album?
It goes a bit deeper than that- it's about being a habitually nocturnal person deeply interested in someone who is maybe a bit socially healthier than you. The twist is, that person hates their life as a "socially healthy" person and would rather spend their time with you. It's definitely a "fuck mornings" anthem, but it also touches on some of that "the grass is greener on the other side" energy- which pops back up in other records like Anesthesia, Knee Deep, I'm Only Me, Nobody's Fool. There are a lot of themes of jealousy through the whole album.
PD: What was it like working with Misterwives' Mandy Lee for "Anesthesia?"
A dream. I went to high school with Mandy, and we were friendly but not close. We were in a songwriting class together- generally I was slacking off noodling on instruments while Mandy was seriously presenting full songs to the class every week. Total badass. We reconnected in 2017 playing on the same bill, and man it was so nice to see her. Her energy is infectious, and we exchanged info and just stayed in touch. Both of us went through some rocky label situations a few years ago, and she felt like a lifeline. When I had the idea for "Anesthesia" I hit her up expeditiously, and she breathed some of that infectious energy into the song. We're big fans of each other, and we want each other to win big time. If music was a gambling game (it often is) I'd put all my money on Mandy and Misterwives.
PD: This certainly isn't your first collaboration. You've worked with some of the biggest names in the industry like Miley Cyrus and Mark Ronson, Mac Miller, and BTS. Does your writing process change depending on who you're collaborating with?
Yes and no. Gotta be clear here - I haven't been lucky enough to "write write" with a lot of these folks yet. I think a big part of my strength comes from being not just a producer and multi instrumentalist, but being a songwriter… I'm just coming into my own now though. It's taken me years. But I've helped on records with all of these folks, and it comes down to making the best record possible in the moment. Putting your ego aside is tough but it has to be done, especially if you're contributing as a horn player. Working for any of the above listed, it was always important to be a good listener, and if they said they wanted a certain style or era of playing or producing, I was all ears. I've studied a lot of different kinds of music, so shifting gears is kind of part of my process. So I'm pivoting based off of who I'm working for, but that is a general part of my process…. I don't know, complicated question!
PD: You've won Grammy's for working on "No Problems" with Chance The Rapper and "Watermelon Sugar" with Harry Styles, which were easily the biggest songs of their respective year…can you talk about working with those artists a little bit and how it felt creating those tracks?
Chance The Rapper is one of the most talented artists of this generation, easily. I watched him damn near freestyle the hook to "No Problem". I couldn't believe what I was seeing - that was early in my career. Harry Styles is obviously stupidly talented, and filled to the brim with charisma. My favorite thing about Harry is how he treated me and my friends when I met him. We were playing with Harry on SNL the night Watermelon Sugar came out. Before the show, he came up to our dressing room and spent a bit of time thanking me and my horn players for being there, which was unheard of in itself - but the man INTRODUCED himself to us, like we didn't know exactly who he was!! He's a different kind of humble, a different brand of kind. I'll never forget how he treated us. Meant the world to me and my friends.
PD: You're now ready to release your second album, how will this feel different from any of the collaborations you've done? And how did it feel different from the process of the first?
This is the first time I've been able to let off an album that conceptually makes sense to me. Everything else has been compilations of songs pretty much. No real concept, just good songs put on a project. Being able to talk about different angle of one concept over the course of 12 tracks is a crazy feeling. I'm stupidly proud of this one. And I feel like I've shed some skin- a version of myself that I wasn't in love with. Releasing this one is important to me to grow as a human.
PD: What are your favorite tracks off the album and why?
That's a tough question. I love every song. I'm excited for folks to hear the most unexpected things from me - I'm Only Me, Tragedy, Knee Deep all come to mind. I'm also excited to display some of the best songwriting that's ever been attached to Brasstracks- Home Improvement, Cowboy, Nobody's Fool…. All of them are special!! Rothstein put me on the path of "Make the SONGS good, not just the productions" and I really feel like I'm on that wave now. I take it with me everywhere I go. Indigo is the first time I said "fuck it, I'm making a pop banger" and Addy (Adelaide James) was right there by my side ready to do this thing with me. Good Morning, NY is special because my best friends from high school are doing the skits for it, Matt and Darryl. They've been my rocks for 17 years. I'm really proud of all of these records, and I've bonded more with every single feature on here because of what we did together. I can't say the same for a lot of the songs I've made in the past. I cherish this one.
PD: What's next for you this year? Any tours coming?
I'm not allowed to talk about it just yet, but we have a couple fun things coming up. In the meantime, I'll just be promoting the SHIT out of these records, because creating the music is only half the battle. I'm thankful to have people listening to the music I'm putting out and I will never, ever, ever take it for granted.