CULTURE
The family clearly has a fun time together, but how does this work?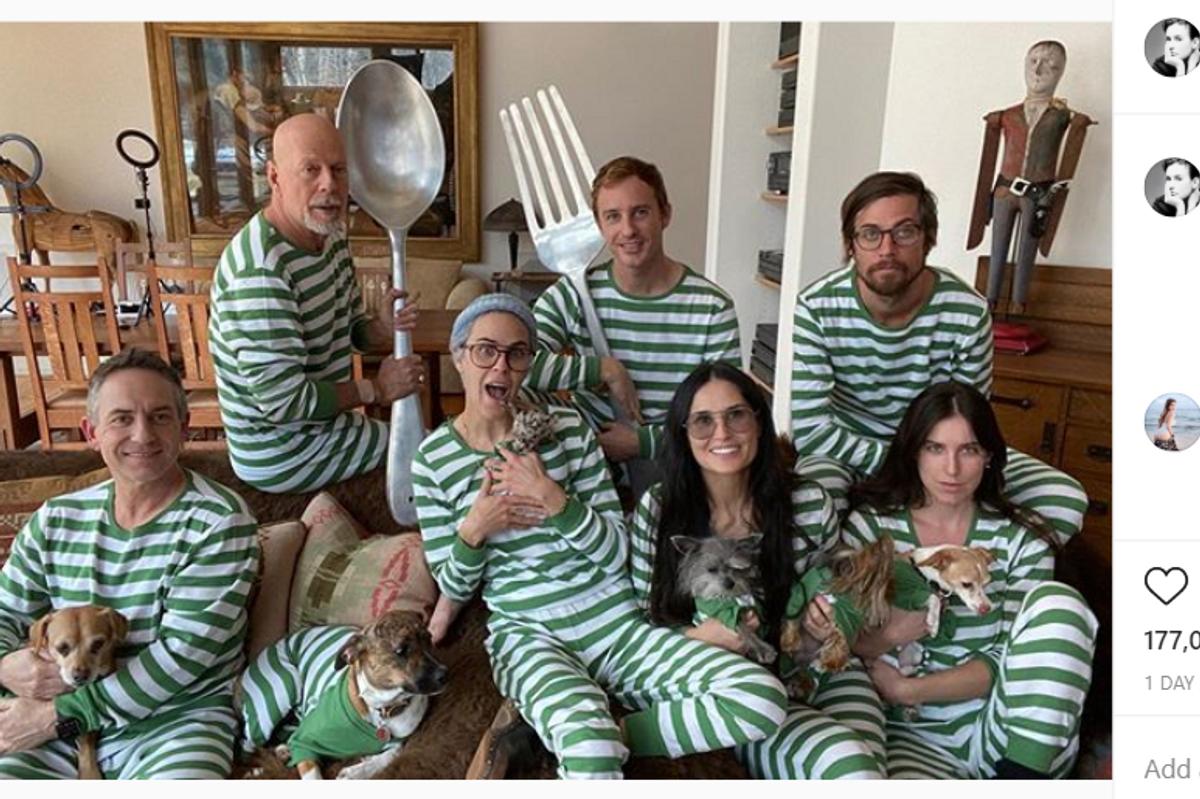 Instagram
Bruce Willis and Demi Moore were married for 13 years, from 1987-2000.
Since that time they have both remarried, Moore in an ill-fated union with Ashton Kutcher (16 years her junior) and Willis to his current wife Emma Heming Willis (24 years his junior). So why, 20 years after their divorce, are Moore and Willis not only spending time together but quarantining as a family?
The easy answer is that they just seem to get along. They have three daughters together and have maintained a friendly relationship that seems to have made it much easier to co-parent. On Willis' recent birthday Moore even posted an old family photo on Instagram showing the five of them together with the message "Happy birthday Bruce! Thank you for the three greatest gifts of my life." Apart from their children and a desire to marry people born in 1978, the former couple generally seem to have a lot in common, and the family has been getting up to some silly fun while quarantining together—including taking dressing up in matching pajamas (with a giant fork and spoon for some reason), and gathering around while Bruce Willis gives their daughter Tallulah Willis a buzz cut.
A more complicated answer might be that there's some drama at the Willis house that drove Bruce to seek some other shelter. Is his wife or one of their young daughters sick, necessitating Willis—who just turned 65—to get some distance? Or was the stress of spending all day in close confines with a five and eight-year-old getting to be too much? At 41, Emma Heming Willis might have more energy and patience for their young children than Bruce. It could be that his mental health was more at risk than his physical health, and he needed to get away for a bit. Adult children are certainly less likely to run around the house screaming and knocking things over.

Of course, this is all speculation. Moore and Willis haven't offered a public explanation for staying together during the quarantine, and there might be no explanation at all—Willis might have just decided to go over for a visit. Though if that's the case, someone really needs to explain the term "quarantine." Whatever the case, Emma Heming Willis doesn't seem to be too concerned. She commented on the video of Tallulah's new haircut that the 26-year-old "got the good head shape gene and then some."