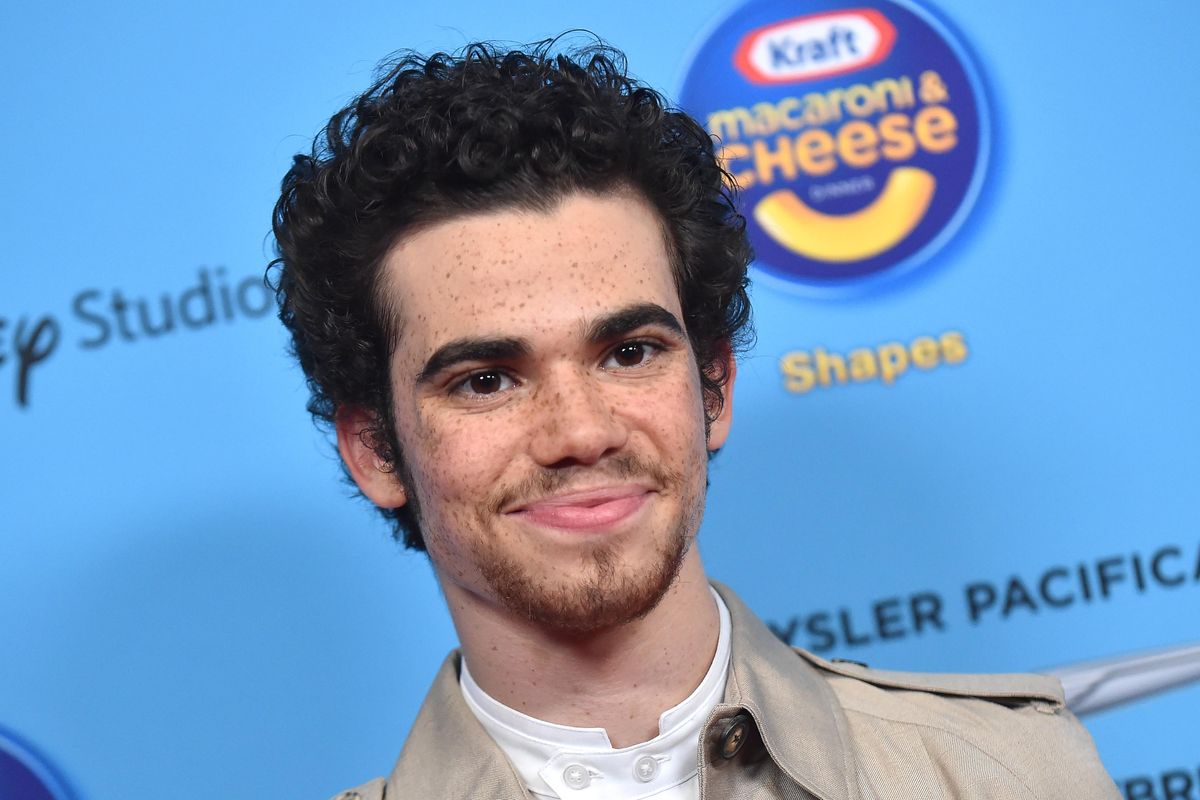 By DFree
Everyone who knew Cameron Boyce during his life described him as unfailingly kind.
The actor died unexpectedly on July 6, 2019 after suffering a seizure in his sleep. Since then, co-stars, friends, and fans alike have grieved his loss.
---
At just nine years old, Boyce made his acting debut in a Panic! at the Disco music video. He soon became a household name among a certain age group thanks to his role in Jessie, a Disney Channel show that ran from 2011 to 2015. His movie credits include Mirrors, Eagle Eye with Shia LaBeouf and Grown Ups and Grown Ups 2 with Adam Sandler.
He began to amass a devoted fanbase in 2015, when he played Cruella De Vil's teenage son, Carlos, in Disney Channel's Descendants franchise. The TV film was a huge hit, and he went on to play the role in the subsequent two sequels.

Boyce took the responsibility of fame seriously and used his spotlight to shine a light on important causes in the years leading up to his death. In March 2019, Boyce introduced Joe Biden at his Biden Courage Awards. He was also honored with the Pioneering Spirit Award at last year's Thirst Gala, sponsored by the Thirst Project, a nonprofit for which Boyce raised $30,000 to build wells for clean drinking water in Swaziland.
After the actor's shocking death, many of Boyce's former co-stars took to social media to share their grief.
Former Jessie co-star Debbie Ryan wrote, "This ripped me up. I keep trying and I can't make anything make sense.He was blameless, and relentlessly joyful; he was good. Through and through, Cam is good, in all ways and to all people. And the most alive.It's wrong. I am so confused and devastated and angry. But that isn't very Cam. He'd cast any shade of sadness or darkness in colors of positivity; he couldn't help himself but to always leave you smiling, or laughing, or dancing."
Dove Cameron, one of Boyce's Descendants co-stars, shared a tearful video on Instagram a few days after his death. She said, "I have close to nothing left, which tells me some small percentage about how you must be feeling," Dove said in a letter to Victor Boyce and the rest of Cameron's family. She goes on to say, "Goodbye my dear, dear friend and brother. You leave behind a colossal wake, a profound chasm that can never be filled. But you also leave millions and millions of deeply impacted, hope-filled and love-filled human beings who are who they are because of you."
Adam Sandler also shared his grief at the passing of his on-screen son, saying, "Too Young. Too sweet. Too funny. Just the nicest, most talented, and most decent kid around," Sandler shared. "Loved that kid. Cared so much about his family. Cared so much about the world. Thank you, Cameron, for all you gave to us. So much more was on the way. All our hearts are broken. Thinking of your amazing family and sending our deepest condolences."
Cameron's dad, Victor Boyce, is active on social media and has routinely shared photos of his son since he passed.

Cameron's mother, Libby, wrote a heart wrenching Mother's day letter for Good Morning America, describing her first Mother's day without her son. She begins by saying, "This is where my Mother's Day 2020 story begins. I lost my son Cameron Boyce on July 6, 2019 at the age of 20 to something called Sudden Unexpected Death in Epilepsy (SUDEP), which is something I had never heard of prior to losing Cameron. SUDEP occurs when otherwise healthy individuals with epilepsy die during a seizure. There are hundreds of mothers who have lost a child to SUDEP, yet I had never heard of SUDEP even though Cameron was diagnosed with epilepsy at 17 years old. I intend to use my voice on behalf of these moms to bring a face to this tragic issue and to bring attention to epilepsy; the most common disease that we know the least about."
She goes on to describe her son, saying, "His other passions were his family and his best friends. Everyone loved him and felt good around him. They were drawn into his warmth and rootedness. He was authentic and genuine with no airs or need to be the center of attention. Cameron and I were extremely close, and we talked about everything. He once told me that he couldn't wait for me to be older, so that he could take care of me."
In 2019, The Cameron Boyce Foundation was established, "Honoring @thecameronboyce's legacy by reducing gun violence & curing epilepsy." Now, on what would have been Cameron's 22nd birthday, fans are taking to social media to share their grief. At the time of his death, Boyce had 8.1 million followers on Instagram alone. In honor of Boyce's birthday, Sofia Carson released a limited edition clothing collaboration to support the Cameron Boyce Foundation.
to the boy who changed our world forever, keep smiling. \n\nWe love you Cameron Boyce.pic.twitter.com/hmXozdP5Oj

— Sofia Carson (@Sofia Carson) 1622220019
\u201cwhat you leave, should be bigger than you.\u201d\n-Cameron Boyce pic.twitter.com/VmmxtJ0mc6

— phoebe \u2022 CAMERON DAY (@phoebe \u2022 CAMERON DAY) 1622187182
It's obvious that Cameron Boyce had a significant impact on fans and loved ones alike, and his talent and joyfulness won't soon be forgotten.