Culture News
Is Carole Baskin Inheriting a Haunted "Indian" Burial Ground with Tiger King Zoo?
Current owner Jeff Lowe claims there are bodies, including "a young American Indian boy," buried on the property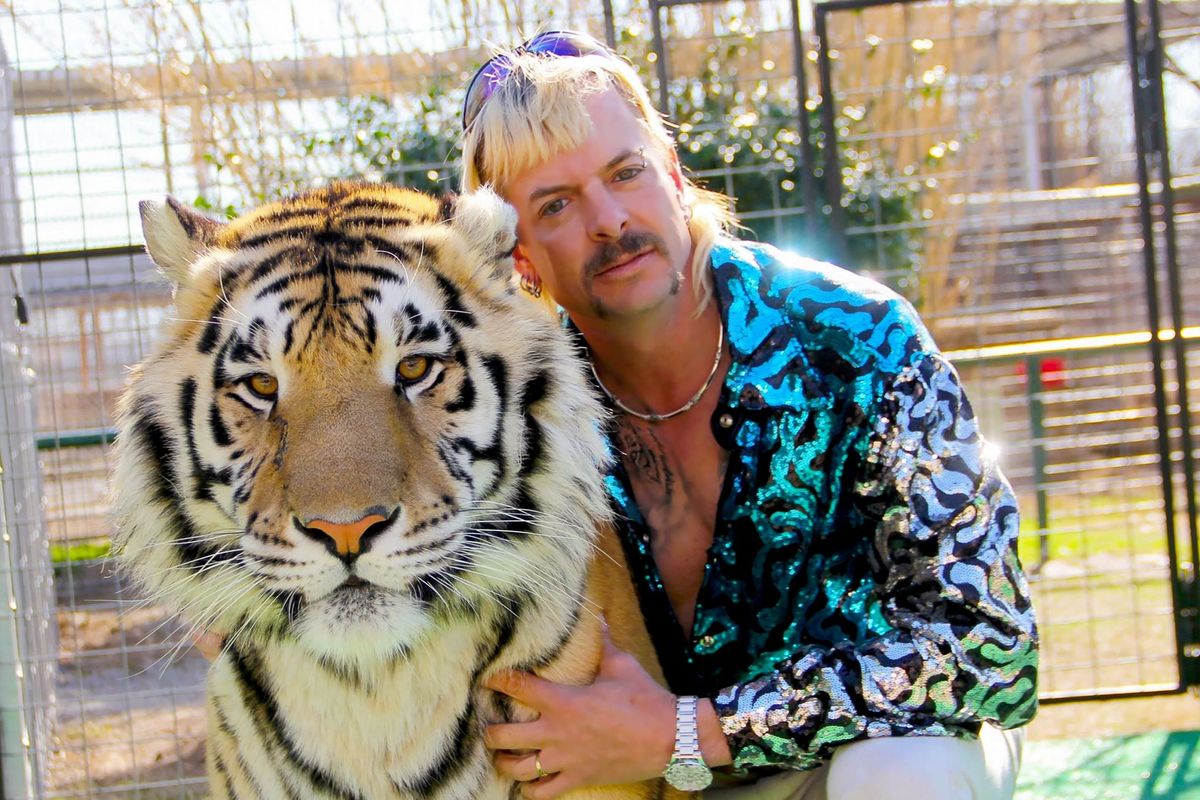 Photo by Netflix/Kobal/Shutterstock
---
As fans of the Netflix docuseries Tiger King will know, her long-standing legal feud with Joe Exotic (AKA Joseph Maldonado-Passage, né Shreibvogel) over his violation of the Big Cat Rescue trademark resulted in a million-dollar settlement in her favor. But for the most part, Exotic managed to dodge paying Baskin through a series of illegal property transfers that temporarily protected his animal park from seizure.
Now that Exotic is in prison for attempting to have Baskin murdered—along with illegal animal trafficking and several violations of the Endangered Species Act—a judge has finally ruled that the park is hers, and she will be taking over ownership of the 16-acre property later this year. But Jeff Lowe—the park's current owner and the personification of a mid-life crisis—insists that there are no hard feelings, saying, "She deserves this property."
On the face of it, that's a straightforward assessment of the legal situation from a man who has already arranged to move all his animals to a new location in Thackerville, Oklahoma. But if you look beyond the surface, Lowe's words—along with his claim that he and his wife Lauren "didn't want" the property—may have a darker meaning.

'Tiger King' Jeff Lowe Says Carole Baskin's Getting Ghosts With Zoo | TMZ www.youtube.com
As Lowe revealed in an interview with TMZ , the property is supposedly the burial site of "the remains of a young American Indian boy," and Lowe even claims that he and his wife Lauren attempted to donate the land to "the Indian nation"—possibly referring to the nearby Chickasaw Nation—because "the nation should have the first opportunity to protect this land." Lowe went on to claim that "there's more bodies than that here," but declined to explain, calling it "a story for another day" and insisting that "we need something for our reality show," a currently untitled project the couple are producing with The Content Group.

Lowe has previously offered other reasons why he dislikes the property in Wynnewood, saying in an interview with Entertainment Tonight , "We don't particularly like it here, because of its geographical location. It's not a great place for a business, it was poorly constructed … she can have these 16 acres of haunted memories."
Is it possible, given the reputation of Native American burial grounds—as cemented in movies like The Shining and Poltergeist —that Lowe and his wife are concerned that memories aren't the only thing haunted on the property? Is that why so many awful things have happened there —from arson to animal attacks to the tragic accident that killed Travis Maldonado ? Is the land cursed? Or are they just trying to sabotage Baskin's prospects for the land by spreading dark rumors, robbing her of her legal victory? That would make sense considering Lowe's plans to abandon upkeep of the property, which he claims will be in a state of "complete hell" by the time Baskin takes ownership.
Then again, the simplest answer may be that the Lowes are just trying to hype their reality show, which Jeff Lowe promises will "fill in the blanks that Netflix left … and maybe even put some finality to the Don Lewis case"—referring to the mysterious disappearance of Baskin's former husband, which Exotic and others have long-attributed to Baskin herself . It's a theory that Lowe alluded to in a separate statement on the judgment, saying, "The possibility of human remains being buried on this land should make her feel right at home."
Whatever his intention with these statements, Lowe is planning to vacate to new facilities behind the WinStar Casino before Baskin takes ownership in the fall. It's not clear yet what Baskin has in mind for the property: It could serve as a new space for her Big Cat Rescue operations , or she may simply be planning to sell it and pocket the profits. But while Lowe's suggestion that the land should be returned to Native American control may have been an attempt to troll Baskin, it's an option she should seriously consider—whether or not there's a burial ground on the site.

With so much of the horrifying injustice that's been done to Native Americans taking place in Oklahoma, a small, 16-acre token of restorative justice might be the best way to close out the disturbing story of Tiger King and the G.W. Zoo.