Film Reviews
"Cold Copy" Review: Tracee Ellis Ross's Magnetic Personality Buoys Flaccid Film Noir
Like Mia Scott, I would also do anything for Tracee Ellis Ross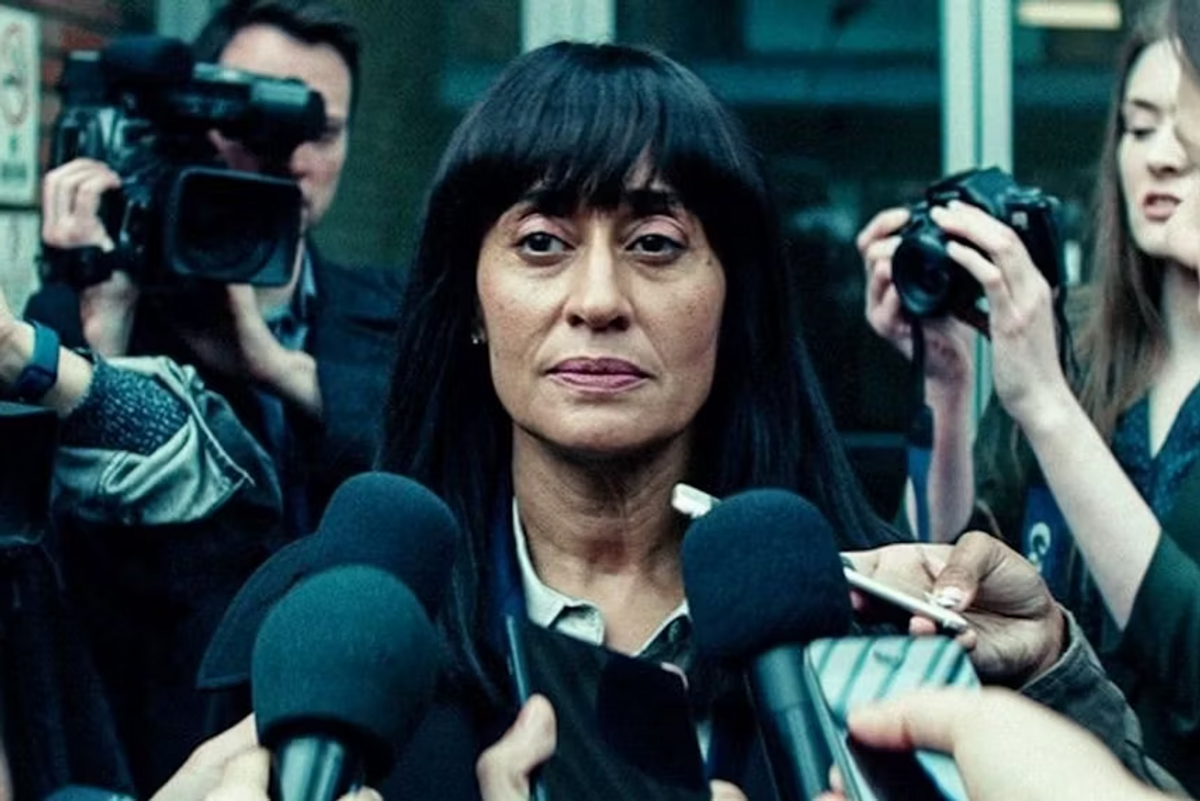 via Tribeca Film Festival
When you think of Tracee Ellis Ross, you think of her big hair (shoutout to Pattern Beauty) and her big smile. You might even think of her mother, Diana Ross, although Tracee's one of the rare, iconic nepo babies who has managed to forge a spectacular career separate from her famous parent.

---
However, in her latest role as powerhouse journalist Diane Heger in Tribeca Film Festival's Cold Copy, Ross is unrecognizable — and not just due to of her black hair and bangs. Known for comedic roles like Black-ish, Girlfriends, and The High Note, Ross is an expert at leveraging her larger-than-life personality for laughs.
In Cold Copy, she uses her undeniable presence as Heger strikes fear into the hearts of aspiring journalism students who want to follow in her footsteps as a successful media personality and host of her own show. This is where we meet Mia Scott — indelibly rendered by Bel Powley. Scott is a budding journalist, eager to impress her hero and succeed at any cost.
Early in the film, Mia's sitting with her roommate and best friend, discussing their hopes and dreams. Classic weekday night for college students. "What else is there?" Scott muses about the value of success. And the rest of the film shows her clawing and climbing to the top, making enemies, and losing friends on the way.
Written and directed by Roxine Helberg, this female-helmed film noir has a predictable plot but is saved by its captivating cast. The story struggles to justify its characters' motives with high enough stakes, making Scott's actions seem desperate and unanchored, though well-rendered by Powley. Yet, despite the uneven script and stilted pacing, Ross and Powley make a compelling duo.
"What do people see when they look at us?" Heger asks Scott in the film's second act. A teacher and student? A mother and daughter, she proposes. Lovers, even? It's all about perception, is the lesson Heger's imparting. And, as journalists, it's all about perspective.
But for a film about perspective, about insight, it doesn't hold much of its own. Some themes, like the price of success, are raised, but the message is unclear. The ending, too, raises more questions than it answers.
Like Mia Scott, the film is desperately clawing for a storyline, for meaning, but can't quite reach it. And, like Scott, the charismatic actors in front of the lens are more substantive than the flimsy tale they're weaving.
What results is a satisfying watch but so unsurprising. It's a mixture of Tar and Miss Sloane, but without the intensity of either. Although the plot's overly familiar, the visuals are sharp and the casting choices are fantastic. Backed by brilliant acting and an undercurrent of intriguing questions, it's worth your time.