Opinion
When you're trying to figure out how much you owe at the group dinner and your friends have already moved on to fighting about the check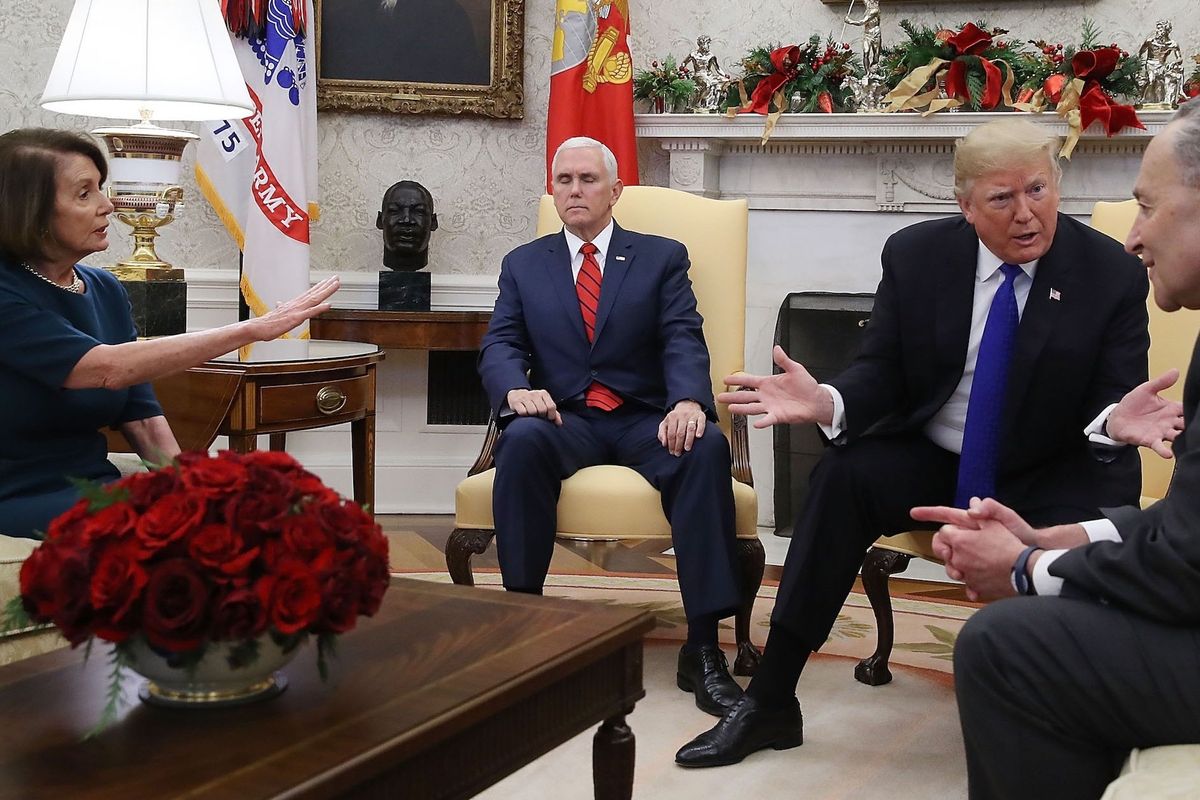 Getty Images
With only 10 days remaining for Congress to pass legislation on government spending, prospects of a shutdown hung in the air during an Oval Office meeting between President Trump and Democratic leadership on Tuesday—as did a palpable tension.
In what was meant to be a closed-door negotiation, Trump invited the press to watch as he sparred with House Minority Leader Nancy Pelosi and Senate Minority Leader Chuck Schumer. Things grew especially heated when it came to discussion of the president's proposed border wall, for which he is asking $5 billion. The president maintains that the wall, which he continuously claims to be in progress (it's not), is necessary to secure the border from "drugs pouring into" the country (not the case) and terrorist threats (nope). In addition to reporters, the room was filled with crosstalk, eye-rolling, and gesticulation from all parties.
Well, all parties but Mike Pence.
Trump clashes with Pelosi, Schumer in Oval Office youtu.be
For reasons unclear to anyone with a pulse, let alone anyone deeply entrenched in the machinations and decisions under discussion, Pence sat in practical silence, making but few discernible head nods and showing no emotion, throughout the entire confrontation.

Here's what Pence's waking coma looked like, according to Popdust staff:
That kid who pretends to be involved in the class debate even though he didn't do the reading
A fear-frozen nine-year-old who just walked in on his parents doin' it
He's reciting the Bill of Rights in his head but keeps getting it confused with the Ten Commandments and having to start over
When you're trying to figure out how much you owe at the group dinner and your friends have already moved on to fighting about the check
Slenderman on Xanax
A child actor worried he's adjusted his hands too much in this scene already
A Toy Story character mid-transition as a human re-enters the room
He's posing for the daguerrotype portrait that will hang in the drawing room of the gentlemen's club and he'll be damned if it comes out blurry this time, Martha
Someone trying to hide an erection purely through body position
A metronome on delay
Your dad when you and your sister fight over the hair straightener
The acid he dropped twenty minutes ago is just kicking in
Perhaps now that John Kelly is leaving the White House, Pence is just on the hunt for his own signature move.
---
Rebecca Linde is a writer and cultural critic in NYC. She tweets about pop culture and television @rklinde.

---
POP⚡DUST | Read More...
Trump Seeks New Chief of Staff
Brexit Derails: Vote Postponed, U.K. Has Power to Cancel Altogether