"It's always exciting to be part of something at this early stage," says Gerome Samonte.
"It was an incredible room full of people, and I think we all can't wait to see what the next step is." He said this in reference to the reading of a new work currently being developed by Douglas Carter Beane and associates. Beane is known for such works as the Tony-nominated The Little Dog Laughed, the books-to-Broadway musicals such as Xanadu, Cinderella, Sister Act, and Lysistrata Jones, and films such as To Wong Foo, Thanks for Everything! Julie Newmar (Starring Wesley Snipes, Patrick Swayze, and John Leguizamo). "What Doug's working on here is something really special. But then he always gives us good stuff to read," praises Samonte.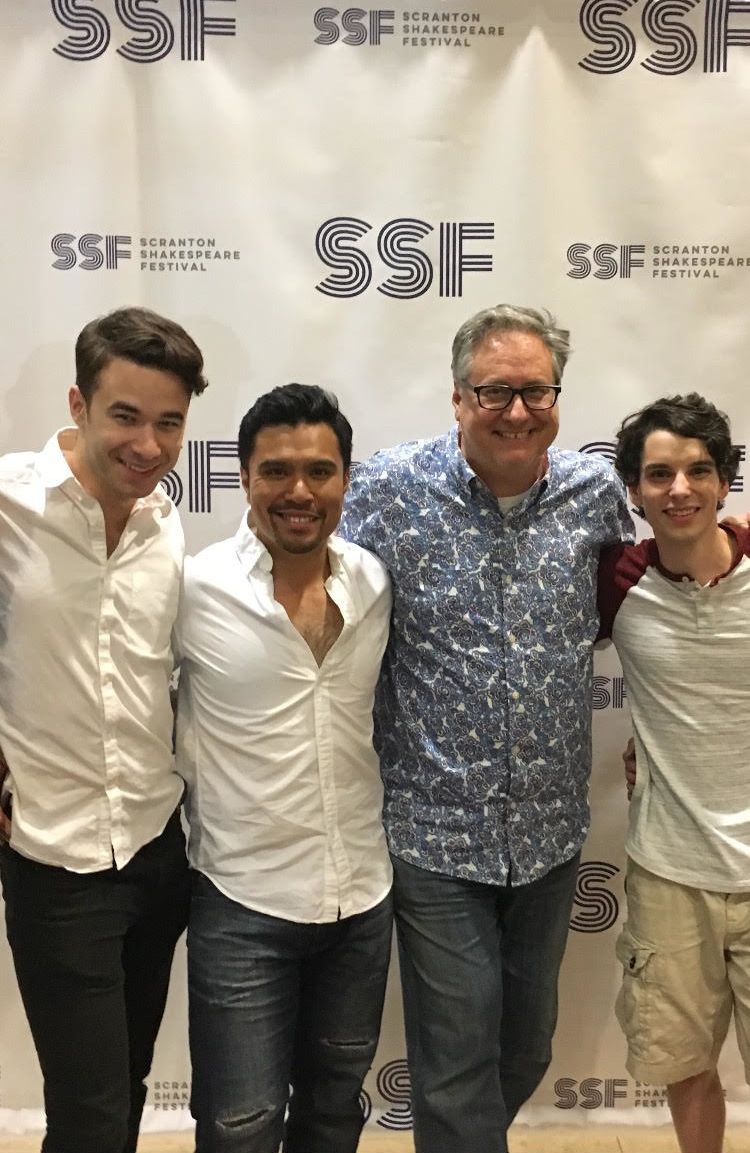 Grant Chamberlin, Gerome Samonte, Douglas Carter Beane, and Jon Steiger
The new piece he is referring to is The Behavior of Light, a piece about the place of art in the American educational system. "It's set in 1972 Pennsylvania, and it follows a teacher making waves at a local high school through art," explains Samonte, "She meets another teacher who is also an artist of sorts and creates paintings based off the school's general population. It's a back and forth game of needed art in their world/life and what it means to society." An intriguing prospect, and given the current political conversation about education and the endowment for the arts, a vital view at present time.

"I mean, I love the work no matter what, but when you get to work with talent like this, it's something special," says an exuberant Samonte. He refers to the cast of reading which, by any meter of talent, is thoroughly impressive. "You look around the room, and you see yourself and then there's my friends Eliza [Shea] and Danny [Holme], and there's Doug, and then you go, 'Oh damn! That's that person! I saw her in that thing, she's awesome!" he exclaims jokingly, "And then I go, 'Wait, we're working on the same thing. Damn I must be pretty cool too.' It's good for my ego."
The cast included Santino Fontana (the voice of Hans in Frozen), Ashley Park (currently in her Tony-nominated role as Gretchen Wieners in Mean Girls on Broadway), Bryce Pinkham (A Gentleman's Guide to Love and Murder, Tony nominee), Jackie Hoffman (On The Town on Broadway), and Brooks Ashmanskas (Something Rotten on Broadway) An enviable cast indeed.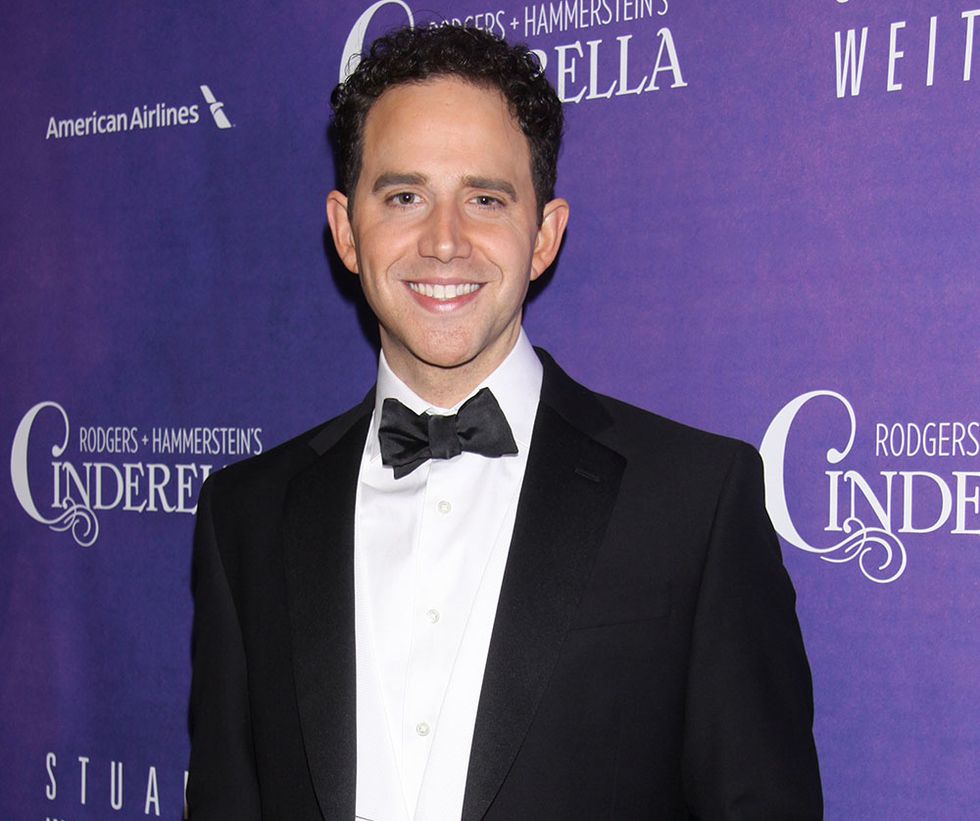 Santino Fontana
The Behavior of Light is set for continued development for a while longer, with Gerome in the mysteriously monikered role of "Skeleton", but it's far from the only thing going on in Samonte's life currently. "Doug's got us working on this show with the working title Puck," he explains. "It covers the mechanicals from Shakespeare's Midsummer Night's Dream. We've been work-shopping the script with DCB adding in changes as we go along." Samonte originated the role of Oberon in Fairycakes (an earlier version of a similar concept) and Beane has been re-imagining the role and life within the play. "It's all Doug's call. Fairycakes was a lot of fun, this is a lot of fun…I think he wants the two shows to be their own different things. Whatever, I like them both, I just say yes when he calls me up," laughs Samonte.

Many of the actors slated for further work on The Behavior of Light are under Broadway contract at present, so it's likely that the R&D process for it will not begin until next year. "I'm psyched for it! But in the meantime it's not like I'm not busy," says Samonte with typical charming bravura. "I just got done working on a film. Puck has us busy for most of the Summer, I've got a million other things to…the way I look at it, I just have a lot of great stuff to look forward to."
Samonte has certainly never been short of an interesting project to work on. He is an ambassador for his Alma Mater (the American Academy of Dramatic Arts) as part of their Actor Society. If you look in the front pages of John Cariani's Love/Sick, you'll see his name on the list of the original cast members. "That was a trip. I think I scared a few people in Drama Bookshop when I saw that for the first time," he says embarrassedly, "I was pretty excited. May have shouted about it a bit too loud." He also helped with the development of CRH a play written by Keelay Gipson and directed by Adam Fitzgerald, and assisted Cariani a second time with the development of his play Cul-De-Sac. "I'm also writing a little something of my own, kind of a Love, Actually type thing, but…" he hushes his voice, "that's on the DL right now. Don't tell anyone." He laughs to himself.
The Behavior of Light is set for development next year. Look out for Samonte in Puck, in workshops this Summer.
---
Thomas Burns Scully is a PopDust contributor, and also an award-winning actor, playwright, and musician. In his spare time he writes and designs escape rooms. You can follow him on Facebook, Twitter, and Instagram.
---
POP⚡DUST | Read More…

'Wonder Woman', 'Beauty and the Beast' and outrage film marketing
Eddie Izzard: transgender, hilarious, and heartbreaking
'Pop Punk High', a pop punk musical comedy? Um... yes please!