CULTURE
The only possible justification for categorizing Inglourious Basterds as "American" and The Farewell as "Foreign Language" is racism.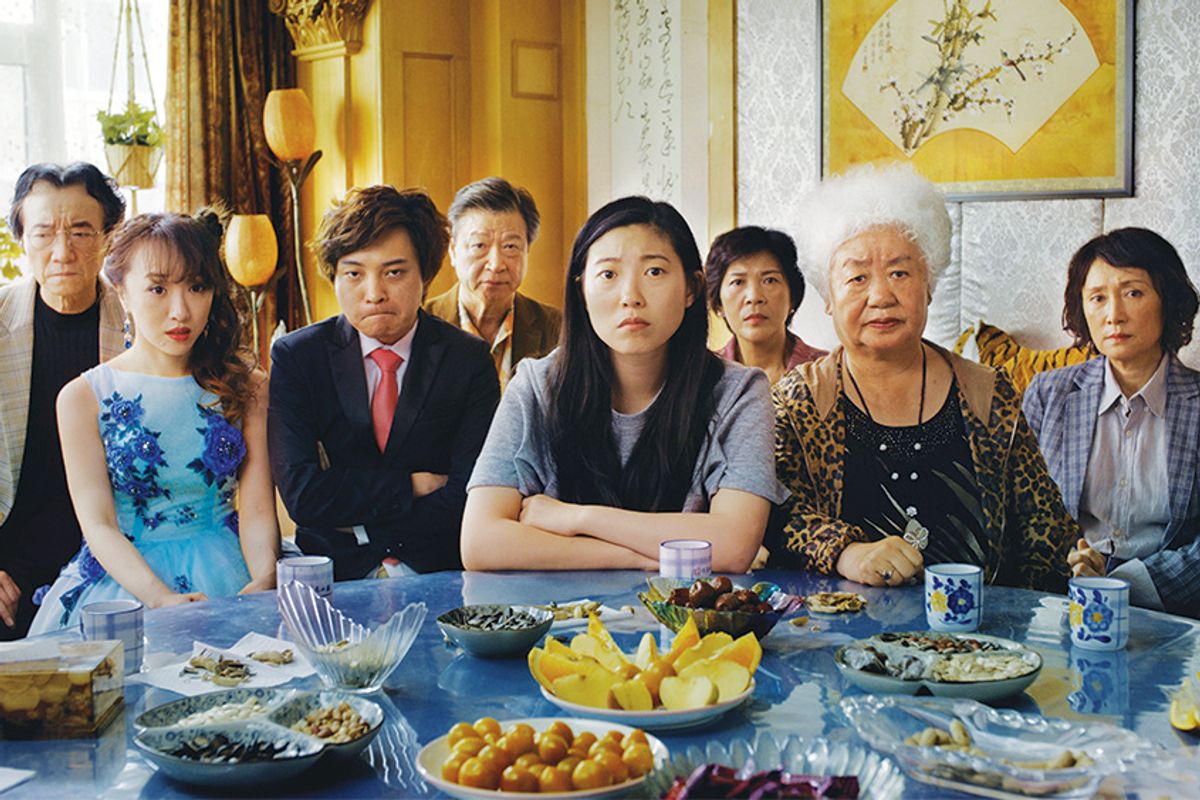 A24
"Many talented people of color were snubbed in major categories," said Ricky Gervais during his contentious host monologue at the 2020 Golden Globes. "Unfortunately, there's nothing we can do about that; the Hollywood Foreign Press are all very, very racist."
Gervais' monologue seemed to rub a lot of Hollywood's elite the wrong way, but that's for good reason. Examining one's own hypocrisy is oftentimes uncomfortable, and Gervais, in spite of his recent transphobic Tweetstorm, made some saliently "woke" points at the Golden Globes. As Gervais pointedly "joked," the Golden Globes are, indeed, racist. To prove that, one need not look further than the categorization of Lulu Wang's The Farewell as a "Foreign Language" Motion Picture.
an asian american woman made a film starring an asian american woman and her experience being asian american, givin… https://t.co/STkQ1zqzDr

— khy (@khy) 1578280730.0
The Farewell, directed by Chinese-American filmmaker Lulu Wang, tells a deeply personal story about a Chinese-American girl's relationship with her family. It is a distinctly American story (Wang has been living in the US since she was 6) told from the perspective of a Chinese-American girl whose life experiences hinge on the crossroads between two cultures. While much of the film's dialogue is spoken in Mandarin, the American upbringing and cultural sensibilities of the main character, Billi (Awkwafina), is both essential to and inseparable from the narrative thrust.

First things first, let's get technicalities out of the way. Technically, the Golden Globes categorize a Foreign Language film as "a motion picture drama, musical or comedy with at least 51% non-English dialogue." So yes, technically The Farewell meets the criteria. But technicalities have long been used as justification for upholding racist practices, so if we truly want to assess whether or not the Golden Globes' categorization is racist, we need to examine their Foreign Language category not from a technical standpoint but from a practical one.
Practically, "Foreign Language" categories of major awards shows have, perhaps somewhat misleadingly, been used to distinguish foreign-made films from American-made ones (The Oscars recently changed "Best Foreign Language Film" to "Best International Feature Film). In other words, the basis for categorization is typically the country of origin, rather than the actual language. This makes sense, because categorizing an American-made movie as "foreign" based on language alone is, effectively, a form of Othering Americans who grew up in non-white communities. In their adherence to such a technicality, the Golden Globes are an outlier.
The bigger problem, however, is that the Golden Globes don't actually apply their criteria across the board. Since 2000, the Golden Globes have nominated six American-made movies for their Foreign Language category: Apocalypto, Letters From Iwo Jima, The Diving Bell and the Butterfly, The Kite Runner, In the Land of Blood and Honey, and now, The Farewell. But at least one Golden Globe-nominated movie that technically fits their "Foreign Language" criteria is missing from the list: Inglourious Basterds. That's because Inglourious Basterds, over 70 percent of which is spoken in French, German, or Italian, was apparently still eligible for "Best Motion Picture - Drama."
The Weinstein Company
So what sets Inglourious Basterds apart from the other "Foreign Language" movies on the list? With the exception of The Diving Bell and the Butterfly, which had an American director but was produced by a French company in French-language, every other entry primarily features non-white characters having "foreign" experiences in "foreign" countries. Inglourious Basterds, even while not primarily spoken in English, is a distinctly American story about mostly American characters from an American perspective. Therefore, the Golden Globes decided that in spite of it meeting the "Foreign Language" criteria, Inglourious Basterds is still "American."

But here's the thing: The Farewell is just as "American" as Inglourious Basterds, if not more so. The only possible justification for categorizing Inglourious Basterds as "American" and The Farewell as "Foreign Language" is racism.
In a year when not a single female director was represented in any of the "non-Foreign" categories, and non-white actors were underrepresented in almost every other major category, the Golden Globes made a conscious decision to categorize one of the best female-helmed, POC-centric movies of the year as "Foreign." Stranger yet, Awkwafina was nominated for and (very deservedly) won "Best Performance by an Actress in a Motion Picture - Comedy or Drama" for her role, while the movie was deemed ineligible for the matching category. Of note, Awkwafina's win made her the first Asian-American woman to ever win Best Actress at the Golden Globes.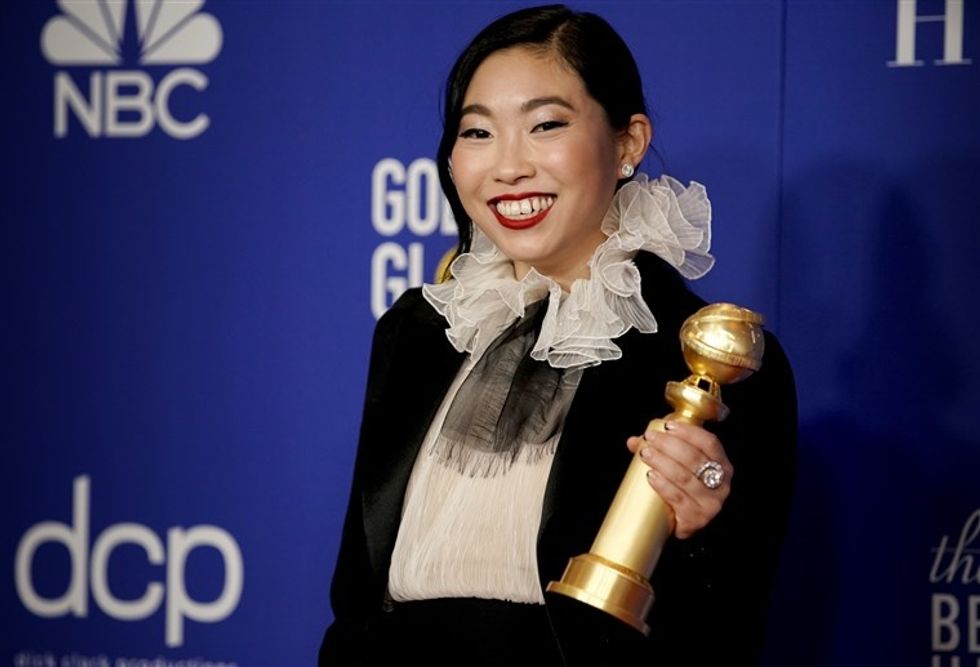 Mike Blake / Reuters
Ultimately, if any members of the Golden Globes' audience took offense to Gervais' roast of their hypocritical sensibilities, perhaps they should take a moment for introspection. Of course it's admirable to use one's platform to advocate for social progress. But how much progress can one really tout while on the stage of an awards show still mired in the Othering of Asian-Americans in 2020? At what point do we accept that Hollywood, too, continues to uphold the same racist institutions it pretends to condemn?