TV Features
Shows like Brooklyn Nine-Nine make cops seem harmless, an illusion tainted with centuries of racism.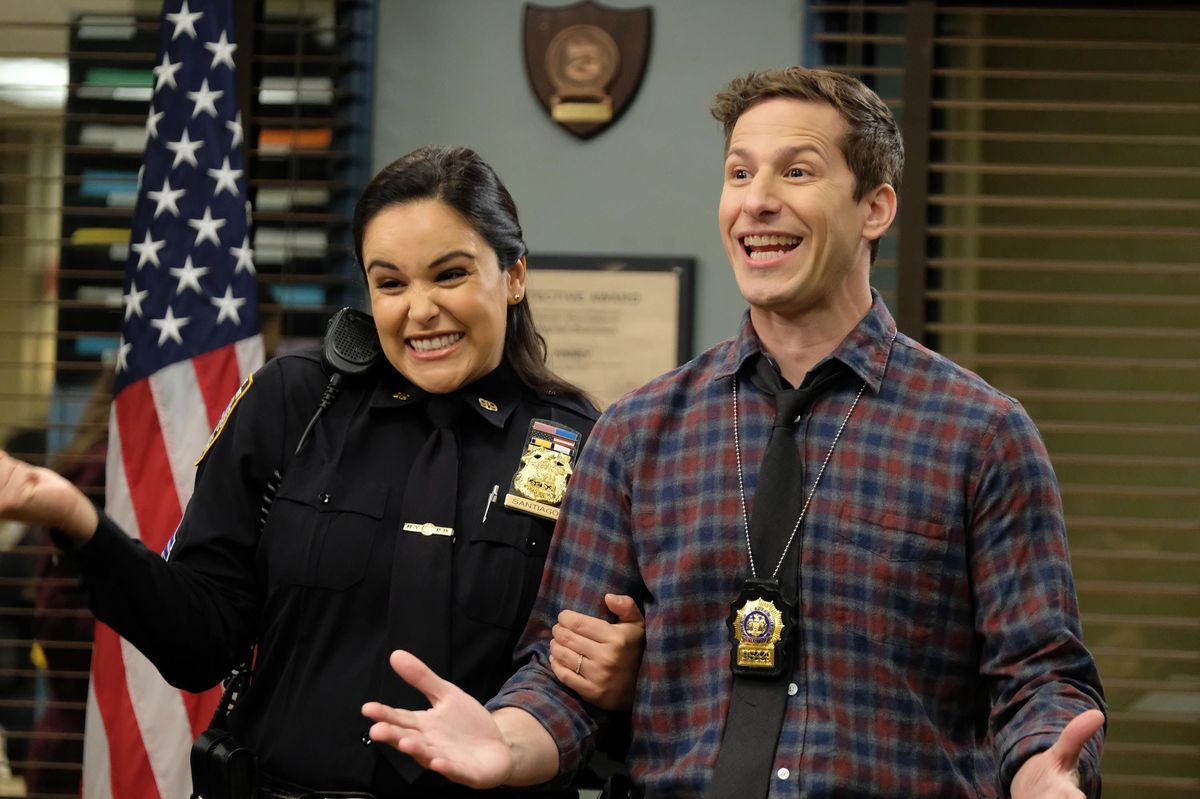 Two summers ago, during one of the darkest periods in my personal life, I found solace in Brooklyn Nine-Nine.
Brooklyn Nine-Nine is a sitcom that stars Andy Samberg as Jake Peralta, an NYPD detective with an impressive track record of solved cases despite his goofy, unsophisticated demeanor. Since its premiere in 2013, the show has been commended for its representation of LGBTQ+ and BIPOC people; the recurring cast includes two very smart (and never overtly sexualized) Latina women, as well as two Black men in the precinct's top roles. In 2018, the show received a GLAAD Media Award for its depiction of queer characters. Throughout its seven seasons, Brooklyn Nine-Nine has addressed serious issues like workplace sexual harassment, reconciling with an absent parent, and coming out to disapproving family members, all while retaining a sharp, tasteful sense of silly humor. Rotten Tomatoes has given multiple seasons of Brooklyn Nine-Nine a perfect 100% rating, likening it to "comfort food."
---
But as progressive, smart, and thoughtful as Brooklyn Nine-Nine might be, there's one glaring issue that the show has repeatedly overlooked: police brutality against Black people. I began watching Brooklyn Nine-Nine around the time of the murder of Botham Jean, a Black man in Dallas who was fatally shot in his apartment by off-duty officer Amber Guyner, who claimed she mistook Jean's apartment for her own and thought he was a burglar. I was plenty aware of how police officers were disproportionately killing Black people. But I had never critically examined how shows like Brooklyn Nine-Nine, as well as other police shows like Law & Order and NCIS, subliminally fed me a "good cop" narrative that can have harmful repercussions. These fictional cops might mean well—as do many real-life officers—but on-screen and off, each of them works for an institution that's both rooted in racism and continues to uphold racist tactics. In portraying this crop of officers as harmless, Brooklyn Nine-Nine encourages empathy for an entire profession that many have argued is one of America's biggest threats to its own people.
American police as we know it today began in southern states as slave patrol. They were almost entirely white and male, and they responded more to "disorderly" behavior from slaves than crime from other civilians. But even after the Civil War, with the implementation of Jim Crow laws police officers were still focused on keeping the "disorderly underclass" under control; in their minds, Black people comprised most of this category. For decades and decades, police have been encouraged to be racist and rarely held accountable. With the recent murder of George Floyd and the protests that have followed, it's glaringly evident that police in general are still undertrained, biased, and lack adequate accountability for their brute violence. Yes, some cops are good people, but it's virtually impossible to be a "good cop" in a system so historically flawed.
Brooklyn Nine-Nine is especially guilty of exemplifying an unrealistic expectation for "good cops." Each character in the main cast is, overall, lovable. Nearly every episode shows some sort of office shenanigans; Jake often wrangles his colleagues into playing games while on the job, and he helms an annual scavenger hunt called the Halloween Heist. Throughout the series, Jake develops an unlikely friendship with a serial car thief nicknamed the Pontiac Bandit, played by Black comedian Craig Robinson; if police kill Black people for something as innocuous as selling CDs, this camaraderie between Jake and the Bandit almost comes off as mockery.
Whenever Jake mentions the "bad cops," he's always referring to officers from competing precincts. This group of cops is the exception, Brooklyn Nine-Nine seems to say, an argument that draws comparisons to the "not all cops are bad" crowd. Even when the show dedicated an episode to the racial profiling of a Black officer off-duty, it failed to acknowledge the lengthy history of police brutality against unarmed Black citizens. The episode was well-intended, as all episodes of Brooklyn Nine-Nine are, but it ultimately missed the mark.
Brooklyn Nine-Nine co-creator Dan Goor announced this week that he and the cast would be making a collective $100,000 donation to the National Bail Fund Network, which goes towards releasing protestors from jail (Stephanie Beatriz, who plays Rosa Diaz on the show, also made a personal donation). This is noble and admirable and every actor who has played a cop in a series should do the same. But, at this point in history, it's no longer OK to just be "not racist"—we all have to actively be antiracist. In order to effectively do this, we must be hypercritical of the entertainment that we consume, even passively. How are the shows and movies you watch, the books you read, and the music you listen to upholding racist institutions?
This essay isn't a call to boycott police shows, but it is a request to take a deeper look at the pop culture we surround ourselves with. It's true that we are what we eat. If the ever-growing list of innocent Black people murdered by police angers you, then it's best to reevaluate what your favorite TV shows are subtly telling you about our country's often unethical criminal justice system. Sure, it's comforting to think that cops are lighthearted and always do the right thing, but societal progress has never been made within our comfort zone.