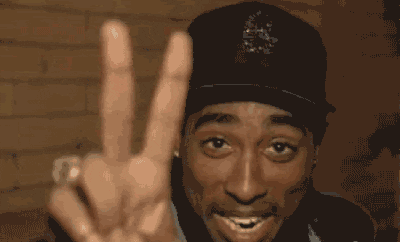 On what would have been Tupac Shakur's 49th birthday, we remember an iconic creative force that has remained a dominant presence in the hip-hop community despite his passing on September 13, 1996.
His seemingly endless discography can be overwhelming for the uninitiated who only know the rapper from "Ambitionz Az a Ridah" and "California Love." Still, there remains a plethora of 2Pac songs that have remained underappreciated, and songs that better capture that magnitude of talent Shakur had as a lyricist and emcee. In honor of the late rapper's birthday, here are a few of his most overlooked gems.
---
Staring Through My Rearview
2Pac - Starin' Through My Rear View www.youtube.com
A haunting reflection on Shakur's past life, "Staring Through My Rearview" is a somber diary entry for the emcee. Tupac often reflected on his own demise, but "Staring Through My Rearview" reflects on the death of the world around him with a blunt cynicism. "Go on, baby, scream to God, he can't hear you," he preaches. "I can feel your heart beatin' fast 'cause it's time to die." The Resurrection offering is a darkly-tinted look into the full psyche of 2Pac.
If I Die 2Nite
If I Die 2Nite www.youtube.com
The first track off 2Pac's critically lauded Me Against the World is a dizzying array of wordplay that reaffirms his right to the "Best Rapper of All Time" accolade. 2Pac enters his album with ferocity, and in hindsight, offers another spooky anecdote surrounding his death. "I hope they bury me and send me to my rest, headlines reading 'Murdered to death,' my last breath." But the rapper sounds unbothered by the words he's saying and attacks each syllable with a weird sense of tranquility. "Going insane, never die, live eternal, who shall I fear?" he says with a shrug.

Old School
2Pac - Old School (Music Video) (HD) (Tupac Shakur) www.youtube.com
This Me Against the World deep cut is 2pac at his most cheerful. Over a sleek NY beat, Shakur pays homage to the Grandmaster Caz's and De La Soul's that shaped Hip-Hop. He sounds uncharacteristically elated as he pays his dues. "What more could I say, I wouldn't be here today if the old school didn't pave the way," he says with a bounce.

Check Out Time
2pac Ft Kurupt & Big Syke - Check out Time. (Official Video-LUR-Up) www.youtube.com
The silly All Eyez On Me track isn't steeped in any divine metaphor; it's simply about having a good time. Bringing along his friends Kurupt and Big Syke, 2Pac's "Check Out Time" is perfect for when you just clocked out and are about to finally let loose. It's an unusually cheerful offering from 2Pac, but a gem nonetheless.

Never Had a Friend Like Me
Never Had A Friend Like Me www.youtube.com
This deep cut from the Gridlock'd soundtrack is one of 2Pac's most underrepresented tracks. Over slick lo-fi guitars, 2Pac used this overall mediocre soundtrack to convey profound heartbreak that his old hood never changed. It also offers some of 2Pac's most visceral imagery: "At night I watch the sky, I take another breath, I smoke my Newport to the butt, like it's the last m*therf*cker left." The offering is smooth and would be a perfect fit for any modern-day emcee. "Never Had a Friend Like Me" encapsulates the timelessness of 2Pac's music.

Papaz Song
2Pac - Papa'z Song www.youtube.com
An oddly bombastic ode to his absent father, "Papaz Song" has the heartfelt poetry of a ballad but is presented over a braggadocious beat by Big D The Impossible. The track, with a strong feature from Wycked, in turn conveys all the emotions felt by those who have been abandoned. Anger, sadness, relief, and frustration are all out on "Papaz Song" with chilling effect.