MUSIC
The Art of Selling Out: Green Day, Weezer, and Fall Out Boy Troll Fans with "Hella Mega Tour"
The choice to have a towering, beefed-up unicorn playing a sweet guitar solo and breathing rainbow fire as the centerpiece of their tour poster is a sign that the groups are leaning into this criticism with a tongue-in-cheek sense of humor.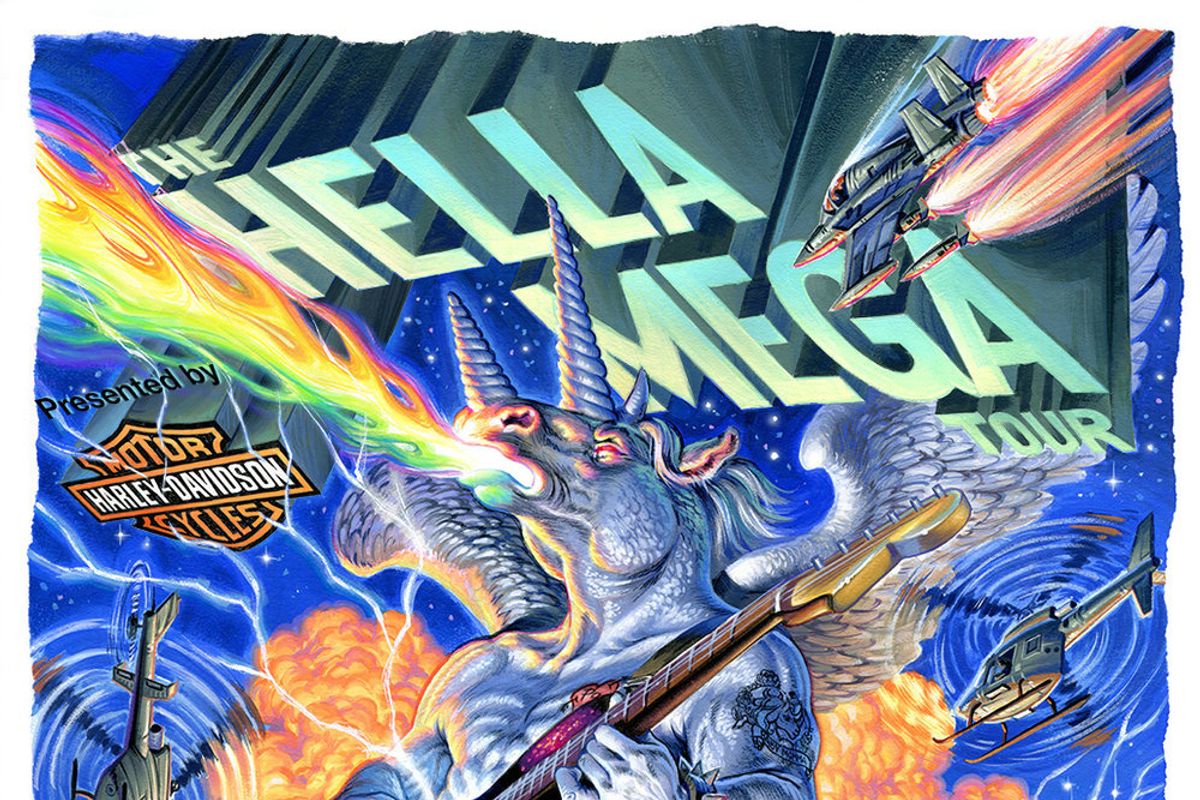 Greenday.com
This tour poster is beautifully atrocious, and that's kind of the point.
---
The Holy Trinity of late 90's-early 00's pop-punk has reunited for a tour that will have you sprinting back to Hot Topic to stock up on eyeliner and Tripp Pants. Green Day, Fall Out Boy, and Weezer have each released new singles in advance of embarking on what they're calling the Hella Mega Tour. The three bands are hitting the road together the summer of 2020, and the poster looks like something out of a Gene Simmons fever dream.
I had so many questions when I first saw this poster. Can't they afford better graphic designers? Did they think this was a good idea? Why would bands known for iconic, generation-defining album art, like that seen on American Idiot and Folie à Deux, stoop to using a design what a pimply eighth grader would carve into his desk during detention? If a unicorn has more than one horn, is it even still a unicorn? (Also, it looks to be a unicorn/centaur hybrid—what do you call that? Unitaur? Centicorn?) How long would a concert with three headliners and an opener be? At LEAST four hours, right? Are the jets, motorcycles, and helicopters part of an airshow, or are they trying to bring down the massive Unitaur/Centicorn/whatever you call that abomination?
The more I thought about it, the more I realized these ridiculous artistic choices were there to prompt these questions. Ask any fan of Green Day, Weezer, or Fall Out Boy and you'll find they have frequently been the target of that classic punk fan refrain: "Those guys sold out, their old stuff is way better." A new album always sucks until enough time has passed for it to be declared an old album—back when the band was still "raw" or "inventive" or any other adjective the fans have donned their rose-colored glasses to prescribe "good" music. The choice to have a towering, beefed-up unicorn playing a sweet guitar solo and breathing rainbow fire as the centerpiece of their tour poster is a sign that the groups are leaning into this criticism with a tongue-in-cheek sense of humor. They know they've come a long way from playing basements and their aesthetic choices reflect the absurdity of that journey. And if they're going to be called phony sellouts no matter what they try, they might as well go for it, right?
Plus, to anyone paying attention, all their recent singles show that all three groups are ever-ready to rip up the sound they're known for and start anew. This tour poster is wacky, but it makes sense in context. Only last year, Weezer released their covers album, The Teal Album, and finally succumbed to pressure to cover Africa by Toto after a year-long Twitter campaign led by a teenage fan. Fall Out Boy went on tour with actor, rapper, and surreal Tweeter Jaden Smith in 2017—who Pete Wentz said was the future of music. The band seems interested in how Smith pokes holes in the traditional image of fame, especially seeing how they invited WWE Hall of Famer Ric Flair to promote the tour in their initial announcement. And where do I even begin with Green Day? In recent memory, they've made a Broadway musical based on their album American Idiot and released a trilogy of full-length albums in less than a year.
Point is: For the better part of this decade, all three bands have been doing weird, funny stuff that may not match up with exactly your tween self's perception of them—and that's totally cool. You can still mosh to all the hits on this tour—sure they'll probably play some new stuff, but they'd be stupid NOT to play the classics on a world tour of this scale. The new singles from each group are just the most recent part of their respective artistic journeys.
Billie Joe Armstrorng said in an interview with KROQ that this new single and the upcoming new album is Green Day's attempt to fuse the band's manic, punk energy with elements of Motown soul. He also noted that they wanted the album to give the listener a lesson in rock and roll history by showcasing how the genre has changed over the years as the album goes on.. Their new single, "Father Of All," falls right in line with this new mission. It alternates between Armstrong pushing his vocal range higher than we've ever heard it and sharp, staccato riffs. like a punk-powered jazz improvisation, before unfolding into a classic Green Day chorus about paranoia and violence in the streets.
Weezer's new single, "The End of the Game" is off their upcoming album, Van Weezer, which takes all the lessons they learned from doing 80s covers on The Teal Album and leans heavily into hard rock influences. The track opens with a face-melting guitar solo with an angelic chorus backing it up and then explodes into some serious power chords. The lyrics are lamenting the loss of a girl named Suzie, and its general vibe is Weezer's typical indie rock sensibilities colored by the best of 80s rock. Rivers Cuomo noticed that crowds would go nuts during guitar solos he'd play at live performances of "Beverly Hills" and decided to write more songs that provide that.
The End of the Game
Fall Out Boy's "Dear Future Self (Hands Up)" is a hyped-up, extremely danceable pop-punk track that feels a lot like 2015's "Uma Thurman" off of American Beauty/American Psycho. "Dear Future Self" has an undeniably tight, fast rhythm that takes charge while a guitar riff hums in the background as support. Fall Out Boy collaborated with Wyclef Jean of the Fugees, who drops in for a verse. The transition from Patrick Stump's vocals into Jean's feature is seamless. The group has worked with rappers before, like Macklemore and Azealia Banks, but those tracks were a little more heavily remixed. On this new one, you get Fall Out Boy's raw, pop-punk energy leading right into a super solid rap verse, and it works perfectly with zero remixing.
Dear Future Self (Hands Up) [feat. Wyclef Jean]
Love it or hate it, The Hella Mega Tour will be upon us sooner than we think. Despite its garish aesthetic and undoubtedly expensive ticket prices, the tour is an interesting step forward for three of the most beloved pop-punk acts of all time. While I can't wait to see what's next, next time I could do with fewer unicorns.