TV Reviews
The improbably fascinating "I'll Be Gone In the Dark" subverts traditional serial killer narratives.
UPDATE: On Friday, August 21st, 2020, the Golden State Killer—finally revealed to be 74-year-old former police officer Joseph D'Angelo—was sentenced to life in prison without parole.
In the years leading up to her death, Michelle McNamara haunted message boards, libraries, and Sacramento families to get to the bottom of the case that obsessed and consumed her.
McNamara, a true crime blogger whose interest in serial killers morphed into a compulsive desire to hunt and catch them, is the subject of a new HBO documentary series. The show, which premiered this spring, presents a window into the mind of a woman who hunted serial killers until she accidentally overdosed on sleeping pills.
It's completely enthralling, a marked subversion of typical serial killer narratives as well as a commentary on their devastating and peculiar appeal.
I'll Be Gone In the Dark (2020): Official Trailer | HBO www.youtube.com
---
Michelle McNamara: Mother by Day, Hunter By Night
McNamara was born in Illinois, attended Notre Dame and received an MFA in creative writing from the University of Minnesota. She then moved to Los Angeles to write for film and TV.
In 2006 she published her first post on True Crime Diary, the website that would quickly gain a cult following. After investigating and writing about a huge number of killers and criminals on the site, McNamara would eventually zero in on one killer: a rapist and murderer known as the East Area Rapist, Original Night Stalker, and eventually by the title McNamara coined: the Golden State Killer.
After publishing articles about the killer in Los Angeles Magazine in 2013 and 2014, McNamara began a book about her research. But she died in 2016 after overdosing on a mix that included Adderall, Xanax, and fentanyl.
After her death, the book was completed by her husband, Patton Oswalt, and several true crime writers. Now that memoir, I'll Be Gone in the Dark: One Woman's Obsessive Search for the Golden State Killer, has been brought to the big screen.
The HBO docuseries about Michelle McNamara heavily features Patton Oswalt, whose earnest supportiveness of his wife's efforts provide the bittersweet heart of the story.
Patton Oswalt On How It Felt To Make The Docuseries "I'll Be Gone in the Dark" www.youtube.com
Though interesting on their own, none of these facts explains the nail-biting, thrilling draw of Michelle's story better than the approach Michelle herself took to crime-solving. McNamara worked in the business of facts and clues, but she was drawn in and enthralled by the killer's humanness, fascinated by his quirks and interested in the psychological gaps that would have allowed him to rape and kill so ruthlessly despite being human. She wanted to understand him: how he thought, where he walked, what she might have done were she in his place.

Perhaps that was the source of her fascination—her interest in his humanness. "I'm obsessed," she wrote in one blog. "It's not healthy. I look at his face, or should I say someone's recollection of his face, frequently… I know the strangest details about him… He often first appeared to people hazily, as they were feeling their way out of a sound sleep, a silent hooded figure at the end of their bed."
One Case Closes, and Another Opens
McNamara died before she could see the Golden State Killer arrested, but in 2018, authorities arrested a man named Joseph James DeAngelo, who was charged with 13 counts of murder—and who pled guilty to 23 rapes and murders. It's believed that he committed over 50 rapes during his reign over California.
Police said McNamara's tips didn't lead directly to arrests, but they did help increase interest and aided police in synthesizing the vast amount of clues the killer had left behind. Among her other achievements, McNamara had theorized—correctly—that the killer would be found by DNA evidence and that he was an ex-cop.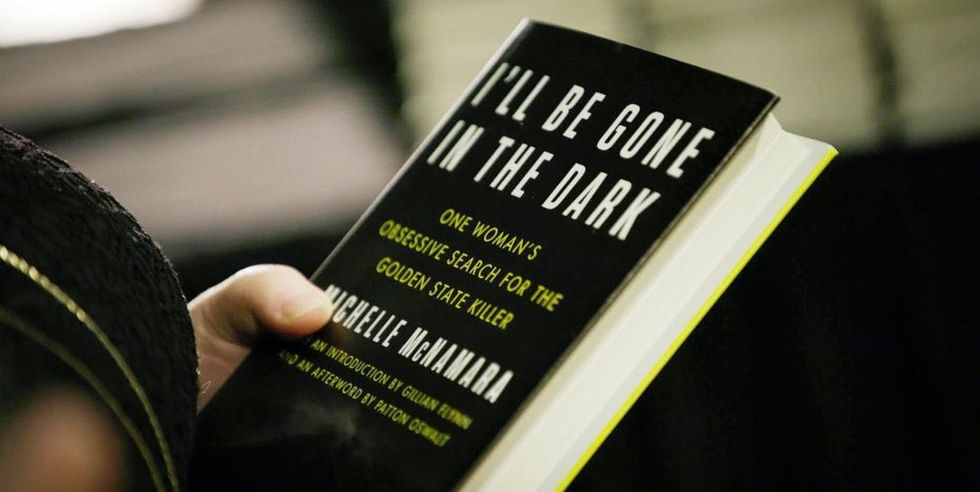 I'll Be Gone In the DarkThestar.com
In an era where the roles of police are being questioned and widely criticized, McNamara's sleuthing work is a fabulous and fascinating example of the power of people-led awareness and justice efforts on a crime where police had all but given up. The fact that the Golden State Killer was a former policeman also seems appropriate for the modern era, where police's abuses of power are coming into the light.

Michelle's determination to find justice for people she didn't know, and her ability to act on an obsession that most of us merely entertain through late-night Wikipedia searches (not full-on sleuthing endeavors), make for cathartic viewing, to say the least. It's also bittersweet, knowing Michelle herself didn't live to see her efforts come to fruition.
From Your Site Articles
Related Articles Around the Web