FILM & TV
FILM/TV | The film took home the Audience Award for best U.S. Drama at the Sundance Film Festival
Michael Muller
"This film is not reactionary to what's happening in America right now, it's a timeless study on love overcoming hate."
The 2018 Sundance Film Festival may have wrapped up, but the impact of the films that screened there are just getting underway. Among these soon to be beautiful classics was Burden, a drama based on the true story of a Klu Klux Klan member who has a change of heart and beliefs after a woman has the power to change his mind. With Garrett Hedlund and Forest Whitaker in the cast, it's not surprise that the film won the hearts (and an award) from the audience at the festival.
The film's cinematographer, Jeremy Rouse, spoke with Popdust about his career in the industry, why he was inspired to take on this film, and why the message continues to be so relevant in today's sociopolitical climate.
---
How did you get interested in cinematography?
I had two major interests growing up, watching movies and playing sports. I decided to go to film school. It was there I learnt the basics film craft and film language whilst simultaneously immersing myself in a dark room developing film negative and printing photos. Merging a love for cinema and a love for photography sparked my interest in cinematography.
Have you ever been to Sundance before, and what about the festival do you think makes it unique?
This was my first time at Sundance. It was my first time at any festival with a feature project actually. I got the feeling Sundance is a very special mix of film makers and film lovers together with agents and distributers.
You're representing Burden at the festival. How did you get involved with this project?

I got sent the script and the original ABC news clip with the real Mike Burden and Reverend Kennedy in it. I fell in love with their story and their individual journeys. After reading Andrew [Heckler's] incredible script I put together a visual diary of images that resonated with me and sent that to Andrew. The images served as a starting point to discovering the world from a visual stand point. From there we could have conversations, not only about the film and its themes but how we would create a visual style. After the call I hounded my agents to keep checking in with Andrew, I'm sure my enthusiasm was one of the reasons Andrew and Robbie Brenner (the producer) offered me the job.
The story discusses a member of the KKK falling in love. Why do you think it's important to share this story now?
This story is as relevant now as it was twenty years ago when Andrew wrote the first draft. That the film screened at Sundance 2018 with the current racial climate in America the way it is, is coincidental, and somewhat disturbing. This film is not reactionary to what's happening in America right now, it's a timeless study on love overcoming hate. The message could be applied to any country where similar circumstances exist. Humanity seems to have de-railed a little all over the world right now. It's important to share this message, one of hope, more so now than ever before.
Most of your prior work in cinematography involved short films. How was this different for you?
Actually most of my prior work has been in advertising and over the years I have shot lots of short films as well. The feature experience of course is different to shorter format projects. You have more of a opportunity to build complex story arcs. The process though still revolves around finding a visual film language that best suits the story. We discuss where to place the audience, what they should see when and what tone should be applied to that scene. With Burden we pushed hard to make the audience feel they were actually thrust into the ugly world that Burden exists in. Candid, documentative, no romanticism, gritty and raw.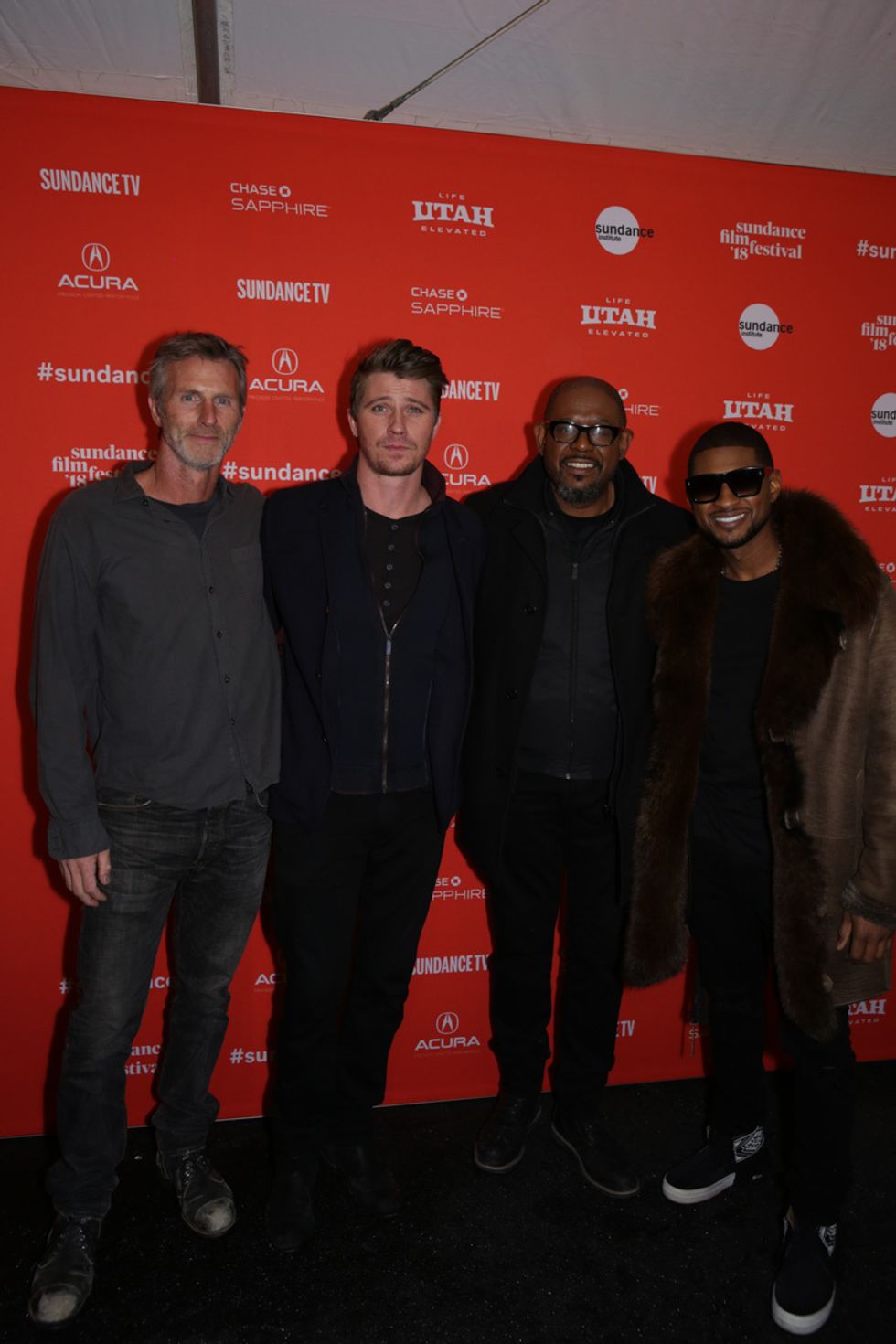 Director Andrew Heckler, Actor Garrett Hedlund, Actor Forest Whitaker and Actor Usher Raymond attend the World Premiere of Burden by Andrew Heckler, an official selection of the U.S. Dramatic Competition at the 2018 Sundance Film Festival.Ian Tilghman
What was it like working with Forest Whitaker and Garrett Hedlund?

All the actors in this film were unbelievably committed and passionate. It was incredible to watch the transformation of each cast member as they inhabited their character. Andrea Riseborough, Tom Wilkinson and of course Forest and Garrett. Actors have their process so I just want to create an environment on set and around the camera that does not inhibit that process. The more inconspicuous the camera can be I think the better for the actors. Of course it is film making, there is a craft and professionals understand that at.
What are your next upcoming projects?
I'm shooting commercials at the moment and I am reading lots of scripts. There are a few exciting projects around this year so lets see which one happens.
Find out more about Jeremy on his website.
---
Rachel A.G. Gilman is a writer, a radio producer, and probably the girl wearing the Kinks shirt. Visit her website for more.
---
POP⚡ DUST | Read More About Film...
REVIEW | "Lizzie" at Sundance 2018
REVIEW | "The Kindergarten Teacher" at Sundance 2018
REVIEW | "Private Life" at Sundance 2018
---