TV News
Jared Padalecki, Fans Surprised by News of "Supernatural" Prequel
The star reported feeling "gutted" by the news...but not as badly as he was gutted by Anna in season 5.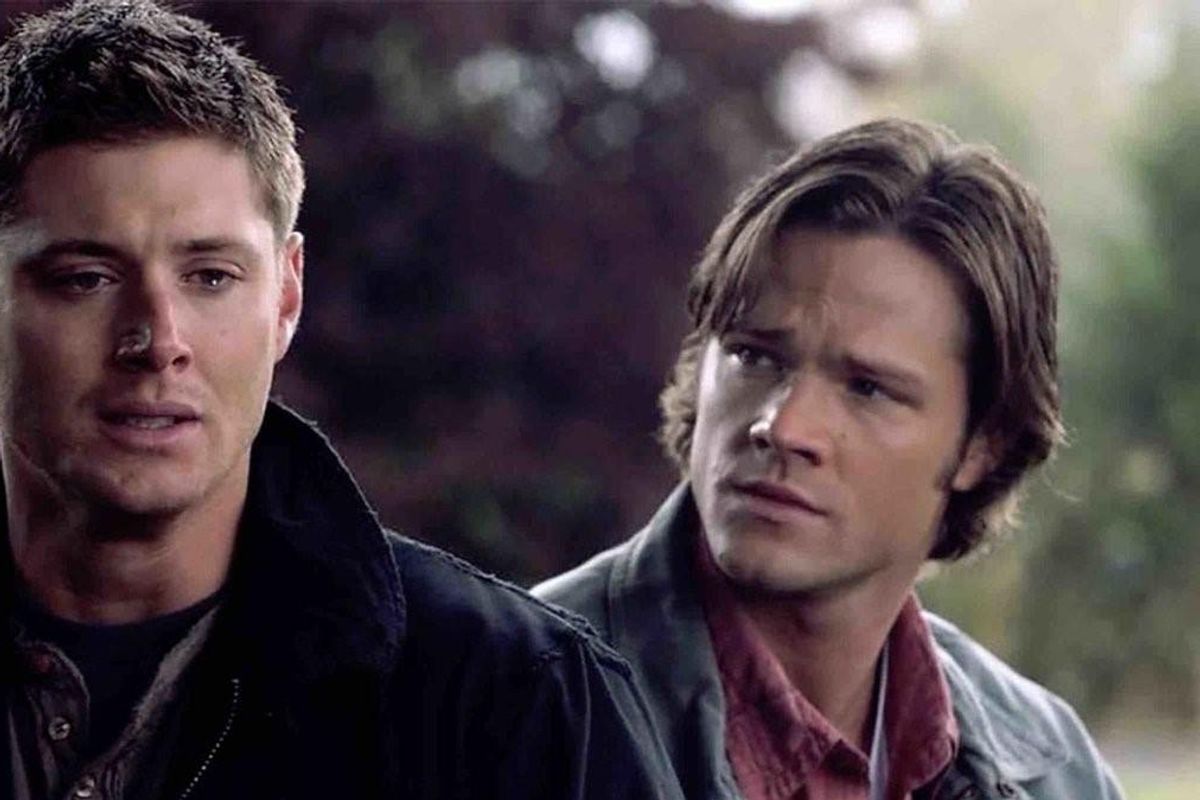 After 15 seasons and a seemingly endless amount of monstrous, ghostly, biblical insanity, the CW's Supernatural finally came to an end in 2020... or did it?
According to star Jensen Ackles (Dean Winchester), "After Supernatural wrapped its 15th season, we knew it wasn't over. Because like we say in the show, 'nothing ever really ends, does it?'" So when he and wife Danneel Ackles (who played the second incarnation of the demon Ruby starting in season 4) started their own production company, Chaos Machine Productions, they got to work in secret, developing a spin-off prequel series.
---
The Winchesters, a prequel following Sam and Dean's parents John and Mary Winchester, will be narrated by Ackles, and flesh out the family's extensive history fighting the forces of evil. And, according to a tweet from Supernatural creator and The Boys showrunner Eric Kripke, Jensen and Danneel Ackles — along with writer and executive producer Robbie Thomas — are "the perfect people to make it. (The other perfect person is too busy Texas Rangering.)"
Dude. Happy for you. Wish I heard about this some way other than Twitter. I'm excited to watch, but bummed that S… https://t.co/fP9CM0wc0g

— Jared Padalecki (@Jared Padalecki) 1624586677.0
That was a reference to Ackles' co-star Jared Padalecki (Sam Winchester), who stars in the CW's new Walker, Texas Ranger reboot, Walker. But the fact that Padelecki isn't involved in the spin-off may not be entirely attributable to his busy schedule trying to fill Chuck Norris's high-kicking cowboy boots. It turns out that The Winchesters was such a secretive project that Padalecki only learned about through Twitter, at the same time as everyone else...

True to their name, Chaos Machine Productions has immediately gotten to work sowing chaos and discord among the vast community of rabid online Supernatural fans. While a substantial contingent of that fanbase were offended on Padalecki's behalf, others were ready to meme and make jokes about Padalecki's passive aggressive response.
No. It's not. This is the first I've heard about it. I'm gutted. https://t.co/1i8eC8YAdV

— Jared Padalecki (@Jared Padalecki) 1624587115.0
While it's understandable that Padalecki would be "gutted" at being excluded after so many years working closely with Ackles and the rest of the Supernatural team, it's also understandable that the others might be ready to move on without him.

For a start, there's a sense in which Padalecki already has his own Supernatural spin-off. As fans have noted, the show joked about Padalecki being "Walker ... a Texas ranger" years ago. And, at risk of infuriating Jared Padalecki's fans, it's also worth noting that, while we all fell in love with the brotherhood between Sam and Dean Winchester...Jensen Ackles was doing the heavy lifting.
Before half the online world jumps down my throat, that's not a dig at Jared Padalecki — we're fans around here — it's just the nature of the classic comedy duo relationship, which is really what the Winchesters had. Sam played the straight man whose serious, grounded approach to every situation worked as a foil for Jensen Ackles' charming, witty, irreverent, rapscallion ways.
While both parts of that duo serve the overall dynamic, there's no question which one is more fun to watch and which gets a little boring and monotonous over time — requiring occasional demonic possession to spice things up. So for a new Winchester story that doesn't center the brothers, Dean can add some flavor as the narrator, while Sam — who wasn't even born until the very end of John and Mary's story anyway — doesn't really fit...
'Batman: The Long Halloween, Part One' Cast Interview | Around the Table | Entertainment Weeklywww.youtube.com
Also — and maybe this is kind of a dig at Jared Padalecki — but have you seen Jensen Ackles?! He's so pretty! And have you heard his voice? He's literally Batman!
Fortunately, since sending those earlier tweets expressing his hurt, Padalecki has reported being in touch with Ackles and has come to understand that "the show is early in the process with miles to go," adding, "Once brothers, always brothers."

So, maybe we can relax about the drama and just go back to being pumped for The Winchesters?