TV
The star of The Office and Jack Ryan has a new, homemade show that is guaranteed to lift your spirits
YouTube
On Sunday night, John Krasinski launched a new media empire designed with one goal in mind: To make us all feel a little bit better about the world.
While Krasinski says he's been thinking about something like this for years, the project really got going last Wednesday when he reached out to his followers on Twitter, asking them to share uplifting stories with the hashtag #SomeGoodNews. By the weekend he had enough positive content to surprise us all with his new news network—also known as a YouTube channel—"Some Good News." Sitting in front of a colorful logo that his daughters painted by hand, Krasinski describes SGN as "a news show dedicated entirely to good news."
Some Good News with John Krasinski www.youtube.com
By that measure, the first installment certainly delivers, featuring 15 minutes of heartwarming, tear-jerking content from around the world, with an emphasis on celebrating the healthcare workers who are putting their lives on the line to keep us all safe during the current crisis. Krasinski, looking dapper in a suit coat, tie, and pajama pants, shared footage from Spain, England, and the US, where communities were erupting in cheers, applause, and flashing lights to show appreciation for the difficult and vital work that hospital staff are putting in to save lives and make sure we get through this as quickly and safely as possible.

Krasinski also had some help spreading cheer, with two guests joining him via video call. The first, who should be familiar to longtime fans of Krasinski's, was his Office co-star Steve Carell, AKA Michael Scott. Their hit sitcom, which has only grown in popularity as a new generation has discovered it through Netflix, aired its first episode in late March of 2005. In honor of the 15th anniversary, the two shared a number of their favorite moments from the series, reminiscing about the talented team of actors they worked with and speaking hopefully about the possibility of some sort of reunion in the future. Whether that happens or not, the genuine friendship and warmth between the two was clear, with Krasinski expressing how much he has missed Carell, and Carell lighting up as he said, "Just to see your face is so great!"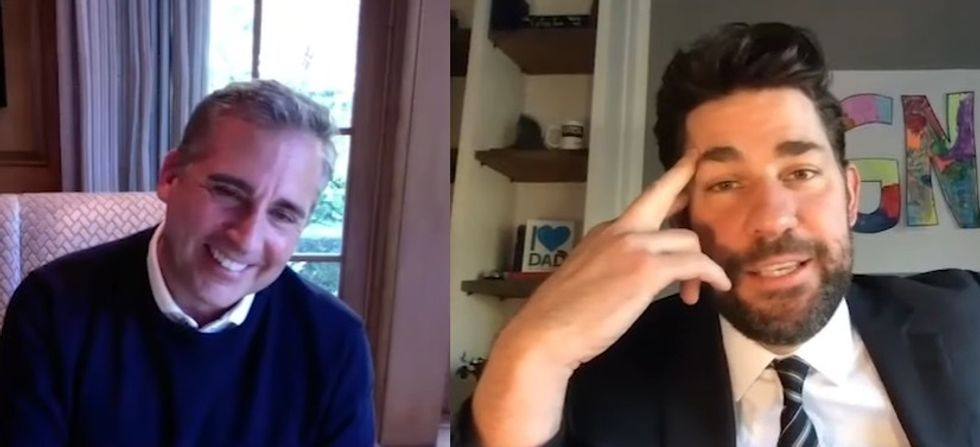 "Some Good News"
Finally, Krasinski interviewed 15-year-old Coco Johnson, who came home from her final chemo treatment last Tuesday to find friends, family, and neighbors lining her block to cheer and welcome her home from a safe distance. Her mother had shared the footage of Coco's delight and surprise with Krasinski using his hashtag, and that cheerful, positive attitude continued throughout their interview. She was, in Krasinski's words, "the mic drop of all good news."

After expressing how much it had meant to have her community come out to show their love and support, Coco took the opportunity to thank everyone watching—on behalf of all immunocompromised people—for participating in social distancing. Finally, she thanked the medical teams at the Children's Hospital of Los Angeles and at City of Hope for helping her throughout her treatment and for continuing their good work in these trying times. Krasinski then closed his video saying, "If that girl isn't the epitome of goodness, I don't know what is."
@johnkrasinski #SomeGoodNews my daughter, Coco, finished her final chemo treatment yesterday and our friends had a… https://t.co/Grhri0Bsel

— April Danz (@April Danz)1585162350.0
It's not yet clear how often Krasinski is planning to release episodes of SGN, but it's a welcome ray of sunshine in what could otherwise be a dreary time—so hopefully we won't have to wait long. Anyone with a lead on some nice, happy, uplifting news is welcome to contribute by tweeting about it with the hashtag #SomeGoodNews.