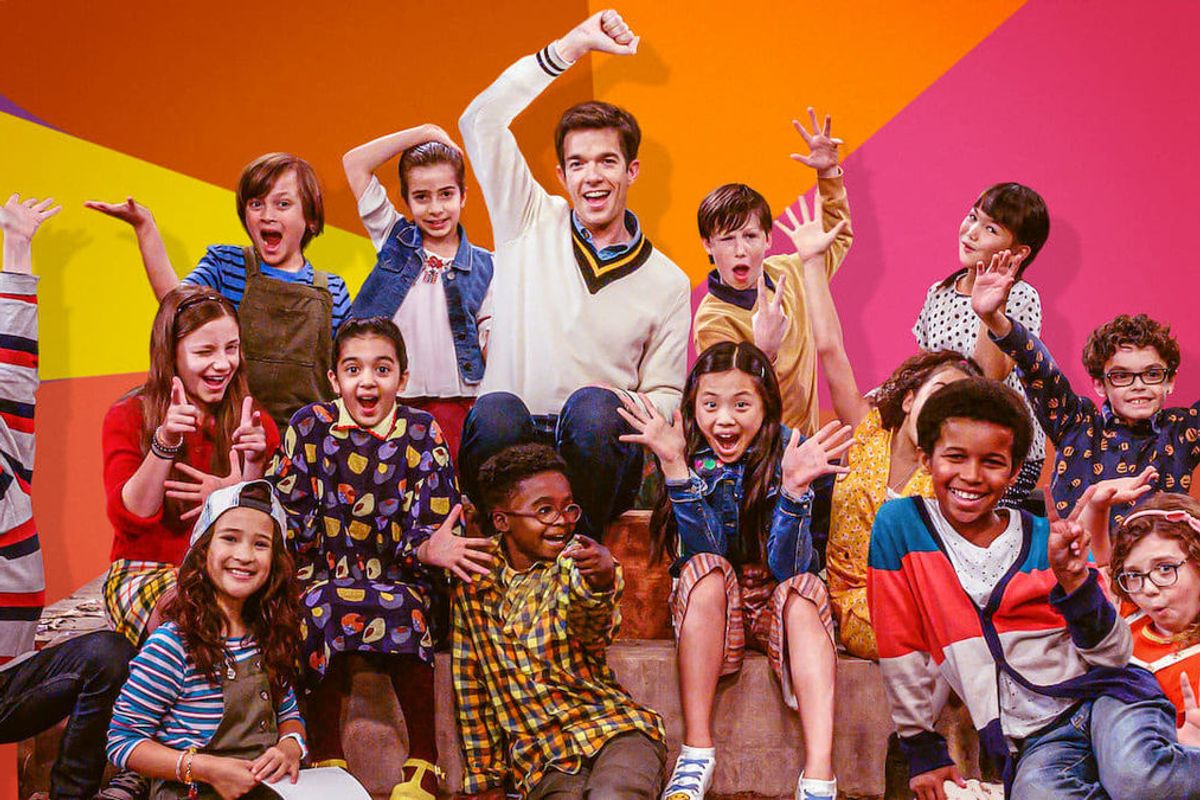 Netflix
I really wanted to love John Mulaney & The Sack Lunch Bunch, because I really love John Mulaney.
John Mulaney is easily my favorite comedian of the modern era. He's an expert writer, capable of digging into jokes with such extreme specificity that you wholly believe that whatever absurd scenario he's recounting must have actually happened to him. And yet, he's never unrelatable, especially to fellow New Yorkers. As weird as the homeless man who lent Mulaney's Netflix special New in Town its title sounded, most of us have encountered similarly weird people on our late night subway treks.
From his musical SNL sketch "Diner Lobster" to his "Too Much Tuna" skits with Nick Kroll, Mulaney has a particular knack for bizarre humor that goes completely outside the box while staying entirely on-brand. Better yet, John Mulaney isn't a mean comedian. His comedy doesn't rely on punching down or calling out, but rather the reflections and introspections that come part and parcel with being a person in a society that doesn't always make sense.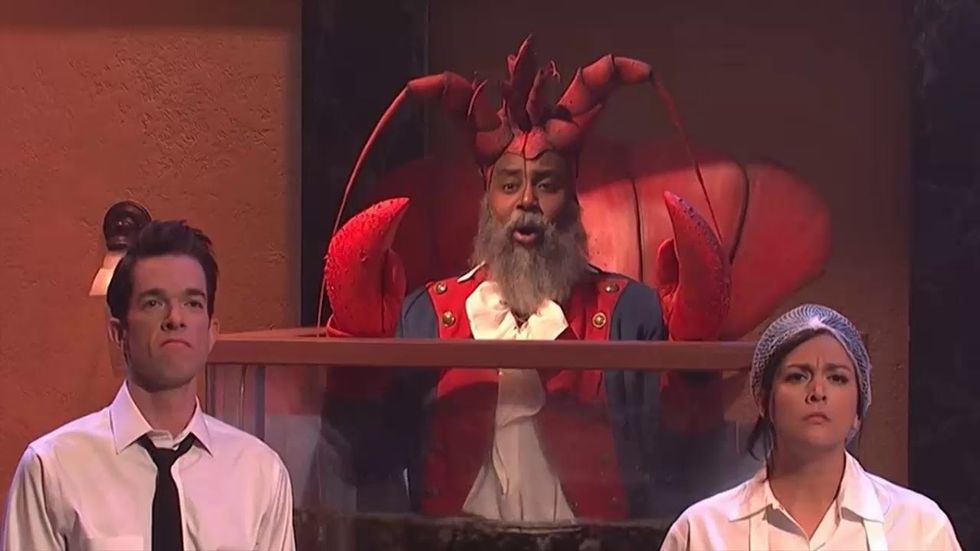 NBC
So, when John Mulaney debuted a new Netflix special billed as a children's musical comedy a la Sesame Street and The Electric Company, I had no doubt that it was going to be something special––and it is. The Sack Lunch Bunch is incredibly unique, patently Mulaney, and unlike anything else on TV. But despite all that, as much as it pains me to say this––and I realize my opinion is in the vast minority here––I thought John Mulaney & The Sack Lunch Bunch was only okay. Not terrible. Not amazing. Just okay.

John Mulaney & The Sack Lunch Bunch is a concept album of sorts. The idea behind it is phenomenal––it's John Mulaney's take on an 80's-era children's ensemble show, one that attempts to address real issues on modern children's minds while also being equally aimed at adults.
Early on in the show, one of the members of the Sack Lunch Bunch––a group of 15 child actors who chat, sing, and dance throughout––asks John Mulaney: "What's the tone of the show?"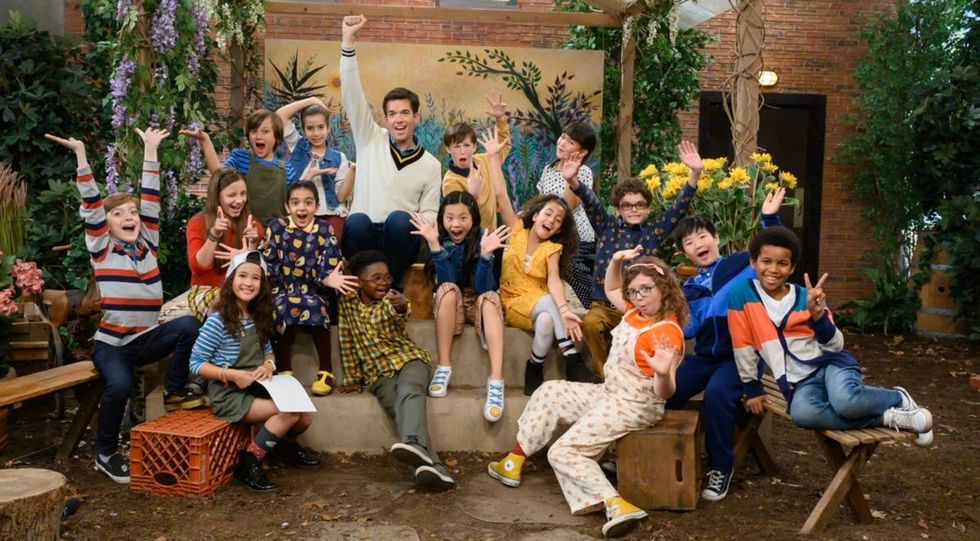 Netflix
"Is it ironic, or do you like doing a children's show?" chimes another member of the Sack Lunch Bunch.

"First off, I like doing the show," responds Mulaney. "But honestly, like if this doesn't turn out great, I think we should all be like, 'Oh, it was ironic,' and then people would be like, 'Oh, that's hilarious.' But if it turns out very good, we'd be like, 'Oh, thank you, we worked really hard' and act really humble, and then we win either way."
This exchange effectively sets the tone for the entire show. John Mulaney & The Sack Lunch Bunch actually is a children's variety show, rather than a parody or a straight satire of one. But it also has the same bizarre, irreverent air as most of Mulaney's comedy. It's earnest, but maybe not entirely earnest.
For example, one of the show's big musical numbers, titled "Plain Plate of Noodles," features a set-up wherein one of the child actors complains about not being able to eat whatever he wants before breaking into a song and dance routine about only liking to eat plain noodles with a little bit of butter. Part of the humor lies in the absurdity of a child dancing on a stage surrounded by giant spaghetti tubes, but a lot of its cleverness lies in the fact that some kids really are just super picky and tend to cling to plain noodles with a little bit of butter. In other words, it's a real issue that kids can actually relate to and no other children's show has ever talked about.
But therein lies my biggest problem with John Mulaney & The Sack Lunch Bunch, a similar problem that has plagued countless concept albums: The idea is more interesting than the execution. As funny as the idea of a kid in a suit dancing around and singing about buttered noodles may be, I didn't get the same joy from actually watching it. Something got lost in translation; perhaps it's a larger point to the whole ordeal.
While plenty of the show's segments are amusing (the show makes great use of non-child-friendly celebrity cameos, like "Girl Talk with Richard Kind" and a song about being annoyed that adults aren't listening to you featuring David Byrne of The Talking Heads), none of it is laugh-out-loud funny in the same way that so much of Mulaney's humor tends to be. But if it is an earnest children's show, then I'm not sure there's actually a ton there for kids to enjoy. It may not talk down to children, but it also feels strongly geared towards adults who grew up with these kind of shows as opposed to kids today.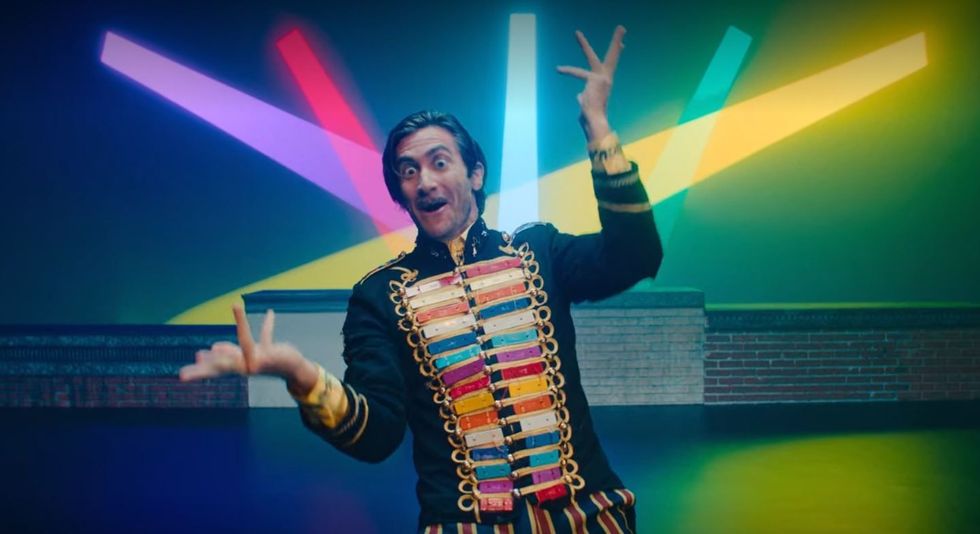 Netflix
The one real standout segment came at the finale, featuring Jake Gyllenhaal as Mr. Music, a man who is supposed to teach The Sack Lunch Bunch about the joy of making music but failed to prepare in advance and, as a result, messes up his entire shtick and injures himself in the process. Gyllenhaal, as always, is an absolute treasure and fully commits to his bit, which ultimately feels like a genuine parody of the genre. The rest of the show falls extra flat in comparison.

To be clear, there's not a single person other than John Mulaney who could have helmed such a project, and the world is most certainly better for its existence. Mulaney has proven himself time and time again as an artist of the obscure with a distinct creative vision, and I love that he's been given the freedom to make pretty much whatever he wants. But while I grew up on Sesame Street, Mr. Rogers, and Zoom, and I really entered with the intention of loving this, John Mulaney & The Sack Lunch Bunch didn't quite do it for me.
It wasn't bad. It wasn't great. I still recommend it as an entertaining work of weird art. Who knows, maybe you'll like it more than I did.