MUSIC
A little bit better than the least they could do.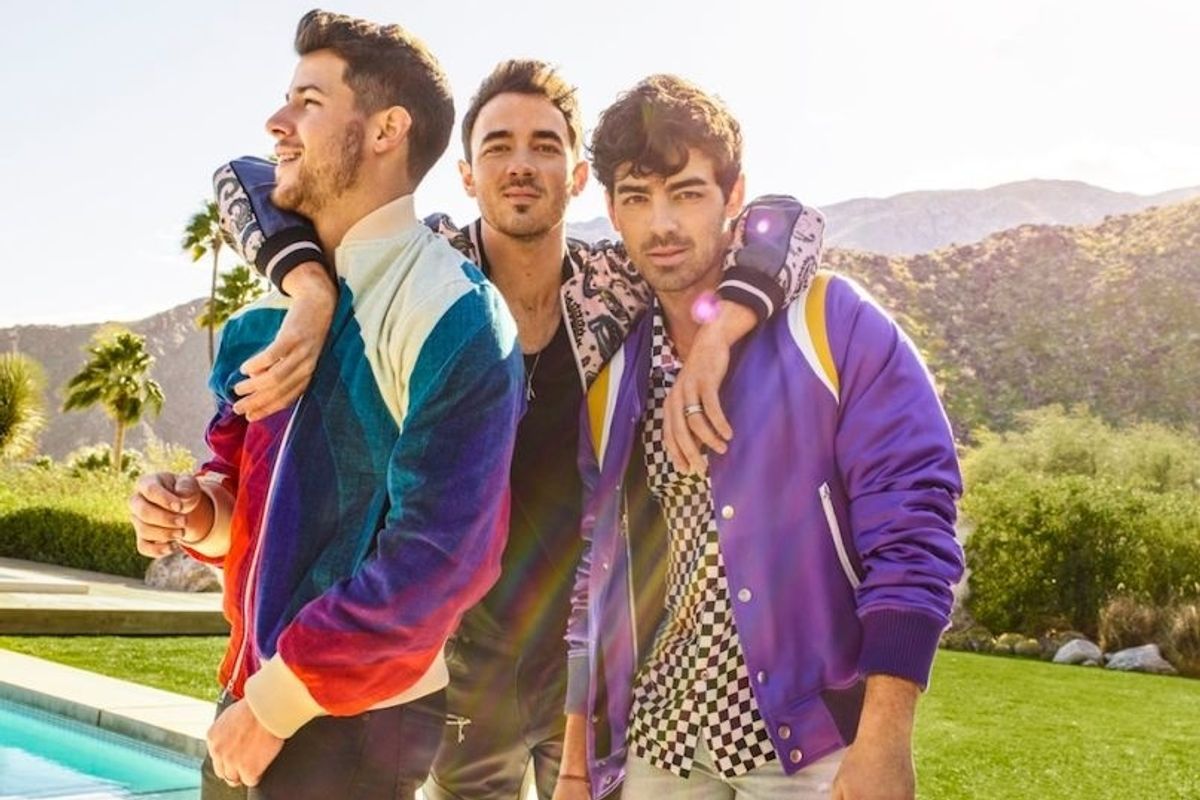 The currency of musical success is controversy, a theory proven true over and over again by artists from Ariana Grande to Kesha.
A pop song or album paired with a highly public break up or story of familial redemption is a recipe for a smash hit, regardless of the actual quality of the music. Take Grande's "thank u, next," for example. It's an average-to-boring song with an excellent back story—Grande's split from Pete Davidson and the death of Mac Miller, her former boyfriend. People listened because of the same impulse that leads them to read tabloids: the desire to feel connected to a celebrity and a part of a cultural conversation.
Similarly—after spending much of the last year in the headlines because of their respective weddings and familial reconciliation—the Jonas Brothers could have released just about anything and people would have listened, simply to be a part of the comeback of a 2000's teen-pop staple. What the brothers did release, a 14 track LP called Happiness Begins, is a little bit better than the least they could do. It wouldn't be fair to say that their decade-long hiatus ruined the trio's sound, because they never had much of a distinctive sound to begin with. A Jonas Brother's song from 2006 to 2009 can be distinguished by whiny vocal runs, a dated boy band sound, and a distinctly Disney channel sweetness. Now, in their 2019 renaissance, those things remain true—minus the juvenile innocence. On Happiness Begins, one thing is made clear: The Jonas Brothers have cast aside their purity rings and they want listeners to know it. Their new songs are decidedly and intentionally steamy, focusing on the ins-and-outs of love (they're practically begging you to think about Priyanka Chopra and Nick Jonas on their wedding night). The songs are essentially adult versions of the 2008 hit "Burnin' Up," in content and form.
The lead single, "Sucker," remains far and away the best the album has to offer, with songs like "Used To Be" and "Rollercoaster" still managing to hold their own by depending less on synthy effects and more on harmony and storytelling. Throughout the 14 tracks, the brothers' virtually identical singing voices intermingle and glide over basic pop beats, occasionally incorporating seemingly random genre influences, like the marimba on "Only Human" that gives the track a jarring reggae sound. Otherwise, the production doesn't differ much from that of the songs released in the era when the Jo-Bro's donned untamed curls and fashion scarves to the delight of tween girls everywhere.
Happiness Begins is decidedly one thing: a brilliant ploy to ensure sold-out concerts. It's an album just similar enough to vintage Jonas Brothers music to be nostalgic and just different enough to entice a new generation. While listening, you can almost picture the stadium show: the brothers rising from the stage to frantic screams and a sentimental slideshow of childhood photos playing in the background as they harmonize and strut the stage to a ballad like "Hesitate."
Summarily, it's an unremarkable, safe collection of tracks obviously written by the churning machine of the music industry for use by the highest bidder. But that's all it needed to be. We culturally welcomed the Jonas Brothers back to the forefront of fame with open arms, and consequently, they could have force-fed us any version of their tepid boy band pop and we would have gulped it down eagerly. Perhaps listeners can be grateful that it's at least a solid, listenable album—albeit formulaic and unsurprising.
Happiness Begins