MUSIC
Her new album deserves Kacey Musgraves' level attention.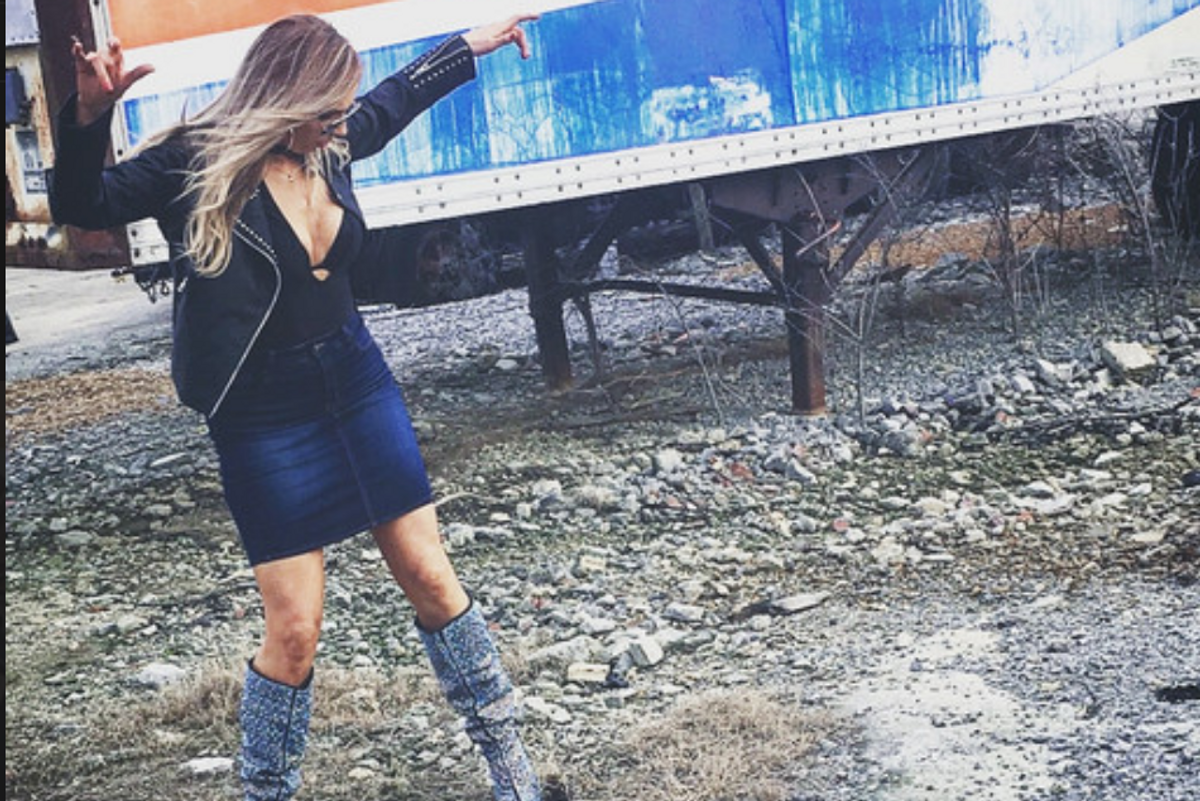 We're past due to add a new name to the pantheon of female country rockers.
It's been a few years since we've had a Shania or a Clarkson come along and give us a good kick in the teeth. With the arrival of Justine Blazer's debut album, Pioneer Soul Shaker, however, we might have a fix for you. Featuring rocking guitar riffs, stretched out solos, vocal finesse, and lyrics that'd feel right at home on CMR, it feels like we've just won country rock bingo. Add the fact that Blazer self-produced the entire affair, and the stage is set for something truly fresh and original.
We jump in at "No Tomorrow," which has a blustery early Kelly Clarkson feel. Edgy guitar snarks fill out the sound as Justine sings an ode to dance-fueled nights of escapism. A pounding drumbeat with synth currents gives it flow and carries us safely in to the world of her album. From there we move in to the titular "Pioneer Soul Shaker." This opens with the slow swagger of drums and classic rock guitars dominating the airwaves. It almost has an Alanis Morisette feel, though the lyrics are definitely more country than grunge. As her sound starts to coalesce, positive echoes of the 90s keep reverberating. Between expansive guitar solos and hard drum kicks, it's all there.
Next, she takes things down a notch with "Cigarettes and Secrets," the most radio-friendly of the album's fare. Mustangs, good girls being bad (but not that bad), and heartbreak make up the subject matter, creating a song that's fit for any Nashville highway. It's a pretty sexy slow jam, and there's probably a great acoustic cover out there for the taking. Then the album really starts to find its groove.
"Can't Buy Free" is badass. With banjo reminiscent of Jack Lawrence on a couple of Raconteurs tracks, a braggadocious guitar riff that'd make AC/DC envious, and a drumbeat Steve Tyler would strut to, this has all the elements of a solid anthem. The more Blazer plays her hand, the more we like her. Back in slower territory we have "Girl in the Lights." Here, Blazer frames herself as the girl you could have had. It's a revenge pop ballad with surging synth pulls and lyrics that exceed expectations. It's well-worn territory, but Blazer puts enough of her own spin on it to stand out among the crowd.
"Good Luck With That" is Blazer's girl power rock show: another drum kick, another power chord riff, and another session guitar solo. It's pretty intense, cementing the album's statement that Blazer is a country rock diva. The track is followed immediately by "Broken Girls Don't Cry, and the title tells you everything you need to know. Blazer is your tough country rocker chick. She's pissed you left her, so she's going to drink whiskey, kick back at you, and be sad, but she's not going to cry.
On "Replay" we get into something different and fresh. This track almost has a dance feel. You could play this at a club and get the crowd jumping. It blends bright jumping synths with summery rock vibes to create a bona fide ear worm. "Get Dirty" does the same. A scuzzy guitar lick intros the track, followed by lyrics and vocal rasp that sound like Shania when she wants to get nasty. It's a song that could define a movie soundtrack, and if there's any justice in the world, it's only a matter of time.
We slow down once more at "Heartbreak Prison," which is, for a change, piano-driven. It's a solid ballad, lyrically interesting, and well put together, if a little standard in subject matter. We then move in to "Been Around," the last of the originals on the album. Here, Blazer seems to be channelling pop punk at the edges, the core of the song is still solid 90s rock. It's a great penultimate track; with its punchy lyrics, it's the best solo on the album, just crying out to be a karaoke favorite.
Blazer finishes off with a slowed down cover of "Sweet Child of Mine." It's well-conducted, emotional, and familiar. She uniquely layers her vocals and adds pre-shocks and echoes that elevate it above just being another cover. It's a sweet, melancholy way to close out an album, but it's still a bold finish.
All in all, this is a strong showing for a first album. "Can't Buy Free," "Replay," and "Been Around" bring the fun in a way that a lot of country songs forgets to. The album also never drags, which is a trap for a lot of country rock. Each track stands out with its own style; and, most importantly, the record is never too wrapped up in its own self-importance. This album is an achievement for Blazer as a singer, songwriter, and producer. As a whole, it might beg for a little variation, but it's damn good fun, and there's a long way to go before Blazer wears out her welcome.
Pioneer Soul Shaker