MUSIC
A Decade of Kesha: The Pop Star We Don't Deserve
The singer's debut album Animal is ten years old this week.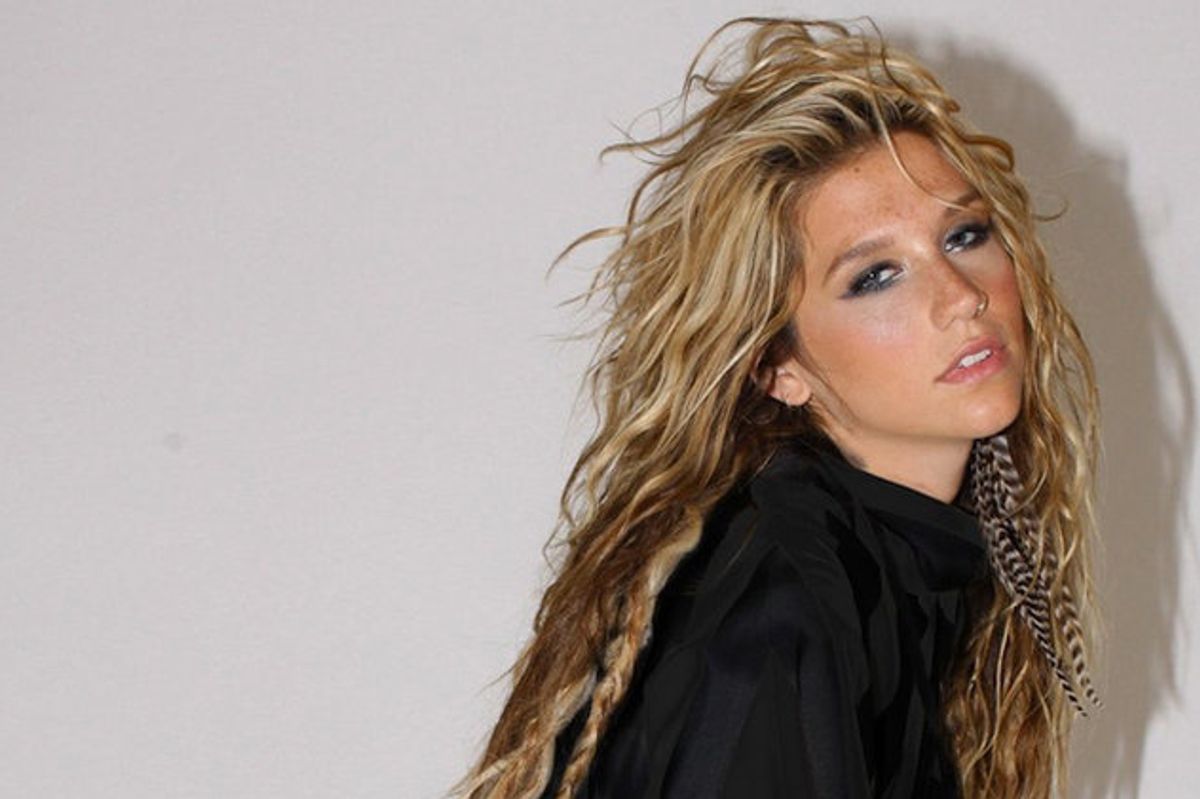 In 2008, an unknown singer by the name of Kesha Sebert was summoned to sing the brief female hook for what would become a No. 1 hit.
---
This song was called "Right Round" by Flo Rida, and it topped the charts for six consecutive weeks. Kesha—comically stylized as Ke$ha at the time—was uncredited on the track in the U.S., and critics denounced it for its hokey sample and crass sexual innuendos. But her success wasn't hindered; she swiftly landed a record deal with RCA after "Right Round" dropped, at last given the foundation she deserved to pump out a No. 1 hit (or three) of her own.
Flo Rida - Right Round (feat. Ke$ha) [US Version] (Official Video)www.youtube.com
Prior to her collaboration with Flo Rida, Kesha had already been hustling for quite a while. She spent seven years writing over 200 songs that'd eventually be whittled down for her debut album, Animal, which turned ten years old this week. Before "Right Round," she'd been heavily active in the pop music sphere, working on songs with Britney Spears and appearing in the music video for her friend Katy Perry's "I Kissed a Girl." And songwriting was in Kesha's DNA: Her mom, Pebe Sebert, wrote Joe Sun's "Old Flames Can't Hold a Candle to You" in the '70s, which would be covered by Dolly Parton and become a hit. With the release of her breakout single, "Tik Tok," a new patron saint of partying had arrived.

Kesha came up with the idea for "Tik Tok" after half-drunkenly stumbling home from a night out. Her living situation at the time was a house in L.A.'s Laurel Canyon, where she crashed with a constantly-rotating cast of bohemian roommates. "I woke up one day after we went to a party, and I was surrounded by ten of the most beautiful women you've ever seen," she told Esquire of "Tik Tok"'s conception. Which is to say: She woke up in the morning feeling like P. Diddy.
YouTubewww.youtube.com
These themes of shameless partying permeated Animal to the point that some critics and naysayers deemed her inauthentic, crude, and unsophisticated. But even while covered in glitter during her live performances, there was an endearing, welcoming quality to Kesha; she grew up poor and proved that you didn't have to be flush with cash to have a glamorous night. She flaunted her self-described "garbage can chic" aesthetic, taking the bus to the bar and smuggling in liquor to avoid steep drink prices.

But glitter, alcohol, and boys aside, Kesha knew from the beginning that she wanted to serve as a symbol of liberation for her young female listeners. "For girls, I think [Animal is] an empowering record," she told Seventeen. "It's funny, it's cheeky. I think people need to have fun with whatever they're doing—makeup, their clothes, music, live shows—anything you don't need to take too seriously, don't take too seriously." During her concerts, she'd don a backpack confetti cannon, and she refused to wear high heels because she couldn't safely dance in them.
Kesha stood for the girls who didn't give a f--k and lived as they please. That's why it was especially horrifying when news broke in 2014 that Kesha had sued her longtime producer, Dr. Luke, for sexual assault and battery, sexual harassment, gender violence, emotional abuse, and violation of California business practices. Dr. Luke countersued Kesha for defamation, and all of Kesha's claims were dismissed.
Kesha vs. Dr. Luke: A timelinewww.youtube.com
The singer returned in July 2017 with her first single in four years, "Praying," a soulful ballad that became associated with the #MeToo movement. "This song is about me finding peace in the fact that I can't control everything — because trying to control everyone was killing me," she wrote in an essay accompanying the song's release. "It's about learning to let go and realize that the universe is in control of my fate, not me. It's from our darkest moments that we gain the most strength...I hope this song reaches people who are in the midst of struggles, to let them know that no matter how bad it seems now, you can get through it. If you have love and truth on your side, you will never be defeated. Don't give up on yourself."

Kesha has always preached strength and freedom in her music. Whether wrapped up in the excitement of heading to a raging party or in the euphoria of healing from trauma, the decade since Animal has proven that Kesha is a dynamic force not only in pop music, but womanhood.
Kesha - Praying (Official Video)www.youtube.com