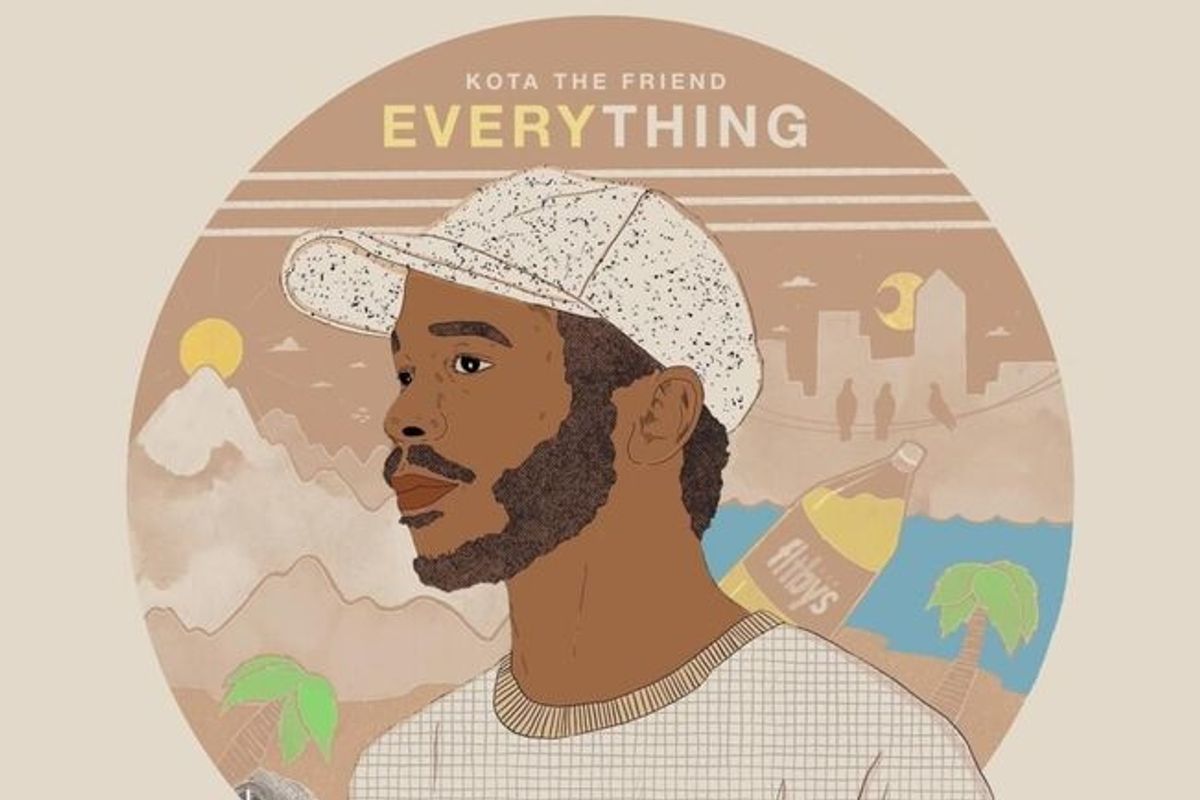 It feels pretentious for an artist in 2020 to ruminate on the pleasures of learning to fish or the pure joy of sipping beer cans by the lake considering all the trauma that embroils everyday life.
Last week The Washington Post reported that nearly half of Americans are struggling with mental health issues thanks to the COVID-19 Crisis. An emergency hotline run by The Substance Abuse and Mental Health Services Administration reported a 1,000 percent increase in April compared to the same time in 2019, and the online therapy app Talkspace reported a 65 percent increase in clients since mid-February. It feels tacky to be optimistic these days. Still, on Kota the Friend's sophomore triumph, Everything, he modestly implies that the simple pleasures were always more important than we gave them credit for.
---
Kota has always possessed an unwavering focus when it comes to his values. After the success of his 2019 debut, Foto, the emcee told Billboard that he turned down three major label deals in favor of an organic come up story. A 26-year-old soft-spoken introvert out of Brooklyn, NY, Kota raps about his values with the intimate sincerity of a hip-hop savant. His tone never strays from conversational, as he maintains the confident ease of a man who's stood firmly in his beliefs for a long time.
Backed by the sunny lo-fi jazz instrumentals that have become his calling card, Everything thrives in its synchronicity. Kota's optimism is infectious and rubs off on the people around him. In one feature from Joey Bada$, whose 2017 album ALL-AMERIKKKAN BADA$ was soaked in political commentary, he relays some of the most positive vibes of his career: "Gotta learn to just play with the cards dealt, these n***** too hard on themselves." Other appearances include Dreamville's Bas and West Coast rapper KYLE, with regular collaborator Hello O'Shay taking Kota's optimism and shifting it into euphoria. On "Long Beach," the duo weave a relatable tale about time spent in Long Beach, California with girlfriends of summers past, pushing the song with the optimistic momentum of K.I.D.S.-era Mac Miller.
Everything floats along with unassuming ease, each track moving with the relaxation of a healthy summer. While nostalgia feels particularly bitter these days, Kota uses Everything to ruminate in it, implying that acts of simplicity are life's greatest moments. "Plant my seed and live my dream and stay low-key," he says frankly over "Mi Casa's" tropical guitars. "What you get is what you see / Mi casa es su casa." Jewelry and nice cars don't equate happiness in Kota's world. Community, structure, and balance are key. His superpower lies in making normalcy sound rewarding. While other rappers dream of world domination, Kota shrugs it off and instead opts for hour-long showers in a Morocco Airbnb ("Morocco").
KOTA The Friend - VOLVOwww.youtube.com
Everything is the culmination of a life spent preaching "love is everything, and everything is love," but in 2020, that sentiment carries a surprising amount of weight. Kota doesn't build much on this narrative, but instead presents it with renewed fervor in a succinct 44-minutes."Open your mind, turn on the vibe and get off the internet," he says firmly on the album's intro. The tips to happiness that Kota speaks of all seem rather obvious, but he often makes them sound profound.

Released on Memorial Day weekend, which often represents the joyful beginning of summer but feels plagued this year as the world seems to end around us, Kota's Everything is the cure to quarantine blues. The album ignores the noise, gently takes us by the shoulders, and reminds us that–at least for today– the weather is beautiful.
EVERYTHING