MUSIC
Her third full-length album is the chronicle of a woman who loves herself like it's a sport, who dances and desires and hurts and cries and heals and dances again.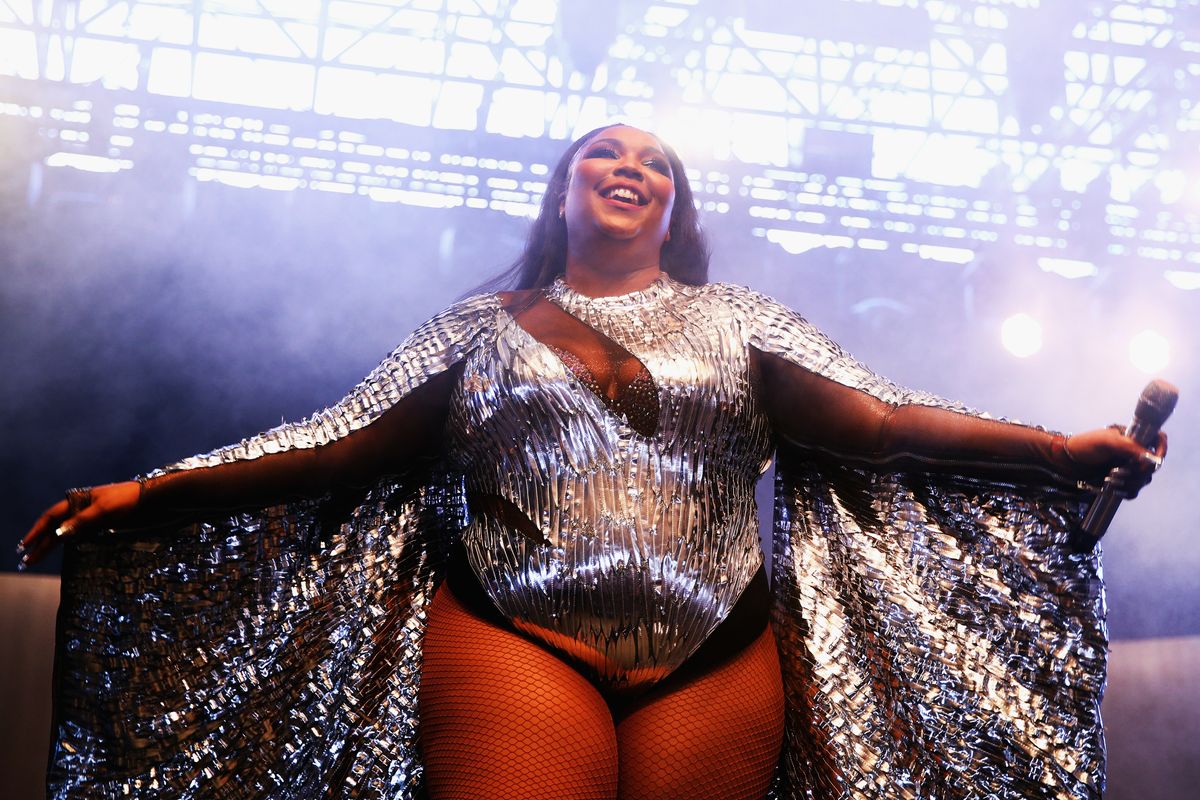 Rich Fury/Getty Images
Lizzo is celebration personified.
On the heels of her powerhouse performance at the first weekend of Coachella, her third studio album Cuz I Love You has arrived, and it is, in no uncertain terms, a gift. Lizzo's potent cocktail of soul, rap, and funk anchor her odes to independence—eleven tracks spelling out her vision of love and empowerment while riding an effortlessly effervescent vibe. From the throwback-brass explosion of the title track onward, the album embodies a genuine vulnerability around love and worth, a powerful salve for barbs of self-doubt over an infectious sound.
The album's lustrous production constructs the perfect space for Lizzo to fill with her always-dazzling—often hilarious—songwriting. Lizzo purposefully centers Cuz I Love You around the idea of feminine acceptance, with the songs "Like A Girl" and "Soulmate" serving as anthemic road maps to manifesting self-love. She evenly examines self-image, sexuality, and love as sources of both delight and pain in her life, most acutely on "Crybaby," "Heaven Help Me," and on the soulful ex-boyfriend dismissal that is "Jerome." (It's unclear whether Jerome is a metaphorical bundle of inconsequential men or just one guy, but if there is a singular Jerome, Lord help him.) Lizzo and Gucci Mane have the time of their lives trading bars on "Exactly How I Feel." "Tempo" remains as rhythmically imperious as it was when it first dropped as a single, with Lizzo's sotto verses perfectly complemented by Missy Elliot's blessing of a feature. But as much as Cuz I Love You manages to bedelirious, multifaceted fun—especially the album closer, "Lingerie," a song so dangerously sultry that it should probably come with some kind of warning label—Lizzo never loses sight of her point: this album is a celebration of her and her body and the love and beauty she's built for herself. That's what's really being shared on this album and what makes it impossible to ignore.
There's an effusive sense of joy to everything Lizzo does, and Cuz I Love You revels in that truth. At the core of the album's breakup salvos, irresistible dance breaks, and self-confidence bops is Lizzo's unmistakable light, spilling from every verse she spits and every vocal run she nails. Cuz I Love You is the chronicle of a woman who loves herself like it's a sport, who dances and desires and hurts and cries and heals and dances again, irrepressible and undistracted in her mission. Lizzo's is a joy with a profound wisdom behind it, a joy that praises the trials of self-love and the flute-twerking to be had along the way—Cuz I Love You is her greatest sermon yet.
Cuz I Love You
---
Matthew Apadula is a writer and music critic from New York. His work has previously appeared onGIGsoup Music and in Drunk in a Midnight Choir. Find him on Twitter @imdoingmybest.
---
POP⚡DUST | Read More...

Cage The Elephant Strikes The Match on New Album "Social Cues"
TIME's "100 Most Influential People" Is the High School Yearbook from Hell
Now in Theaters: 5 New Movies for the Weekend of April 19