MUSIC
This is the coolest hip-hop act you haven't heard of.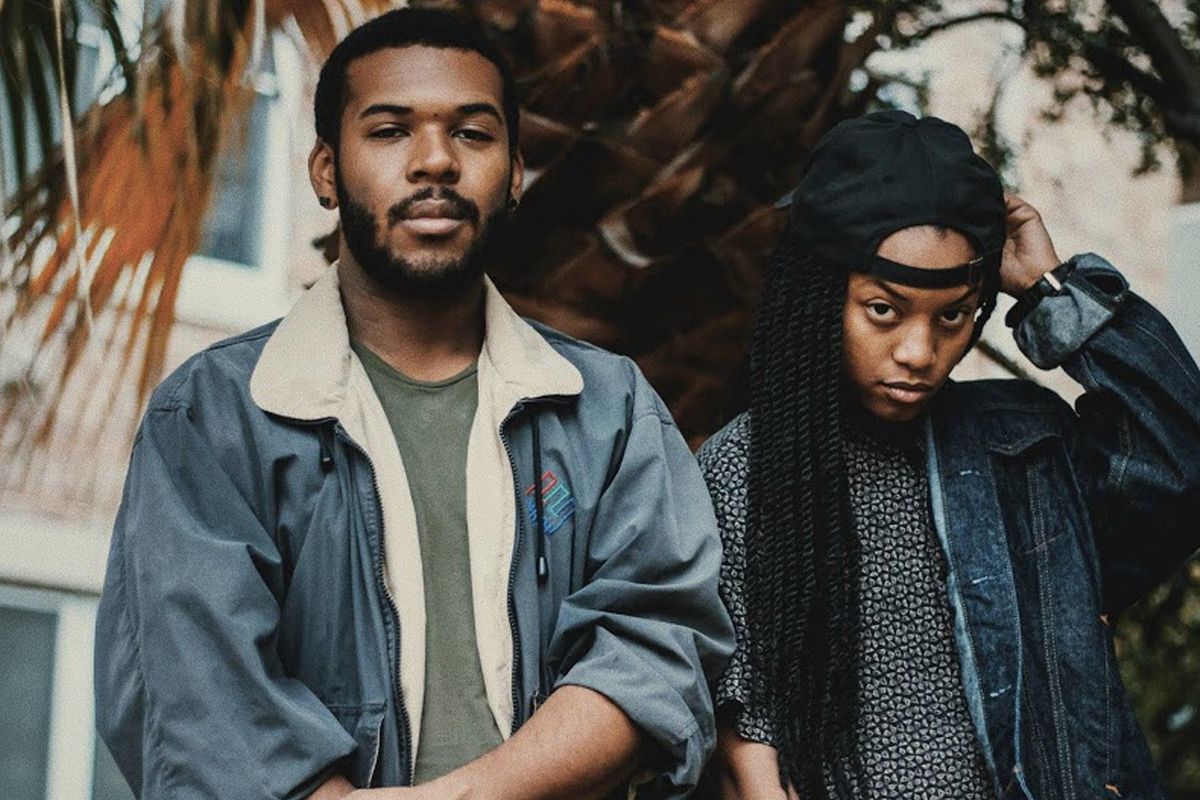 The room is only half full, but the energy onstage is spilling out into the street, the steady thrum of Dougie Do's beats shaking the bottles at the bar.
"We're Magna Carda with a 'D' not a 'T'" spills matter-of-factly from Megz Kelli lips as she finishes up another song at Rockwood Music Hall. The live band holds and waits for Dougie Do's signal before launching into a miniature jam session replete with guitar and drum solos, Megz dancing and clapping on stage, enjoying the moment and never rushing. This is Magna Carda.
Born in Austin, Magna Carda's style floats somewhere between Rapsody and Esperanza Spalding. Their arrangements are complex, drawing influence from all over the musical landscape. The main difference between them and other hip-hop groups however, is live instrumentation. There are no trap snares or hi-hats, just a drum kit and a bunch of dudes with instruments. That said, the undisputed star of the show is Megz Kelli, a performer and artist who's completely comfortable in her own skin, tackling a wide range of subjects from interpersonal dramas to the current political climate.
Magna Carda has shared the stage with rap stars like Raekwon and Joey Bada$, and is at the forefront of Austin's bourgeoning hip-hop scene. With the last show of their first headlining tour wrapping up last night, we figured we give Megz and Dougie (aka Chris Beale offstage) a call to talk hip-hop, brands, and Kanye West in this PopDust extended interview.

---
How was it performing with Raekwon? That must have been incredible.
Megz: Performing for him and opening for him because we obviously came up listening to that music was amazing. Some of my favorite joints come from the Clan. He was just really nice and a really cool guy, so I wasn't disappointed either by meeting one of my idols.
Chris: Meeting someone you look up to and who's been around the game for such a long time and to have him be like 'hey you want some food, you want a drink?' was incredible. The Clan doesn't give you that vibe, but his whole team was cool. He watched the set. It was a surreal night.
So who's making most of the beats?
C: I make most of the beats and then Megz will get on them. If we're doing stuff with the rest of the band, we'll give the beats to the rest of the band and see what we can do live and what we still need in the track.
You guys sound very Austin, if that makes sense. Your blending of styles made it pretty easy to pinpoint where your group does most of its writing. How is the Austin music scene and is it different from where you started out?
M: None of us are originally from Austin. I'm from New Orleans and Chris is from Houston. The guys are from Dallas and Houston and Brownsville. We're all still from the South and we're all still carrying that around. We have a lot of the same influences but we also have a lot of different influences, from jazz to cumbia or blues. We bring all of that to the table, but what's interesting about Austin, because it's such a live music setting, is that when first moved out there it wasn't that easy to put on a hip-hop act with a DJ. That wasn't gonna impress anyone from a city where [audiences] come in and they see instruments and hear difficult arrangements. It kind of pushed us to think about how we can fit into that scene and that's how we ended up fusing so many things together.
Yeah, you don't often hear a guitar solo in a rap song.

M: There's really not that much guitar in rap at all. It just ended up being this thing we do, but it's a blessing because we tapped into something no one else is doing. It led us to exactly where we needed to be.
You guys don't do a lot of bragging. You're not making brag rap. It feels like your stuff is more politically and socially conscious. What are your thoughts on our current political climate? How are you dealing with that in your music? Do you feel like you have a responsibility to talk about this stuff?
M: You just can't avoid the truth. We'll make all these records, and it'll be like 'man this is political, maybe we should try something laid back' but you can't avoid it. It's everything you see. You walk outside and everyone's talking about Trump or everybody's talking about Black Lives Matter. You can't avoid it and if you are avoiding it, it's a disservice to the art-form itself because [that's] what hip-hop is all about. It was a way for us to express our grievances or express the things that we weren't comfortable with or needed to be changed. It's almost like returning to the roots of where hip-hop was for us, or what poetry was for the black community. Realistically, I don't have millions of dollars and Balenciaga sneakers and stuff like that. It almost feels fake or phony when I try to ride that lane.
Do you ever catch any flak for the stuff you say?

M: I haven't. You're at shows sometimes where you look around and you spit this really political line and you can see some people who come from different backgrounds acting a little uncomfortable, but that's also part of the movement, making people address these things or making them uncomfortable so they can finally hear or finally see it. These tough conversations are just not comfortable.
Cardi B and Nicki are both really successful, but I have trouble thinking of a female rapper who's not doing party music. You seem like one of the first female rappers to embrace conscious rap. Are there other people doing this? Do you feel like you're at the forefront of a movement?
M: There are artists like Rapsody, who've always been on that kick. Her stuff has always been well thought out and intentional. Those are the artists I grew up listening to. They're [still] out there, but we're in a climate with hip-hop right now where a lot of it is just partying or what I have on or how much money I have. Again, with me, if I don't have it, it's really hard to talk about it. I'm really speaking from experience, so it's important for me to stay true to that.
Do you think that talking about brands in music corrupts the message?
M: Not necessarily. I believe that form of expression is really important for people of color. Talking about Cardi B specifically, she comes from the Bronx where she never had those things. It's a new freedom to be able to enjoy something you never had before. I think that's part of a very specific experience. I do think there's a place for it and I think it's just as important as spitting the conscious stuff because we do have to take the time to reflect and celebrate how far we've come. It's not always about the hard part, but the parts we enjoy as well.
What do you guys think about Kanye? Is he okay? Does he need help?
C: Oh man. I've supported Kanye since College Dropout and I've defended to people that Late Registration and My Beautiful Dark Twisted Fantasy are masterpieces. But, [this past week] has been a wakeup call to everybody. On the stage, he's Kanye, but when he gets off, yeah he's an asshole. How far will you go to defend that?
M: Exactly, and you even see that in Chance the Rapper's response. He had to retract what he said. He wanted to defend his friend and one of his favorite artists, but when you realize defending that kind of behavior is being complicit, you have to start separating from it. If that means not running the Kanye record because I don't support anything he's been talking about lately, so be it. I feel like everybody has opportunities to become enlightened and turn it around, so we still have a little hope that Kanye comes around.
Did you hear the new song?
M: I heard that 30-second trash he put out. I don't know what that was about.
So, you're not listening to Kanye, who are you guys listening to now?

M: I've been listening to the more conscious records. Saba. The new J Cole. I've been jamming to Cardi B. I'm mostly an old head though, so a lot of my music taste is about rediscovering things from the past. Right now I'm listening to a lot of Alice Coltrane and getting deeper into a lot of 70s music.
C: For me, rap-wise, it's been J Cole. Even though I don't like the record as much as 4 Your Eyez Only, the beats in general are [great]. At night, I'll be bumping Bill Evans, who is the greatest white pianist of all time to me.
Talk to me about Coffee Table Talk, what were you trying to do with that record?
M: We started the project with the goal of getting back to where we started. Back when we first started making music together, we were using a lot of samples and we were crate digging. That old music triggers something different in me. A lot of the lyrics I created for the project were meant to be conversational, casually mentioning some of the issues we're going through, casually mentioning some of the issues we've been through. I've also been reading a lot, and [the record] was just a way for me to process what I'd been reading and a lot of the literature I was looking into at the time. For us, it was a project about the past. We wanted to go back to our roots.
What have you been reading?
M: I've been reading a lot of Bell Hooks and Toni Morrison. Right now I'm into an Angela Davis book that goes through blues legacies of Billy Holiday and Bessie Smith and how their era of blues was a form of feminist liberation. It's really been interesting. Every time I learn something new I want to go out and write it in my own way.
---
Matt Clibanoff is a writer and editor based in New York City who covers music, politics, sports and pop culture. His editorial work can be found in Inked Magazine, Pop Dust, The Liberty Project, and All Things Go. His fiction has been published in Forth Magazine. -- Find Matt at his website and on Twitter: @mattclibanoff
---
POP⚡DUST | Read More…
THE OPTION | The Stafford Effect
THE OPTION | Catalan Independence and What It Means for Barcelona Soccer