MUSIC
Martinez is just spilling the open secret that tiny, silent traumas are woven into all our identities.
The world painted by Melanie Martinez's music should be enough to make mental health counseling as natural as regular check-ups, support groups as normal as after-school sports, and consent a standard part of sex education.
But one minute into the first track on her sophomore album, K-12, it's clear that those footholds aren't a part of the unstable reality she's presenting. In 2015, she introduced America to her goth doll-aesthetic with her debut album, Cry Baby, which is also the name of the pre-adolescent character she created as the focal point of her stylistically lowbrow concept art. Despite critics' claims that Martinez is simply "creepy and dressing like a baby," the 24-year-old Queens native has carved out a niche fandom as a walking art project that criticizes society's oversexualization of women, its casual treatment of violence, misunderstanding of mental health, and other overlooked traumas that mark the transition from childhood to an adult inevitably laid to waste in modern America.
Genius
If a gothic Camille Rose Garcia painting could sing, it would sound like Martinez, who first introduced Crybaby by exploring her troubled home life. Those viral music videos for her early singles "Dollhouse" and "Carousel" have received well over 200 million and 100 million views, respectively. In fact, Martinez has been called a YouTube savant for her ability to garner a massive online following of Gen-Z fans who identify with the adolescent caricature she brings to life through her blend of electro-pop, R&B, and art pop. "If you don't like pop surrealism you probably won't like me," she's written in response to critics accusing her of "sexualizing babies." "If you can't understand that visual art has a deeper meaning and you only look at it for face value you probably won't get my work. If you can't understand that crybaby is a character, that the first record is representative of her childhood, and If you sexualize female pop artists on the daily...you. Just. Don't. Get. It."

Now, K-12 represents Crybaby's world of maladaptive behaviors and coping strategies at school. Martinez isn't graceful in her critiques, which are tantamount to YouTube protest art, and she isn't trying to be. Pairing her singles with pastel, Victorian-inspired visuals, featuring stark contrasts between bold lines and accents of glitter and gore, she combines surreal imagery with her music's dark themes, which are all too real—school shootings and oversexualized teens, self-harm and eating disorders, domestic abuse and substance abuse.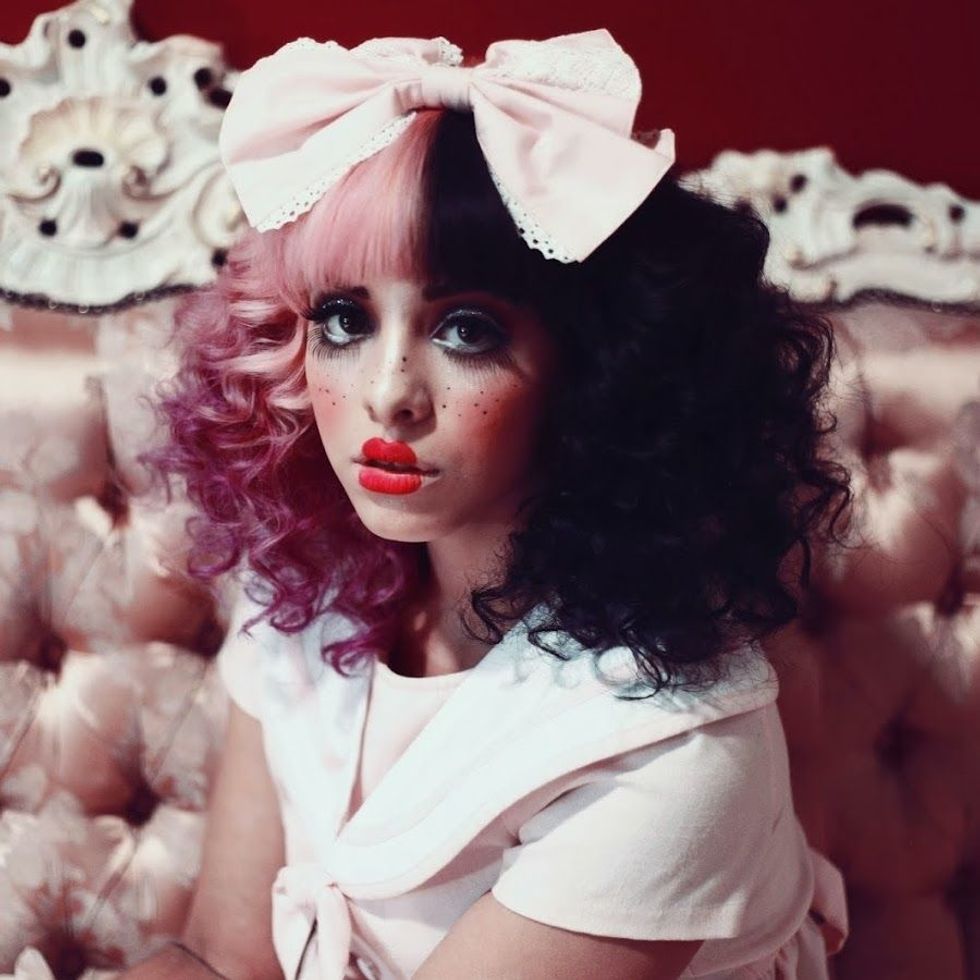 Melanie Martinez in "Dollhouse" Music Video
Martinez's breathy voice opens "Strawberry Shortcake" with a blunt first person perspective as a confused, insecure, and oversexualized young girl who's torn between self-preservation and desperation to fit in: "Feeling unsure of my naked body / Stand back, watch it taking shape / Wondering why I don't look like Barbie / They say, 'boys like girls with a tiny waist' / Now, my momma's preaching to make sure I'm pure / But, I never really cared about that sh*t before." Like a slam book Martinez's put to mass print, K-12 articulates the self-hate we project onto others on the tracks "Class Fight" and "Drama Club," carving out lines like, "The teacher broke us up after I broke her / And my one true love called me 'a monster.'" Similarly, on "Lunchbox Friends" and "High School Sweethearts," she captures that cone of impulsivity and devotion that envelops young people when they first form intimate connections without having a firm grasp on their own worth, singing, "Come to my house / Let's die together / Friendship that would last forever" and "Don't waste your time with me / If you're not down to bleed / If you can't handle the choking, the biting, the loving, the smothering." And like an R-rated baby doll, she recites intense declarations of love mixed with infantile neediness: "You must promise to love me / And damn it, if you f*ck me over / I will rip your f*cking face apart."

On songs like "Nurse's Office" and "Show & Tell," Martinez's soprano casually captures the twisted love and hate relationship we have with our own self-image: "If I cut myself, I would bleed (kill me) / I'm just like you, you're like me / Imperfect and human, are we / Show and Tell / I'm on display for all you f*ckers to see." On "Orange Juice," she recounts a stark experience with bulimia with a blunter edge than usual, using slowed down autotune for the cutting chorus: "You turn oranges into orange juice / Enter there, then spit it out of you / Your body is imperfectly perfect / Everyone wants what the other one's working."
K-12
K-12's most incisive commentary is about Crybaby's more than justified distrust of adults. On "The Principal," Martinez channels the whimsical melody of a nursery rhyme to call out school systems' institutional failures to protect children from gun violence (as well as their own destructive impulses): "Killing kids all day and night / Prescription pills and all that fight / Shooting at the angels while claiming you're the good guy / All you want is passion hype / 'F*ck our dreams' and that's not right." One of the most disturbing tracks on the album is "Teacher's Pet," where Martinez uses a slowed down production and deeper pitch to parody the seduction between an adult and a minor ("If I pass this quiz will you give me your babies? / Don't call me crazy / You love me but you won't come save me"). The song's effects include a maniacal laugh track and a dramatic build up to the chorus that gives an unsparing look at the abuse of power: "She's feeling like a spider in a cage you liar, you were her desire / Now she wants to light you on fire."

Martinez may have taken a four year break between albums, but her media savvy has earned her steady relevancy (especially with age 18 and under listeners), and she's about to take over YouTube. Along with K-12's release, she posted a 90-minute film comprised of music videos for each of the 13 tracks.
She'll release the music videos one at a time, in two-week intervals, like a series of subtweets to her inner demons.
YouTube has even partnered with the artist to create a four-part miniseries with thematic ties to K-12; Martinez is one of the stars of YouTube's upcoming Artist Spotlight Stories. While the platform is looking to delve deeper into web series and increase user engagement, Martinez is just spilling the open secret that tiny, silent traumas are woven into all our identities. She's looking to build a whole world around Crybaby's adolescent self-discovery, and that world's looking all too similar to our own: Everything is designed to attract and appetize, we confuse truth with well-told lies, and "pretending everything is alright is detention."
Melanie Martinez - K-12 (The Film) youtu.be