Nike, Inc. is the latest company to challenge our understanding of how to use historical imagery in today's political climate without being blindly offensive or willfully ignorant to American history.
They've recently pulled their limited-edition Air Max 1 sneaker, decorated with the 13-starred "Betsy Ross flag." Colin Kaepernick, former quarterback for the San Francisco's 49ers and controversial activist (as well as the face of Nike's 30th anniversary "Just Do It" campaign) reportedly informed Nike that, to many people, the American Revolution-era flag symbolizes little more than America's foundations of slavery and racism. Online backlash against the company was immediate. While some argue that the "Betsy Ross flag" is an American staple that should be set apart from the systemic racial inequality of its time period, others affirm that the flag's appropriation by modern extremist hate groups justifies its eradication. Fierce advocates for the former argue that in order to re-appropriate the symbol, Nike should release the initially $110 sneakers (a few early released pairs are now being re-sold for upwards of $2,000). But what real statement would that make? How is a sportswear company a useful (or even relevant) arbiter of what a deeply fraught political symbol means?
On Monday, Nike took to Instagram to revise their advertisement for the shoe's release, posting on Instagram: "Update: release is indefinitely postponed. Retailers are being asked to return the shoes to Nike. Celebrate the upcoming #IndependenceDay holiday with these Air Max 1s featuring the flag sewn by Betsy Ross." The shoe was pulled from their online store, and merchants who were already shipped their orders were asked to send them back without an explanation.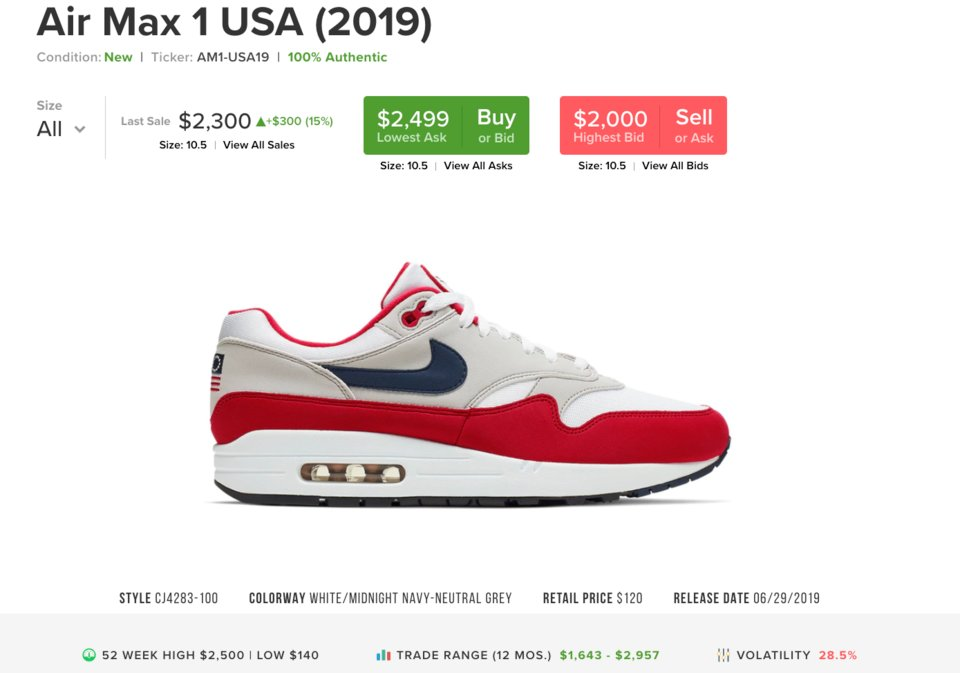 (Re-sale on StockX)
What ensued was a Twitter frenzy over whether Kaepernick had lodged a baseless complaint with Nike, whose products he's endorsed throughout the public backlash against him in 2016 when he began kneeling during the national anthem in protest of police brutality and racial inequality. From vehement slavery-apologists to half-informed commenters who conflate criticism of the old flag's historical context with criticism of all American flags, the charged debate taps into America's deep divides along lines of patriotism, education, and racial experiences. Even Senator Ted Cruz added his cloying antagonism, posting, "It's a good thing @Nike only wants to sell sneakers to people who hate the American flag.... @NFL #HappyFourth."
One user posted, "@Kaepernick7 is really reaching with this one and I was supporting his stance, but this is crazy and for Nike to cave in because he feels offended, it's not a good look. I'd bet maybe 1 in 50 people, if that, would even know or have an idea why this is 'offensive'. This is 🥜." In response, marketing director Dom Garrett explained, "It has been appropriated by some extremist groups opposed to America's increasing diversity. You should be upset at those groups, not Nike."
Similar rebuttals span from explaining the coded history woven into the American Revolution-era flag to dismissing the outrage as culture war fodder. "Everyone please understand, this fake outrage of the American Flag Nike shoes is simply an excuse for casual white supremacists to justify their anti-Black hatred and get on code with other anti-Black racists without having to use extreme language or symbols," one user wrote. Barstool Sports simply posted, "If You Are Mad That Nike Pulled Their Betsy Ross Flag Sneakers Because Colin Kaepernick Complained About Them Than You Have A Big Dump in Your Pants."

But the white noise of Twitter outrage was given more gravity when Arizona Governor Doug Ducey posted a series of Tweets that not only criticized Nike's decision but claimed to withdraw support of a new Nike location that was due to open in Goodyear, Arizona. The plant was expected to create more than 500 full-time jobs. Ducey posted, "Nike has made its decision, and now we're making ours. I've ordered the Arizona Commerce Authority to withdraw all financial incentive dollars under their discretion that the State was providing for the company to locate here." He added, "Arizona's economy is doing just fine without Nike. We don't need to suck up to companies that consciously denigrate our nation's history."
The question at the center of the debate remains: Who cares? More specifically, what place does Nike have to represent how we, as a nation, perceive our history?

Ultimately, let's not forget that Nike's "limited-edition Air Max 1" shoe design was only intended to capitalize on July 4th, a celebration of freedom from tyranny which, at best, reminds Americans of all we have to reckon with if we're to be proud of America in 2019. Nike designed a marketing ploy to capitalize on American pride and independence, and perhaps this outrage was part of the plan all along, directing attention to the brand and shaping its #woke political stance. Of course, this was never about the significance of the "Betsy Ross Flag"; it was about shoe sales profiting from Kaepernick-based controversy. As Business Insider reported, "Last year, Nike made Kaepernick the face of an advertising campaign while he was engaged in a dispute with the [NFL]. Nike last week reported quarterly sales rose 4% to $10.2 billion."
Meanwhile, some Twitter users have suggested that those contributing to the trending #Nike topic focus on matters of greater national importance: "The Right has expressed more outrage over Nike taking shoes off shelves & throwing them in the trash than they have over CBP taking children from parents & throwing them in Concentration Camps."