TV Lists
This year in TV killed. Literally.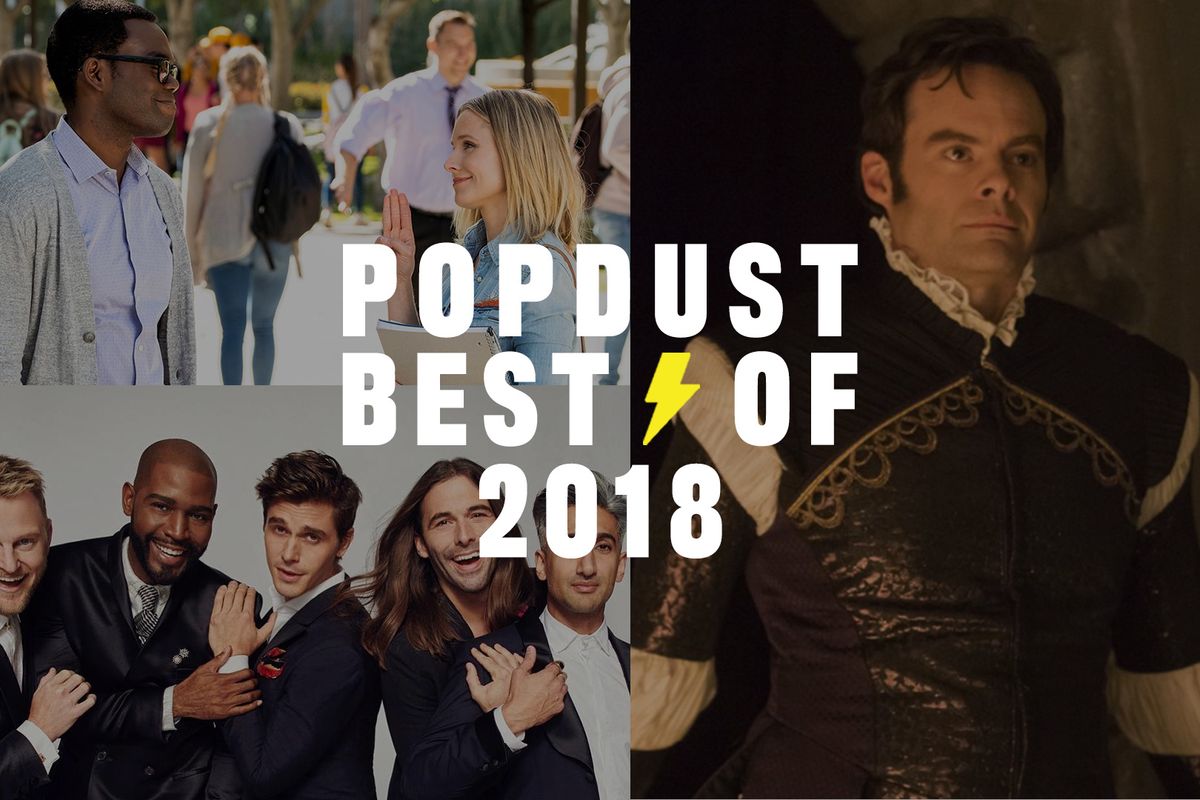 This year, TV killed. Literally. Between the final season of The Americans, the first of HBO's Barry, Killing Eve, and The Assassination of Gianni Versace, much blood was shed on the small screen at the hands of spies, hit men, assassins, and psychopaths. Atlanta and Succession took searing aim at American ambition, The Chilling Adventures of Sabrina and The Haunting of Hill House gave us the creeps, and The Good Place went to a very good place.
Here are the best TV Shows of 2018, according to Popdust staff: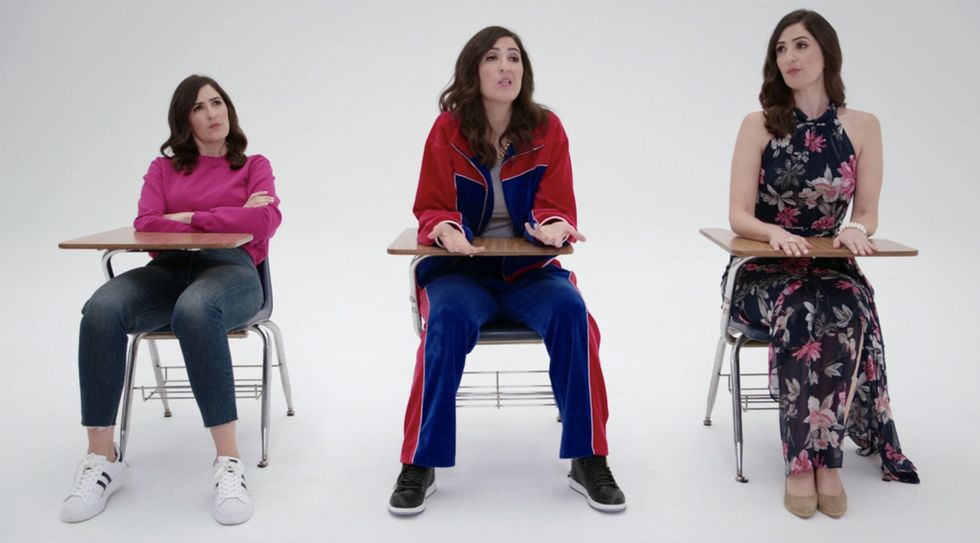 NBC
The Good Place

Chosen by Rebecca Linde, Staff Writer
There exists in my memory a corner so devoted to TV moments that were either devastatingly meta or brain-freezingly clever that I've had to evict certain mathematical faculties and the names of several acquaintances to keep the space clear and untouched. Among them: The Wire's Nick Sobotka showing up for the first time in two seasons just to heckle Mayor Carcetti (that makes sense for his character!); Max Braverman name-dropping Friday Night Lights while talking to Michael B. Jordan's Alex, who was on Friday Night Lights; Andy Samberg saying, "Pizza? Now that's what I call a Taco!" Now, I may need to rent out an entirely new brain for the space required to house the meta-cleverness of The Good Place. Creator Mike Schur has consistently proven my theory that the best sitcoms have "head and heart:" jokes that are either so outlandish or so simple that they could only be written by incredibly smart people, and characters that genuinely care about one another. The show is constantly shifting its very premise while musing on the meaning of existence without missing a single joke or heartbeat. This season gave us two of the smartest moments on TV: Eleanor confronting her estranged mother with the perfect delivery of "No, Mom, ya basic," and whoever had the idea to spend most of an entire episode replacing each member of the core cast with a version of D'Arcy Carden's Janet as each character. It was a total delight that ended in a real, emotional turning point, and also unlocked a new secret for a successful sitcom: cast D'Arcy Carden in every role.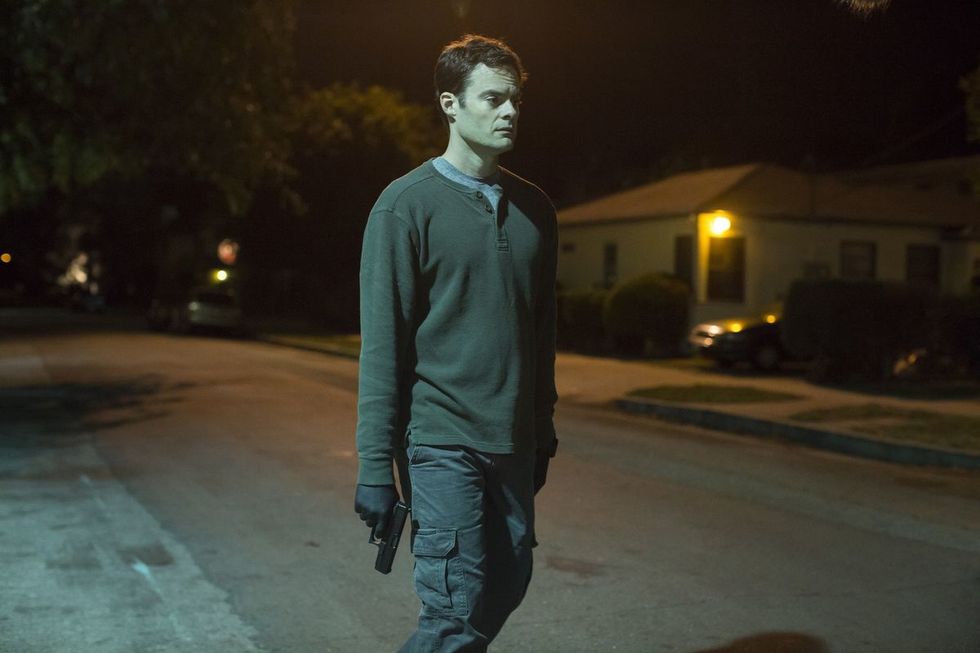 HBO
Barry
Chosen by Meg Hanson, Staff Writer
Despite telling Conan O'Brien that he forgot how to act while directing the first three episodes of HBO's Barry, Bill Hader is masterful as lead actor, director, and writer in the series. The first season follows Hader's character, a traumatized ex-marine, as he transitions from hitman-for-hire to bad LA actor in an effort to process his blocked emotions. With absurdly likeable criminals and infuriating civilians, Barry gives us Henry Winkler as a self-aggrandizing "acting coach" helming Barry's attempts to "find truth" in acting. The series balances on a razor edge between irony and empathy, levity and morbidity. Game of Thrones co-creator David Benioff even praised the series but remarked to Hader, "That was pretty dark."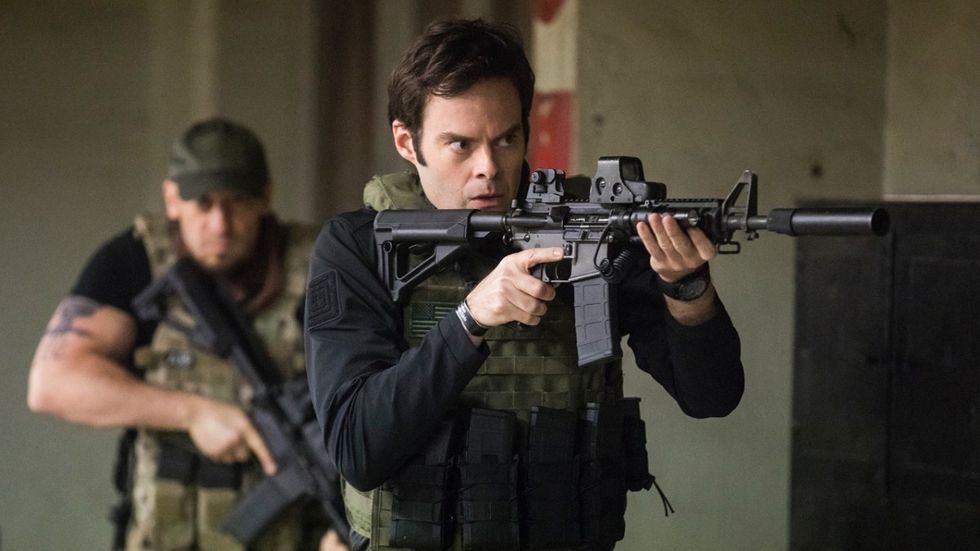 HBO
Barry
Chosen by Matt Clibanoff, Editorial Lead
Here's why Barry works: We live in an absurd time. Our president is a dementia-addled gameshow host. Russia are the bad guys again for some reason. The most powerful man in the world is a lazy-eyed, reptile phallus who amassed his wealth by... selling books? Nothing makes sense. 18 months ago, the White House Chief of Staff was a guy named Reince Priebus. THAT'S NOT EVEN A REAL FUCKING NAME. Barry, a show about a hitman/struggling actor, doesn't make the mistake of addressing its own absurdity. Characters involved in the high-stakes world of contract killing are cool and rational, while the wannabes in Barry's acting class are constantly in hysterics. As a character, Barry is a direct reflection of this dichotomy. He's weeping during a performance of Macbeth, but completely stoic while murdering Chechen gangsters. Sure, the point of the show is that he's using acting as a means of expressing his inner anguish, but this takes nothing away from the weirdness of it all. In fact, it just compounds it. Insomuch as art is a reflection of the time in which it's made, Barry is hilarious in a very 2018 kind of way. The characters are all super weird, but there's no sense of self-referentiality. The world spins and these weirdos exist in it. So while the plot is genius and wholly original, there's a feeling of familiarity. The strangeness of Barry, as well as the (lack of) response to it, perfectly reflects the current, peculiar (and dark) chapter of American history.
[Editor's note: D'Arcy Carden is also in Barry. Just saying.]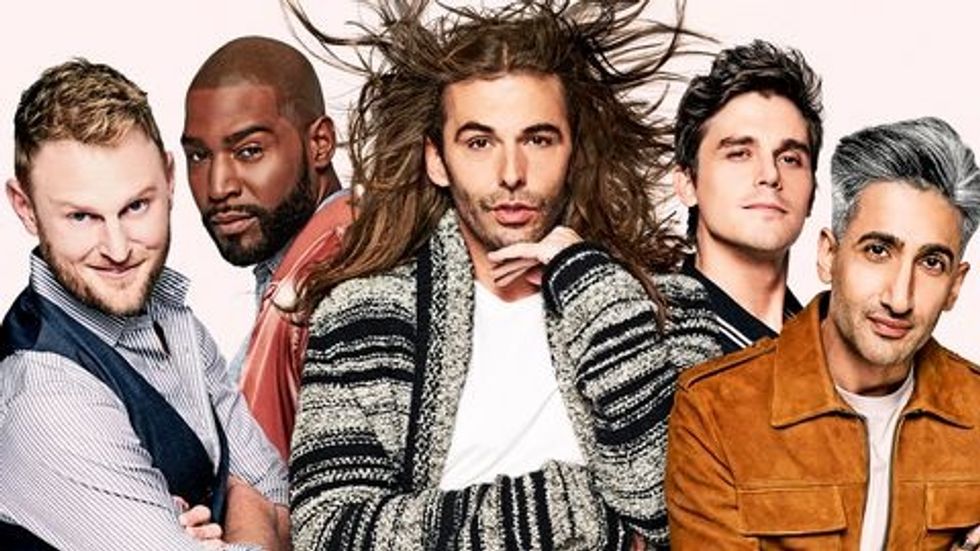 Netflix
Queer Eye

Chosen by Brooke Johnson, Assistant Editor
This list wouldn't be complete without at least a nod to the small-screen masterpiece that is Queer Eye. I didn't want to like it, I didn't want to buy in to the sadness porn, but I did. I wanted to tear this show to pieces for the inauthenticity I was certain must be there. I wanted to be able to say with superiority at the conceptual cocktail parties that I conceptually frequent; "I just don't know what all the fuss is about," whilst swirling my conceptual martini. But in reality, I was completely sold after one episode. This show is pure, well-intentioned, and thought provoking in a time when cynicism seems to be the norm. Reality TV as a genre is a scourge upon the earth, but Queer Eye proves that good can come from the most unlikely places.
Bonus: The 2018 Popdust TV Awards
Best Supporting Role by a Parking Garage: The Americans
Best Ponytail Despite Having an Arm in a Sling: Kim Wexler (Rhea Seahorn), Better Call Saul
Most Intimidating Teen: Amma Crellin (Eliza Scanlen), Sharp Objects
Tightest Tush: Andrew Cunanan (Darren Criss), The Assassination of Gianni Versace
Most Heavily-Handed Diversity Casting: 9-1-1
Best Punch to the Boob: Haunting of Hill House
Most Unabashed Reliance on Studio Audience: Will and Grace
Deadest Eyes: Juliana Crane (Alexa Davalos), The Man in the High Castle
Most Charming Hairless Hit Man: Noho Hank (Anthony Carrigan), Barry
Most Relatable Child-Hater: Susie Myerson (Alex Borstein), The Marvelous Mrs. Maisel
Painfully Still on TV for Some Reason: Supernatural
---
POP⚡DUST | Read More...
Popdust's Best of 2018: Movies
From Your Site Articles
Related Articles Around the Web