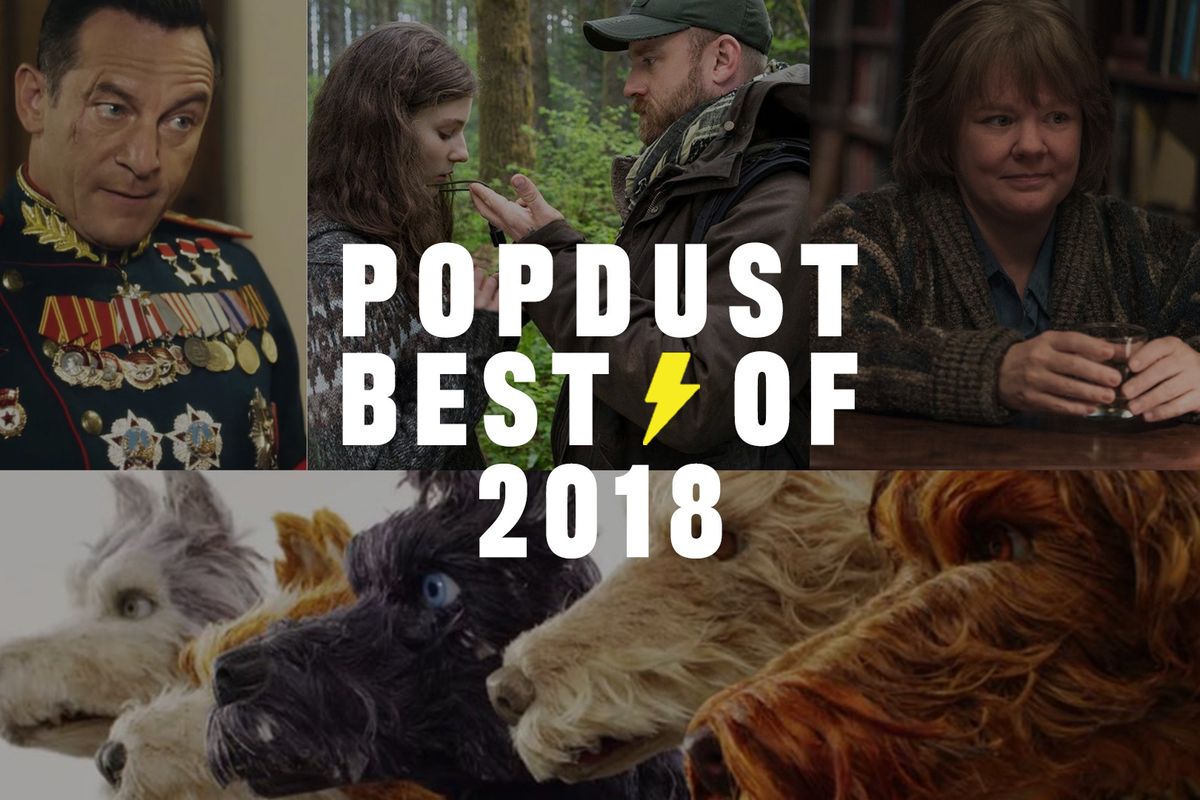 While there was no avoiding the big-budget blockbusters and franchise films that are churned out in a never-ending cycle of sequels and reboots, 2018 also provided a full slate of movies that thrived on specificity. Smaller scale, but fully-realized, stories got a ton of critical acclaim, offering audiences a look into the mind of a reverend questioning his faith—in everything, the trajectory of a telemarketer on a very precise path to the top, and a tween's YouTube page, among other deeply personal narratives. That so many films this year dug deep into such singular stories is perhaps a good sign that, in the otherwise precarious cultural landscape of 2018, we still value stories that are different from our own.
Here are the best movies of 2018, according to Popdust staff:
LEAVE NO TRACE | Official Trailer www.youtube.com
Leave No Trace (and Eighth Grade)

Chosen by Rebecca Linde, Staff Writer
Call me a sucker for stories about teen girls and their single dads. Eighth Grade somehow captured the horror and hope of adolescent girlhood in excruciatingly awkward, accurate, and deeply empathetic detail—a formidable challenge for any writer/director, but handled delicately by comedian Bo Burnham with help from the heart-wrenching performance of star Elsie Fisher. Despite its title, Debra Granik's Leave No Trace left a lasting impact. Granik leads her audience through the depths of the lush forests of the Pacific Northwest and into the world of 14-year-old grifter/survivalist Tom (a great Thomasin Harcourt McKenzie) and her father, Will (Ben Foster, also great) with stunning cinematography. Yet when it comes to Will's motivation for keeping them there, the restrained dialogue and almost bucolic pace keeps Tom—and us—achingly on the margins.
CAN YOU EVER FORGIVE ME? | Official Trailer [HD] | FOX Searchlight youtu.be
Can You Ever Forgive Me?

Chosen by Meg Hanson, Staff Writer

The strangest aspect of Marielle Heller's film about a down-and-out writer turning to a life of copyright crime is the real story behind it. Lee Israel not only forged and sold over 400 letters from literary giants, but she wrote a memoir in 2008 exposing it all with little apology. Starring Melissa McCarthy, the adapted film of the same name recounts how an under-appreciated writer decided to market her talent by stealing original letters from libraries and replacing them with forgeries or outright drafting copycat letters to sell for thousands of dollars apiece. The penalty for her crimes? In 1993 she pleaded guilty to one count of conspiracy to transport stolen property in interstate commerce. She was sentenced to six months' house arrest and five years' probation.
ISLE OF DOGS | Official Trailer | FOX Searchlight www.youtube.com
Isle of Dogs

Chosen by Brooke Ivey Johnson, Assistant Editor

This was a difficult decision for me to make, as I love-hate Wes Anderson with such intensity and fervor, its possibly diagnosable. With
Isle of Dogs
, Anderson made the questionable choice to use stop motion claymation, a medium that probably should have remained in the 20th century with Polio. But somehow, it worked. The truth is, the strange story of an evil dictator who banished all dogs to a garbage island, and the little boy who loved his dog too much to give up on him, made my cold, dead heart beat again. The plot was tight and gripping, every dog character well rounded, the movie itself an absolute technical and aesthetic marvel. The caveat?
Debatably
pretty racist. The human characters were from a weird, pseudo-Japanese country that engaged every bad eastern stereotype, and spoke in a weird nonsense language that sounded suspiciously like a white Dad doing a cringey, drunken, Kim Jong-Il imitation. This movie stirred up a heated post-movie dinner conversation that was productive and engaging, because all parties, even the very offended, loved this movie.
Isle of Dogs
tops my list because of the questions it raises: can you love a movie and still recognize its cultural failings?
The Death of Stalin Official Trailer #1 (2017) Jason Isaacs, Steve Buscemi Biography Movie HD www.youtube.com
The Death of Stalin

Chosen by Matt Clibanoff, Editorial Lead
In his newest film, Armando Ianucci manages to turn a new batch of politicians into bumbling idiots, this time taking on the post-war Soviet government and the turmoil that followed Joseph Stalin's death. Lavrenti Beria, head of the NKVD, played by Simon Russell Beale, is a chubby, screeching loon whose megalomaniacal urges come across less like Hitler's and more like Eric Cartman's. Jeffrey Tambor plays Stalin's ineffectual deputy, Georgy Malenkov, a man so incapable of command the entire Soviet inner circle allows him to function as head of state for two years while they secretly jostle for power. And Steve Buscemi, as Nikita Khrushchev, is so fidgety and anxiety-prone you'd think he was playing a bit part on Curb your Enthusiasm.

The precision with which Ianucci attacks these historic figures makes the film feel like the world's angriest European history lecture, but it never feels preachy. Instead, reality is simply presented, in all of its absurdity. A masterclass in stripping the emperor of his clothes, The Death of Stalin is a film without a protagonist. There are no good guys. Just morons.
Bonus: The 2018 Popdust Movie Awards

Most Audience Moms in Need of Tissues: A Star is Born
Most Surprising Horse Phallus: Sorry to Bother You
Least Surprising Horse Phallus: The Rider (ok, we haven't seen it, but of all the films that came out this year, this is the most likely to have at least one shot of a horse penis)
Superhero We'd Been Waiting For: T'Challa
Superhero Body We'd Been Waiting For: Aquaman
Best Use of a Rabbit: Leave No Trace
Worst Use of a Rabbit: Peter Rabbit
The "These Two Movies Came Out on the Same Weekend and Therefore We Will Never be Able to Distinguish One from the Other" Award: Social Animals & American Animals
Movie That Definitively Proves that Lord of the Rings Drove Peter Jackson Insane: Mortal Engines
Worst Father Figure: Thanos
Best Father Figure Who Always Comes Back: Thanos
Least Frightening Creature: The Meg, The Meg
Most Frightening Creature: The Bush Administration, Vice
Best Music Video: Bohemian Rhapsody
Most Effective Stoking of Cold War Tensions: Creed II
Least Effective Stoking of Cold War Tensions: Red Sparrow
Worst Childhood Memories: Eighth Grade

Best Childhood Memories: Never being subjected to The Nutcracker and the Four Realms
Most Clearly Made for Horny Gamers: Tomb Raider
Movies That, Apparently, are Still Being Made: Fifty Shades Freed, Bumblebee, Maze Runner: The Death Cure, The First Purge
---
POP⚡DUST | Read More...
Miley Cyrus and Liam Hemsworth Are (Probably) Married
Frank Underwood Possessed Kevin Spacey on Christmas Eve